Mar 25

The Danforth Music Hall
147 Danforth Ave.
7:00PM
All Ages
$27 GA & Balcony | $37 Mezzanine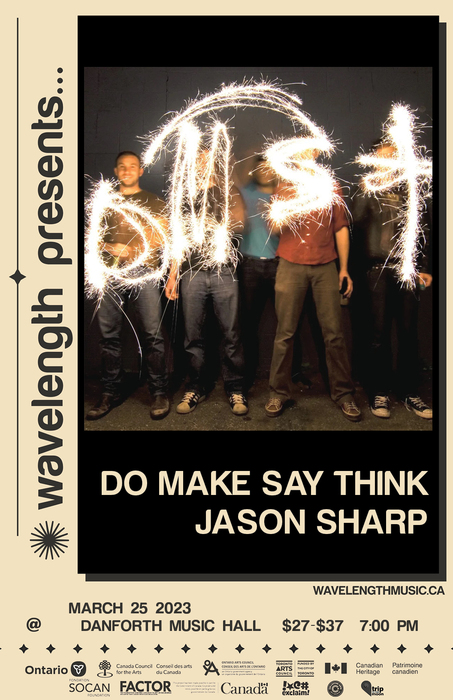 Mar 25

The Danforth Music Hall

147 Danforth Ave.

7:00PM

All Ages

$27 GA & Balcony | $37 Mezzanine
Wavelength Presents…
A Wavelength Winter Festival Special Event
DO MAKE SAY THINK
(Toronto post-rock pioneers / instrumental Juno Award winners / first show in 6 years)
With guest:
JASON SHARP (Montreal – heartbeat-driven bass sax + electronic atmospherics w/ visuals by Guillaume Vallée)
Saturday March 25, 2023
@ The Danforth Music Hall, 147 Danforth Ave.
Doors 7pm – ALL AGES
Tickets:
GA & Balcony: $27 + HST + s/c
Mezzanine: $37 + HST + s/c
Ticket Links: bit.ly/WL-DMST
On-sale Friday, Dec. 9.
Pre-sale Dec. 8 for newsletter subscribers only (sign up @ wavelengthmusic.ca).

Bring the family: Children 12 & under free when accompanied by an adult.
DMST return to the Danforth!
Founded in 1995 in Toronto, Do Make Say Think are key innovators of the global musical movement known as post-rock. Over seven albums of sprawling, cinematic, instrumental music drawing on elements of jazz, dub, ambient, electronic, shoegaze, psychedelic rock and beyond, DMST have built up a devoted fanbase. The band's entire discography has been released on Montreal's Constellation Records, making them one of the label's longest running artists, after Godspeed You! Black Emperor.
March 25 at the Danforth Music Hall will mark Do Make Say Think's first live concert in six years — returning to the very same stage of their last performance. The occasion will aso mark their first since winning the Juno Awards for Best Instrumental Album and Best Artwork, for 2017's Stubborn Persistent Illusions. This Special Event is presented in affiliation with the annual Wavelength Winter Festival, curated this year by Daniel Monkman. The remainder of the Winter Festival lineup will be announced in early 2023.
COVID Protocols:
Your safety is our primary concern. Live event protocols may change month to month. Masking is strongly encouraged while not eating or drinking.
Accessibility:
The Danforth Music Hall is wheelchair accessible on the floor/GA level but not the mezzanine or balcony levels. Accessible washrooms are located next door in Sidebar. For all other accessibility requests, please contact us at info@wavelengthmusic.ca.
Audience Policy:
Wavelength respects the rights of each member of our diverse audience and is committed to providing an environment in which everyone can feel safe. Any behaviour which could reasonably be perceived as physically, emotionally, or mentally harmful to individuals at Wavelength events will not be tolerated. This includes: racism, sexism, homophobia, transphobia, body shaming, ableism, ageism, and all forms of violence.
Please be respectful of others and help Wavelength create a fun and safer space for everyone. If you need help, or see others in need of help, please talk to a Wavelength staff member or volunteer.