Jan 24

Junction City Music Hall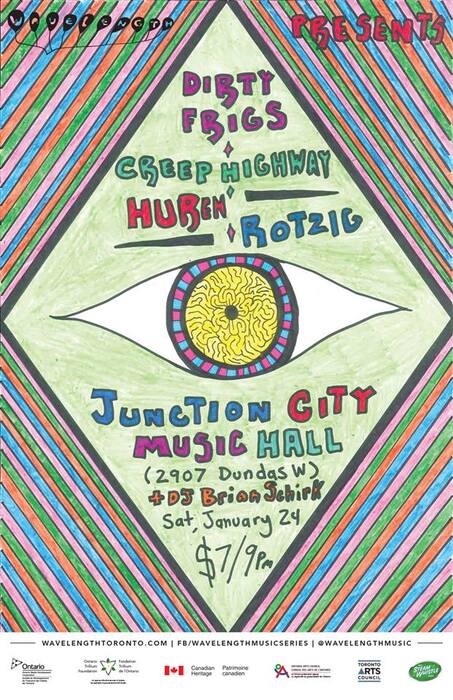 Jan 24

Junction City Music Hall

9:00 PM
Wavelength Presents:
DIRTY FRIGS
http://dirtyfrigs.com
Knot fisted, night terror garage rock rage, boiled red and breathing napalm. Sinewy guitars splayed out on guttural bass substrate, swaddled up in stained linens, kicked into a ditch. Witness the dark descending grin of the ugliest bliss.
CREEP HIGHWAY
http://creephighway.bandcamp.com
Like Nirvana's 'Tourette's' played over itself five times at jet volume. A pustulant heaving mass, a garbage-golem careening down your alleyway in the mid-summer stench. Head's swollen up, an eternal headache screeching like a demon pterodactyl.
THE FLU
http://itstheflu.bandcamp.com/
Barbed wire and battery acid for breakfast, sentient drool bungee dripping off your lip. Dogfood slip n' slide down a lave a flow. Twitch-eyed tongue wag to the slug generation.
ROTZIG
(ex-DD/MM/YYYY)
Tomas Del Balso (dd/mm/yyyy) & David Waldman summon up tangled, viney angle-rock via synth and drum pad vessels. Thudding beats and mazy melodies stretch and wind around your mind.
+ DJ Brian Schirk
PLEASE NOTE: Unfortunately Huren are no longer able to perform.
Saturday, January 24
Junction City Music Hall (2907 Dundas St. West)
Doors @ 9:00PM / $7