Apr 29

Longboat Hall (The Great Hall, Lower Level)
1087 Queen St. W.
Doors 9pm
19+
$12 advance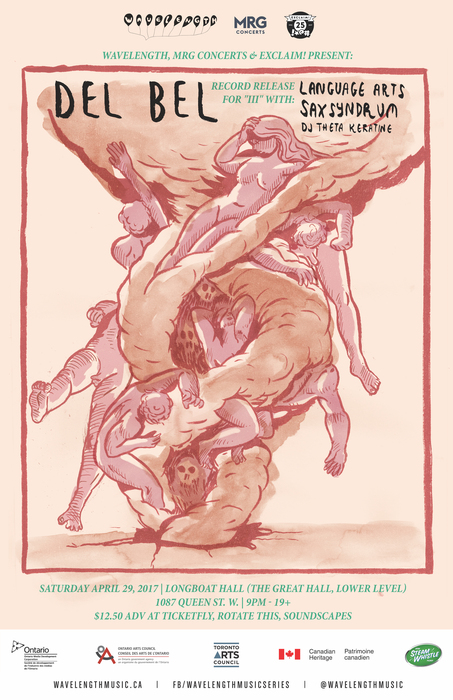 Apr 29

Longboat Hall (The Great Hall, Lower Level)

1087 Queen St. W.

Doors 9pm

19+

$12 advance
Wavelength, MRG Concerts & Exclaim! present:
DEL BEL
Record Release for "III"
With guests:
Language Arts
Saxsyndrum
+ DJ Theta Keratine
++ General Chaos Visuals
Saturday April 29, 2017
Longboat Hall (The Great Hall, Lower Level)
1087 Queen St. W. – Toronto
Doors 9:00PM
Tickets $12 advance at Ticketfly.com, Rotate This & Soundscapes
"A haunting voice backed by ominous-sounding instrumentation that expertly toes the line between spooky and infectiously groovy." – Exclaim
"This is subtle, layered, complex music that rewards multiple listens given that it's nearly orchestral in its scope… Del Bel's mesmerizing pop-noir will see this group go far" Pop Matters
"If their first single is any indication, their avant-garde pop sensibilities will see them go from cult hero status to household name." – CBC
"It's breathtaking, and bodes quite well for their next album winning the Polaris Music Prize, like their last one should have. Judge for yourself." – Tiny Mix Tapes
"When Torontonians are friendly with each other, the results are spectacular." – Vice
Guelph/Toronto-based, cinematic, downtempo pop noir collective Del Bel celebrate their third album, aptly titled "III," with a release concert April 29 at the Longboat Hall in Toronto, as part of the monthly Wavelength Music Series. Called "the most intriguing young Canadian band you haven't heard of – yet" by Ben Rayner at The Toronto Star, Del Bel have been gradually building up a devoted fanbase since 2011, touring relentlessly across Canada, performing live scores at film festivals, and seeking out new and exciting collaborations, including, most recently, hip-hop artist Clairmont The Second. In 2013, the band was invited to be one of the inaugural Wavelength Incubator artists, alongside Fresh Snow and Most People.
"III" will be released April 7 on the band's own label, Missed Connection Records. Album track "Go On" was recently premiered on The Strombo Show on CBC Radio. Get an exclusive advance download of this track by subscribing to the Broken Pencil x Wavelength Song of the Month Club!