Class of 2016: Elliott Vincent Jones + Nailbiter + Germaphobes + Scott Hardware + West Nile
---
Friday, January 22, 2016

The Silver Dollar Room
486 Spadina Ave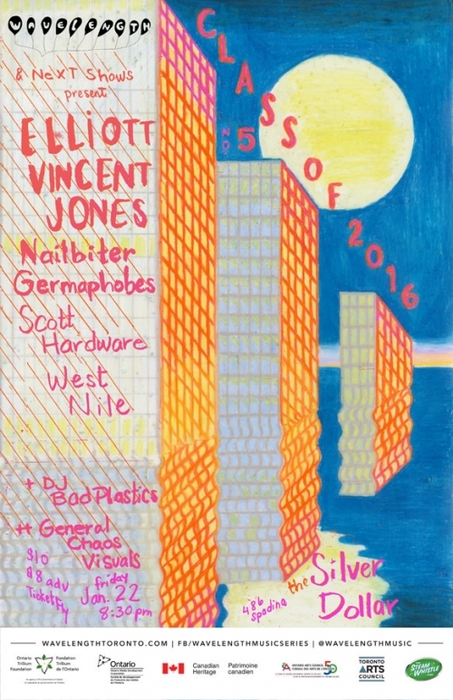 Show #5 of The Class Of 2016 annual show series, featuring Wavelength's picks for the honour-roll. We're very proud to present each of these multi-chrome creatures, especially London, Ontario's West Nile, delivering an anticipated Toronto debut.
NAILBITER (Toronto / Hand Drawn Dracula Records)
Dark industrial squalls of deep cavern bass and slashing electronics. Freak out to the strobe murder earthquake. (Members of Beliefs)
ELLIOTT VINCENT JONES 
(Toronto)
Elliott Jones and a gang of roving hoodlums congregate to deliver a poppy new endeavour. Come bear witness. (Ex-Ell V Gore/Brides)
GERMAPHOBES 
(Toronto)
Neil Rankin, Paul Erlichman and friends are a bombastic prog-pop battering ram of fun. (Members of Elrichman, Bert Sugar / Body Butter, Ex-Gay, Foxfire)
SCOTT HARDWARE (Formerly Ken Park / Toronto)
Scott Hardware rises from the chrysalis of Ken Park now fleshed out fully with a band and fresh new tunes. Electronic heart swells for the backroom rave.
WEST NILE (London, ON)
Special guests West Nile will be making their Toronto debut, bringing their sexy brand of diamond-cut electro-pop. Not to be missed.
Friday, January 22
The Silver Dollar Room, 486 Spadina Ave.
8:30pm – 19+
$8 adv at Ticketfly
no images were found
[/types]']
---
---
UPCOMING SHOWS