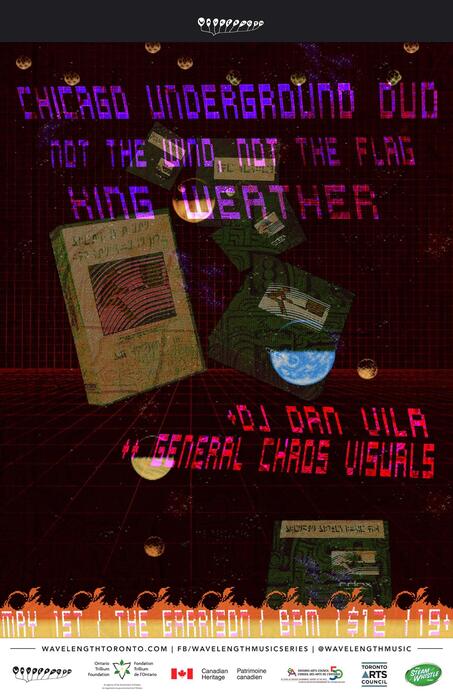 May 1

The Garrison

8:00 PM

19+
Wavelength Presents:
CHICAGO UNDERGROUND DUO
http://northernspyrecords.com/artist/chicago-underground-duo/
Tide pools of percussion, coral reefs of mbira, kelp forests of cornet. You and the earth's surface are 70% water. So THIS is "world music." Rob Mazurek and Chad Taylor
tour in support of their new album, Locus, out on Northern Spy. (Members of Tortoise, Marc Ribot Trio, Exploding Star Orchestra, Sao Paolo Underground)
NOT THE WIND, NOT THE FLAG
http://notthewindnottheflag.bandcamp.com/
An avalanche of broken instruments raging down from mystic peaks. Soily caves and swollen echoes. Shrill metallics and warbling unease. Improv stalwarts Colin Fisher and Brandon Valdivia coalesce to engineer sonic liquid earthquakes and zen aural explosions. (Members of Mas Aya, Pachamama, Colin Fisher.)
KING WEATHER
http://mechanicalforestsound.blogspot.ca/2013/07/recording-king-weather.html
Steve Ward prays to the shrine of trombone drone. D. Alex Meeks shovels out the disheveled drum crackle of KC Accidental. They meet on a holy plain, unseen but heard. Pulsing distant glory like a spirit army marching to the beckon of trumpet bearing angels. (Members of Hooded Fang, Caribou, Pick a Piper, Holiday Rambler.)
+ DJ Daniel Vila
++ General Chaos Visuals
Thursday May 1
@ The Garrison
1197 Dundas St. W.
Doors 8:00 PM / 19+
Tickets $12 advance at Rotate This + Soundscapes + Ticketfly.com — BUY NOW!
Wavelength #597: Programmed by Jonny Dovercourt & Adam Bradley
About CUD
2014 marks
17 years for Rob Mazurek and Chad Taylor playing together as the Chicago Underground Duo. The cornetist and percussionist began the project in 1997 as an organic offshoot of the larger Chicago Underground Collective.
The duo has logged the most touring and releases of the Collective, touring extensively in North America, South America, Europe and Asia. The group was once asked to
describe their music. This is what they said: "The Duo is an organic mixture of African, electronic, coloristic, jazz-influenced, life-supporting, systematic, non-systematic feeling from two humans trying ever to expand outward and inward for the people and ourselves."
Locus, the seventh Duo recording, out on Northern Spy in March 2014, pushes the duo into new ground yet again. Recorded at SOMA with John McEntire (Tortoise, The Sea and Cake) engineering, the duo experiments with new forms, washes of electronic ambiance, beats and free playing.
---
---
UPCOMING SHOWS

COMING UP
The Danforth Music Hall

Saturday, March 25

7:00PM

$27 GA & Balcony

$37 Mezzanine