Aug 19

Super Wonder Gallery
584 College St.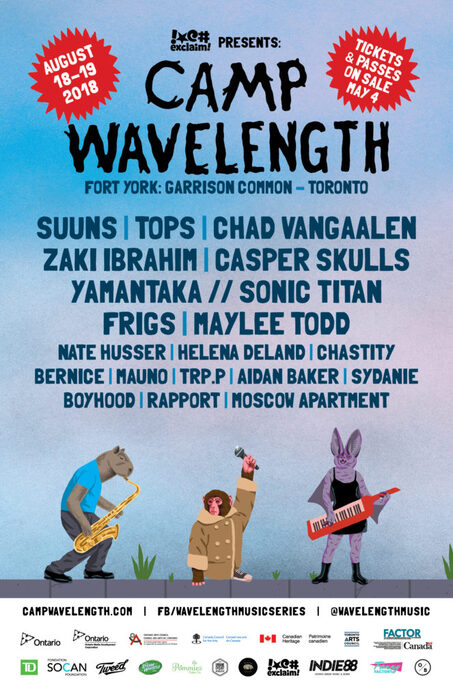 Aug 19

Super Wonder Gallery

584 College St.

10:00 PM

19+
Exclaim! presents:
CAMP WAVELENGTH 2018
August 18-19, 2018
NEW VENUE!
Fort York National Historic Site: Garrison Common
* All Ages – Outdoor Event – Rain or Shine *
Camp Wavelength announces the musical lineup for its fourth incredible year as Toronto's original music festival staycation weekend! ☀️ On August 18-19, 2018, the independent festival of "Music, Art, Community" emerges at an exciting new location in downtown Toronto: Garrison Common at Fort York National Historic Site. 🎉
Camp Wavelength 2018 – Musical Line-Up & Daily Schedule:
Saturday August 18
SUUNS
TOPS
Zaki Ibrahim
Maylee Todd
Sydanie
Nate Husser
chastity
Helena Deland
Rapport
Moscow Apartment Music
Sunday August 19
Chad Vangaalen
YAMANTAKA // SONIC TITAN
FRIGS
Casper Skulls
Mauno
Bernice
Säye Skye
Boyhood
Aidan Baker
* Gates open 1PM each day; curfew 11PM Saturday & 10PM Sunday. *
Join us for our after parties following the festival: Camp Wavelength After Parties presented by Tweed ft. TOPS, Graham Van Pelt, Forever on Saturday night and OBUXUM, Kai Exos, and TRP.P on Sunday Night 🙌
Camp Wavelength will "summon the spirit of summer camp" in downtown Toronto, with the reveal of the Campfire Comedy stage and the announcement of interactive Art Installations & Activities 📣 Over a hazy summer weekend, Camp Wavelength will animate the grounds at Fort York Garrison Common with an expanded roster of art installations and programming 🙌
Catch a frisbee with Chad Vangaalen! Learn to make your own zines in Hoser Punx's interactive zine tent, or craft surreal subvertisements with Adhack. Explore the city through the eyes of a white-tailed deer or the infamous trash panda in GTAnimalia. Wander through Kaleidoscope Girls' quirky Imagination Station, relax inside the sound-and-light-interactive pavilion Homunculus Nimbus, or test your luck with ferocious plants in Zoo Owl's Doom Garden. Join fellow campers after dark for scary stories and Conversations with a Cannibal. See below for a full list of Art & Activities programming!
This year Campfire Comedy is back with its own incredible lineup and real life campfire! 🔥 Curated and hosted by Toronto comedian Preeti, Campfire Comedy welcomes you to kick back and relax.
See the full list of programming below:
Art & Activities 🎨
Homunculus Nimbus – Installation by Mark-David Hosale
Imagination Station – Installation by Kaleidoscope Girls
Zoo Owl's Doom Garden – Installation
Mystic Dream Tent – Installation by Liz Lemon
"A Short Walk" – Puppet Show by Maude Christie
Conversations With A Cannibal – Performance by Rebecca Felgate
The Bunz Flea
Tarot Readings – by Aerin Fogel
Hoser Punx – Interactive Zine Tent
Ad Hack – Interactive Activity by Stephanie Avery
Greater Toronto Animalia – Videogame by Jason Bond
Roxanne Ignatius – Stage & Venue Decor
General Chaos Visuals – Stage Lighting Design
Campfire Comedy Lineup 😂
Aisha Brown
Anasimone George
Chantel Marostica
Jackie Pirico
Preeti
Daphney Joseph
Harpreet Sehmbi
Ievy Stamatov
☀️☀️☀️
An urban weekend getaway like no other, Camp Wavelength will summon the spirit of summer camp and take festival-goers on a journey of discovery and escape over two hazy days at the end of summer. For 2018's festival, presented by Exclaim!, Camp Wavelength will move to a new, central, outdoor location – Fort York National Historic Site's tree-lined green space, Garrison Common. Easily accessible by transit, bicycle or on foot, Camp Wavelength 2018 will be a hidden oasis of creativity and community within the city.
Please note: Camp Wavelength 2018 is a Day Camp only. Mark both August 18 and 19 on your calendar to attend Camp, but plan to sleep in your own bed!
TICKETS & PASSES – on sale now!
Single Day Tickets $28
Two-Day Weekend Pass $48
* Kids 12 & under free!
Admission included in Wavelength Passport!
Full-Year Passport – Access All Wavelength Shows for $100 – https://www.wavelengthmusic.ca/community/passport/
Tickets available at:
ShowClix http://showclix.com
Rotate This (186 Ossington Ave.)
Soundscapes (572 College St.).
+ via BTZ on the Bunz trading app.
SAFER SPACE POLICY
Please help us make Camp Wavelength a safe space for all. Abusive and oppressive behaviour has no place at our festival. Let's work together to create an inclusive and respectful environment!
Camp Wavelength 2018 is supported by:
Ontario Ministry of Tourism, Culture and Sport
OMDC – Ontario Media Development Corporation
Canadian Heritage
Canada Council for the Arts | Conseil des Arts du Canada
Ontario Arts Council – Conseil des arts de l'Ontario
Toronto Arts Council
The Foundation Assisting Canadian Talent On Recordings (FACTOR)
SOCAN Foundation – Fondation SOCAN
Steam Whistle Pilsner
Tweed Main Street
Pommies Cider Co.
Urbane Cyclist
The Hogtown Vegan
Exclaim!
Indie88Toronto
Fanny Factory
Office/Bureau