Sept 25

Toronto Media Arts Centre
32 Lisgar St
7:00 PM
All Ages
FREE admission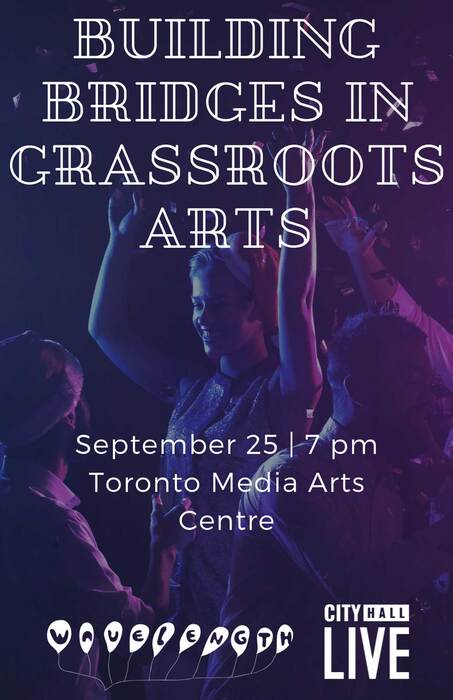 Sept 25

Toronto Media Arts Centre

32 Lisgar St

7:00 PM

All Ages

FREE admission
Panel Discussion
"BUILDING BRIDGES IN GRASSROOTS ARTS: A discussion about bridge-building for communities in the DIY/grassroots/underground space."
👉 Presented in partnership with City Hall Live
Moderator: Ian Steaman
Panelists:
Riaz Charania – Myseum
Chris Penrose – Watrvision
Josephine Cruz – ISO Radio
Maxhole – Unit 2
Plus! Live set by HEAVEN (cosmic avant-pop) https://soundcloud.com/hvnheart
Wednesday, September 25
@ Toronto Media Arts Centre (32 Lisgar St.)
(The entrance is just to the left of the main apartment condo lobby. There is a coffee shop on the main level. Take the stairs up to the mezzanine to reach the panel)
7-9pm • All Ages
⚡️FREE admission (seating first come, first served)⚡️
Join Wavelength for this animated discussion at Toronto Media Arts Centre regarding bridge-building for communities in the DIY/grassroots/underground space.
Panel Description
We live in an interconnected world increasingly dominated by a handful of powerful media and social media companies. What does it mean to be a grassroots or niche organization? Can you still have an impact and make a difference? Is bridge-building the key to how grassroots communities and organizations survive and thrive?
Ian Steaman moderates a panel of cultural creatives, attempting to examine these questions. Join discussions on topics such as:
– How important is bridge-building? Is it a key part of your organization's mission statement or core agenda?
– Where does bridge-building fit into the strategic growth and development agenda of your organization?
– What does forging ties, developing relationships, building allies or forming partnerships look like for your organizations in practical terms?
– What have been the challenges, successes, lessons learned from this process?
– How does this process look like moving ahead and what is the future for the community, niche organizations that "go it alone" rather focus on bridge-building?
This is an opportunity for frank discussion, speaking truth to power, sharing best practices amongst community organizations representing grassroots, niche, marginalized, underrepresented, underground and/or non-mainstream music and arts organizations.
Panelists
Riaz Charania
With over 10 years of experience in communications, marketing, advertising, and event planning, ranging from media relations in the Canadian music and film industry, event planning for HBO Canada, international sales at the Ontario Science Centre, and marketing at Myseum of Toronto, Riaz brings a wide range of experience from many different sectors. Raised in Calgary, Riaz moved to Toronto in 2007, and worked as a music publicist with StageFright Publicity and independently as a publicist and band manager. Riaz continues to develop a strong passion for this city, as well as for community engagement and storytelling. On any given night you can find him taking in the many cultural offerings Toronto has to offer.
Maxhole
Maxhole is a musician, photographer, curator and performer whose work deals with themes of the human experience and translates them into fantasy. He actively performs around Toronto and works with the arts community to uplift marginalized people and influence other creatives. His time with Unit 2 spans years of work with Queer and POC folks.
Chris Penrose
Chris Penrose is a writer and creative producer working across photography, music, radio, event production and podcast production. He is the founder of Watrvision Creative, where he produces and hosts CONVENE, a conversation series focused on the creative community in Toronto. He also works behind the scenes with partners from the grassroots to major cultural institutions. His writing has been published in WORD Magazine, The Toronto Star, Bay Street Bull and Spacing.
Josephine Cruz
Josephine is a DJ, music editor and creative consultant. She is a partner and co-founder of online radio station ISO Radio, which was founded in January 2019. The station is home to over 40 resident hosts made up of DJs, producers, music journalists and cultural influencers in the city. ISO was formed with the goal of "amplifying the underground" and fosters forward-thinking music selections and open conversations about a variety of topics including creative practice, mental health and sex. Josephine is also the manager for the independent record label Bare Selection, which bridges the music scenes of Toronto and London, UK through music releases and events.
Moderator – Ian Steaman
Ian Steaman is a Toronto-based music industry executive and writer who, over the course of his career, has worked with many genre and culture-defining artists from De La Soul, Queen Latifah, House of Pain and Naughty by Nature to T-Pain, Too Short, Kelis, Big Boi of Outkast, and Lil B's first group, The Pack. Most recently he has overseen artist programming and bookings for CBC Music's First Play Live sessions series and runs the pioneering music blog, DIFFERENT KITCHEN. He is also currently developing an hour-long television drama set in the world of the Toronto hip-hop industry.