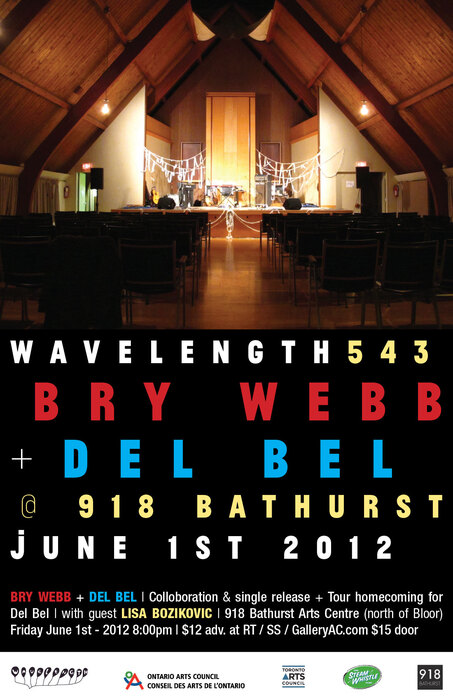 Jun 1

918 Bathurst

8:00 PM

All ages
Wavelength Presents:
BRY WEBB
+ DEL BEL
Collaboration & single release
+ Tour homecoming for Del Bel
with guest Lisa Bozikovic
@ 918 Bathurst Centre
(north of Bloor)

Friday June 1st – 2012
8:00pm (over by midnight)
$12 advance at Rotate This, Soundscapes & GalleryAC.com
$15 at door
Tickets on sale Tuesday (May 8)
All ages / Licensed
Wavelength kicked off 2012 with a sold-out house at The Garrison for a January 7thline-up headlined by Del Bel, the Southwestern Ontario cinematic surf/exotica collective whose debut full-length Oneiric pricked up many ears in the latter half of 2011. We're thrilled to bring them back to co-headline June 1st at the gorgeous 918 Bathurst venue — a Buddhist temple turned arts centre — with Bry Webb, former frontman of the Constantines. Having made the move from shouted soul-punk to hushed folk-rock, Webb has made one of the best Canadian albums of 2012 so far with Provider, released by Toronto label Idée Fixe. Webb also appears on Del Bel's new single, "No Cure for Loneliness," and Del Bel shares membership with Webb's backing band, the Providers. The evening will be started by Del Bel's tourmate, singer/songwriter/pianist Lisa Bozikovic, ensuring a continuity of personnel as well as an intimate family vibe throughout the evening.
Bry Webb grew up in Southwestern Ontario. He was the singer/guitarist in The Constantines from 1999 to 2010, an important band that released recordings on such labels as Sub Pop, Arts & Crafts, Three Gut, and Blue Fog. In 2010, Bry stopped touring with The Cons to focus on his family, and relocated with his wife and young son from Montreal to his hometown of Guelph, Ontario, where he is currently working as Programming Director of campus/community radio station CFRU 93.3 FM.
For many years, Bry has been making quieter songs, outside of the bombast of The Constantines. In November 2011, Bry Webb released a collection of nine songs on the independent label, Idée Fixe, recorded in three days with engineer/producer Jeff McMurrich (Jennifer Castle, Sandro Perri, Owen Pallett) at 6 Nassau studio in Toronto. The album, Provider, is eerie, minimal and organic. Bry was recently invited to appear as guest vocalist on the first song on Feist's new album, Metals, and opened for her on a recent Canadian tour.
Del Bel is a Guelph-meets-Toronto collective of players formed from such bands as The Happiness Project, Bry Webb & the Providers, The Flowers Of Hell, Wayne Petti & the Thieves, L Con, Chrome & the Ice Queen and many others. Their music embodies an eerie cinematic sound infused with darkened soul and a surf rock sensibility.
This month, Del Bel tours Canada in support of their debut album, Oneiric. The tour, which sees the band performing in diverse and eclectic venues such as art spaces, galleries, treehouses, theatres and bars, is also in support of Del Bel's latest single release; a "30's-style, one mic, all tape" collaboration featuring a guest appearance by Bry Webb, formerly of the Constantines.
Lisa Bozikovic is a singer songwriter and multi-instrumentalist whose powerful voice leads us into an evocative and ever changing world. Her songs ebb and flow with quietly ornate moments – a riot of strings here, a whimsical Moog solo there. On both her debut record Lost August (2009) and her upcoming release This is How we Swim (Fall 2012), she worked with co- producer Sandro Perri and Heather Kirby (Ohbijou) to carefully embellish her skilled keyboard/guitar arrangements with lush and experimental orchestration. In April 2012, she collaborated with Maggie MacDonald and Stevie Jackson (Belle and Sebastian) on the musical arrangements for Paper Laced With Gold, and also performed in the production staged at Harbourfront Centre.
Del Bel photos by Frank Yang @ Chromewaves (taken Jan. 7, 2012 at Wavelength @ The Garrison).
Bry Webb photo by Caitlin Durlak.
Lisa Bozikovic photo by Ming Wu.