Oct 3

Polish Combatants Hall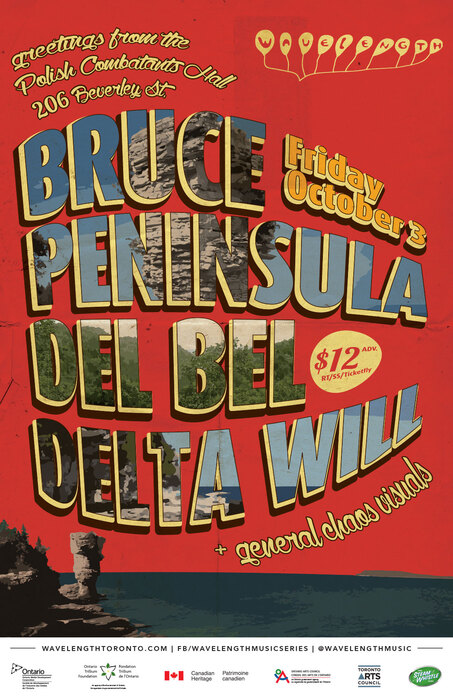 Oct 3

Polish Combatants Hall

8:30 PM

All Ages
Wavelength Presents:
BRUCE PENINSULA (Toronto / Hand Drawn Dracula Records)
The sound of all nature's volume rearing up from all biomes to meet as a scintillating cacophony. Bruce Peninsula is Toronto's original folk-art-rock choir, comprised of some of the scene's best musical appendages, all moving together into a tumbling, heart-glow harmony.
DEL BEL (Guelph + Toronto / Wavelength Artist Incubator)

Returning to the live performing fold after an eight month slumber, Del Bel will take up the gauntlet of sinuous dark orchestral pop once again. Juiced and frozen Toronto 2000s, a tart and refreshing treacle treat, with razor sharp horns and haunted crumbles abounding.
DELTA WILL (Toronto)
The soundtrack for small victories and sunny day determination. Fleet Fox vocal flair curls and braids around jaunty pop hooks and construction-yard percussion. Energetic instrumentation and fervent composition makes for more than interesting. For this performance, Delta Will will double over into a fleshed-out quadrumvirate.

+ General Chaos Visuals
++ DJ Palm D'or (Rolf of The Acorn)
Friday October 3
@ Polish Combatants Hall
206 Beverley St.
Doors 8:30pm
Tickets $12 adv at Rotate This + Soundscapes + Ticketfly.com
OR $15 at the door
All Ages / Licensed
About the artists
Bruce Peninsula
Bruce Peninsula finds a busy group of musicians mining the joys of communal creativity. Together, they have released two acclaimed full-lengths and have travelled to the Yukon, Newfoundland, Texas and all points in between. The band finds time to play together a lot less lately, but not for lack of productivity. Misha published a book. Steve had a baby. Leon built another studio. Kari has been teaching. Tamara (The Weather Station), Ivy, Steve, Andrew (Lake Vernon Drowning), Daniela (Snowblink), Matt, and Neil all have new records coming out very soon. And finally, you can put Bruce back on that list, as pre-production for LP #3 has just commenced. Truth is this band is eight years old and the members of Bruce just sorta miss seeing each other. What better reason to play a show?
Del Bel
For the past two years Del Bel has been brewing up a quiet storm in Southern Ontario. Each piece is composed and orchestrated by Tyler Belluz while balanced by the lyrical and vocal melodies sung by Lisa Conway. This collaboration within their songwriting has created a musical spectrum, challenging one to classify this eeire blend of themes. Since releasing their debut album, Oneiric, independently, they have garnered critical acclaim from some of the
stronger voices within music journalism. Ben Rayner of the Toronto Star reviewedOneiric as "one of the best Canadian albums of the year.." which led the band to be ranked in the Star's top 10 albums and top 10 singles of the year. Other notable journalists such as Michael Barclay claimed Oneiric as "easily one of the strongest Canadian albums of the last 12 months," which was similarly written by NOW Magazine, GridTO, Chromewaves.
Del Bel has recorded their sophomore record and will be releasing it in early 2015. We can't wait!
Delta Will
Change is the only constant. This is the main aspect of human existence that resonated with Charles Tilden when he started Delta Will as a solo looping experiment in 2011. Since then, Tilden has been visited by an alien spirit, has explored musical territory from introspective alt-folk to trip hop and art-rock, and has picked up a few band mates along the way. Now often performing as a four-piece featuring Brandon Johns (synth, bass), Milan Schramek (guitar) and Lowell Whitty (drums), Delta Will weave together spacey riffs, soaring vocals and pulsing beats to create what some have called "space blues". Delta Will have released 2 EPs:
2012's Transcendental Visits and 2013's It All Glows, the former a space-bedroom recording, the latter a studio effort recorded with
producer Chris Stringer (Timber Timbre, Snowblink). After a few tours of Eastern Canada in support of these releases, the band is now at work on their first full-length.
Poster design by Derek Ma.

Delta Will photo by Sam Kadosh, from Wavelength's Endless Summer (Aug. 2014).
Poster design by Derek Ma.

Delta Will photo by Sam Kadosh, from Wavelength's Endless Summer (Aug. 2014).
+ General Chaos Visuals & DJ Palm D'or (Rolf of The Acorn)