July 8

The Baby G
1608 Dundas Street West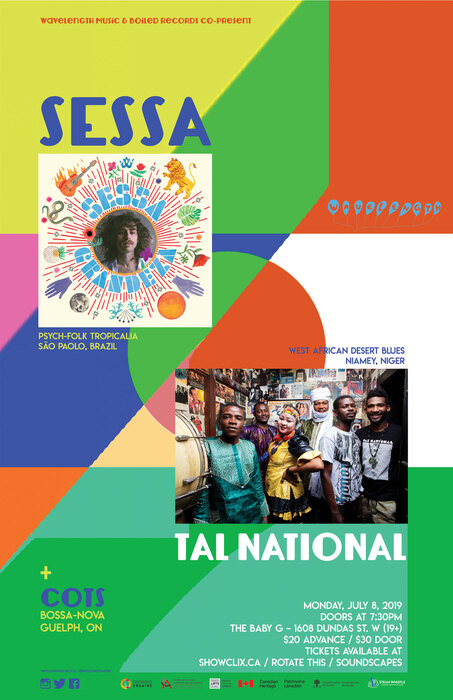 July 8

The Baby G

1608 Dundas Street West

7:30 PM

19+

$20
Wavelength Music x Boiled Records co-present a very special line-up of global-music superstars… playing in a tiny venue!
Featuring:
Tal National (Niamey, Niger – West African desert blues & griot guitar heroes) – 10pm
Sessa (São Paulo, Brazil – psych-folk Tropicalia / member of Yonatan Gat & Garotas Suecas / new album Grandeza coming out on Boiled Records!) – 9pm
Cots (Guelph, Ontario – bossa-nova-inspired nylon-string goodness) – 8pm
Monday, July 8, 2019
The Baby G – 1608 Dundas St. W.
Doors 7:30pm – $20 advance / $30 door
19+
🎫 VERY LIMITED advance tickets available at ShowClix
♿️ Physically Accessible Venue
🇨🇦 Admission included in Wavelength Passport!
🍺 $6 tall cans of Steam Whistle Pilsner!
Tal National are from Niamey, the capital of the landlocked West African country of Niger. The band formed in 2000, starting first as a hobby for three friends, and by 2009 established themselves as the most popular and successful band in Niger. Other Nigerien bands have made a bigger splash outside of Niger (i.e. Bombino), but within the borders of home – Tal National are the superstars. In this joyously hypnotic, highly unique contribution to West African guitar music, with its lightning-fast rhythms and a rotating cast of vocalists, can be heard the history of Niger as a cultural crossroads along ancient trade routes. Collected within the former French colony can be found Songhai, Fulani, Hausa, and Tuareg populations, all of whom are represented in Tal National's members. In the music we hear the rolling 12/8 rhythms in the Hausa's Fuji percussion, the pensive aridity of the Tuareg's assouf or "blues," and the exquisite "griot guitar" of Mali's Songhai, all delivered with virtuoso precision and unrelenting energy.
Sessa: A long-time fixture of both the American and Brazilian music scenes, either as a collaborator with NY guitar legend Yonatan Gat, or as co-founder of São Paulo psych-funk combo Garotas Suecas, Sessa debuts his solo work for the first time in 2019. His songs are sung in Portuguese, with visceral, sexual lyrics in the vain of Caetano Veloso and melodic flourishes not unlike those of Jobim. However, the music gets a deliberate minimalist treatment rarely found in contemporary Brazilian music, more reminiscent of the understated directness of Leonard Cohen or Devendra Banhart's early work. Sessa's concerts are already the stuff of legend in Brazil, as he takes the stage accompanied solely by female background vocalists and Afro-Brazilian percussion. While the songs often deal with subjects such as the sensual body in times of digital excess, the music points to new, more subtle directions for world pop in 2019 – a deep, minimalist, almost insinuated use of the endlessly rich textures and rhythms that defined the songwriting history of Brazil – one which Sessa now joins as one of the most promising new voices.
Cots: Cots is a new project from Steph Yates (Esther Grey, Cupcake Ductape). Borrowing elements of bossa nova, folk, jazz, and classical, Yates's subtly unconventional composition style and poetics are at work here in a hushed and more naked voice. The sounds and images of Cots are familiar the way dreams and shadows are; there appear strange landscapes, the vague outlines of former lovers, a quiet queerness, the feeling of motion. These are songs of closeness and aloneness.