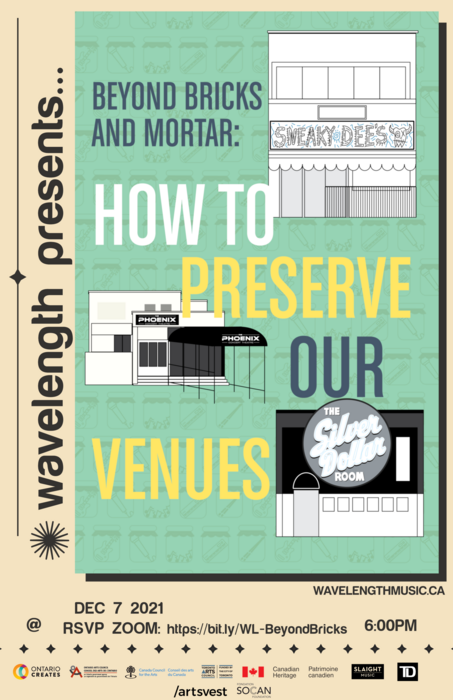 Wavelength Panel Discussion
Beyond Bricks and Mortar: How to Preserve our Venues
Tuesday Dec. 7, 2021
6PM EST
Zoom Webinar
REGISTER: https://bit.ly/WL-BeyondBricks
For those of us who live and breathe the music scene, music venues are our community centres, our cultural incubators, and the vessels for our collective memory. Our venues were at risk before COVID-19, and though many have thankfully survived the pandemic, Toronto's cultural spaces remain at risk from gentrification, development pressures, rising expenses and other threats.
The follow-up to Wavelength's "The Future of Music Venues in Toronto" panel this past February – held while the province was still under lockdown – this talk will examine ways in which music venues can be preserved as spaces for emerging artists to experiment and advance the culture. The Ontario Heritage Act protects buildings' brick-and-mortar structures, but says little about uses. The Silver Dollar Room was "saved" as a physical space, but no one knows if it will return to life as a music venue with an accessible stage for local emerging artists.
Join us as we discuss potential solutions to help protect Toronto's music venues — both on the inside and out.
Panelists:
Rosina Kazi (artist & organizer, LAL & Unit 2 Community Space)
Sara Gwendolyn Ross (author, Law & Intangible Cultural Heritage in the City)
Alok Sharma (City of Toronto)
Moderator: Daniel Rotsztain (artist, writer, cartographer; aka The Urban Geographer)
Watch "The Future of Music Venues in Toronto"
Poster design by Derek Ma