Oct 24

The Garrison
580 Queen St. W.
9:00 PM
19+
$10 in advance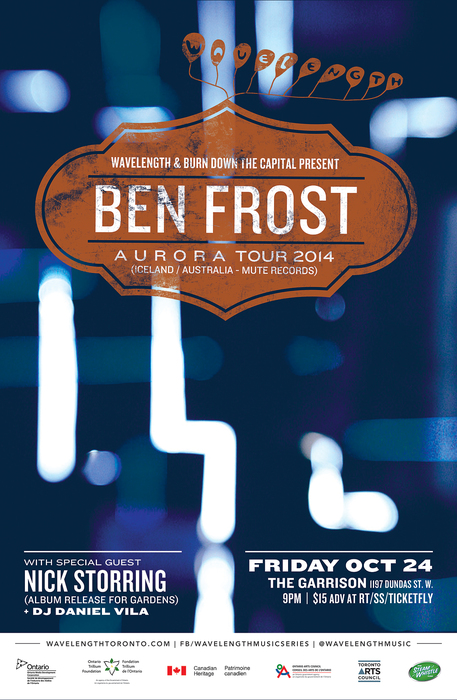 Oct 24

The Garrison

580 Queen St. W.

9:00 PM

19+

$10 in advance
Wavelength & Burn Down the Capital Present:

BEN FROST
A U R O R A Tour 2014
(Iceland / Australia – Mute Records)
Electronic music at its most intense and visceral. High Arctic drones meet West African beats. Collaborator w/ Tim Hecker, Colin Stetson, Swans. 8.5 on Pitchfork. Not to be missed.
"A U R O R A is the sound of Ben Frost going supernova." – Stereogum
+ special guest, Nick Storring
(album release for Gardens!)
++ DJ Daniel Vila
Friday October 24, 2014
The Garrison, 1197 Dundas St. W.
Doors 9pm
Tickets $15 advance
Available at Rotate This + Soundscapes + Ticketfly.com
About the artists:
Ben Frost
Born in 1980 in Melbourne, Australia, Ben Frost relocated to Reykjavík, Iceland in 2005 and, working together with close friends Valgeir Sigurðsson and Nico Muhly, formed the Bedroom Community record label and collective.
His albums, including Steel Wound (2003), Theory of Machines (2007), BY THE THROAT (2009), and A U R O R A(2014), fuse intensely structured sound art with militant post-classical electronic music, shape-shifting physical power with immersive melody, concentrated minimalism with fierce, rupturing dark metal.
In 2010, he was chosen by Brian Eno as part of the Rolex Mentor and Protégé program for a year of collaborations, one of the outcomes of which was Sólaris; a re-scoring of the Tarkovsky film classic for Poland's Sinfonietta Cracovia. The pair continue to work together on a range of projects.
Frost regularly collaborates with other musicians and artists; in the production of albums such as Tim Hecker's Ravedeath 1972 and Virgins, Swans' The Seer, Colin Stetson's New History Warfare, Volume 3, and on various Bedroom Community releases. On the stage, Frost has produced scores for choreographers including Wayne McGregor, Akram Khan, Gideon Obarzanek, and Falk Richter. In film, he composed the score for the Palme d'Or nominated Sleeping Beauty by Julia Leigh, and Djúpið by Icelandic director Baltasar Kormákur (with Daníel Bjarnason). And in the visual arts, where, with artist Richard Mosse, Frost travelled deep beyond the frontlines of the war-torn Democratic Republic of the Congo to produce The Enclave, a multi-channel video and sound installation that premiered at the 2013 Venice Biennale. 2013 also marked his debut as a director with the première of Frost's first opera, based on Iain Banks' infamous 1984 novel, The Wasp Factory.
These various collaborations and alliances underline Frost's continuing fascination with finding ways of juxtaposing music, rhythm, technology, the body, performance, text, art, beauty and violence – combining and coalescing the roles and procedures of various artistic disciplines in one place.
Nick Storring
Gardens is Nick Storring's second album following 2011's Rife for UK label Entr'acte.Gardens is a radical departure from Storring's first disc, moving away from electronic processing, toward an orchestral multi-tracked instrumental approach using over 60 instruments (all played by him) to create textures which are both lush and peculiar. Framed as a tribute to composer/ arranger Charles Stepney, the album occasionally echoes some of Stepney's sweeping cinematic psychedelia, while also offering more rustic weaves of sound that evoke various folk musics as well as free improvisation.
The creative process behind Gardens was funded by the Canadian Music Centre's Toronto Emerging Composer award from 2011. Thank you to Roger D. Moore and Michael Koerner.
+ DJ Daniel Vila