Mar 16

Online
Youtube.com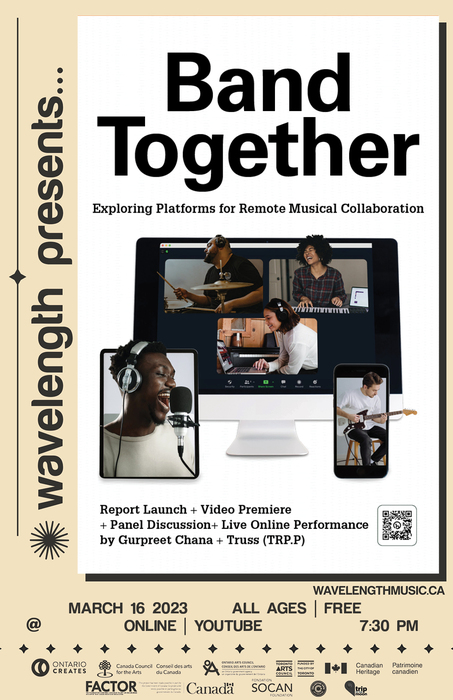 Mar 16

Online

Youtube.com

7:30PM

All Ages

Free
TUNE IN HERE! bit.ly/bandtogetherlaunch
Wavelength presents…
A launch event for:
Band Together
Exploring Platforms for Remote Musical Collaboration
Report Launch
+ Video Premiere
+ Panel Discussion
+ Live Online Performance by Gurpreet Chana + Truss (TRP.P)
Thursday March 16
7:30PM EDT
All Ages + Free
Tune in: bit.ly/bandtogetherlaunch
On March 16, 2023, Wavelength is pleased to present the launch event for "Band Together," a two-year research project into Remote Musical Collaboration. Led by a team of musicians, producers and audio experts, this initiative helped guide live music out of the depths of pandemic lockdowns through exploring platforms for musicians to play together in real-time over the Internet.
The online launch event will include a premiere of a YouTube video of the report, followed by a discussion with project participants Jonathan Bunce, Adrian Cho, Jai Djwa and Guillermo Subauste, and culminating in a live performance by Toronto musicians Gurpreet Chana and Truss, demonstrating Canadian-developed remote musical collaboration platform Syncspace.
About Band Together:
In March of 2020, the COVID-19 pandemic brought all live music events to a halt. Not only was it unsafe for audiences to gather in clubs and concert halls to listen to musicians perform together, but lockdown restrictions prevented musicians from even meeting in the same room to rehearse. Many bands, who were like family to one another, were suddenly unable to be together and play together.
The aim of the Band Together initiative, with the support of the Canada Council for the Arts' Digital Strategy Fund, was to foster human connection and collaboration between musical artists, within the technical limitations of digital connectivity and the pandemic-imposed limitations of physical distancing. Over the course of 2021, Wavelength united a core team of musical artists, curators and digital audio experts to engage in a series of online workshops and discussions to research and explore existing platforms for real-time, long-distance musical collaboration. In later sessions, the core team collaborated with other musicians to test the efficacy of a slate of identified software and hardware solutions, assessing them on the basis of a defined series of attributes.
The result is something of a "consumer guide" to remote musical collaboration which, even as the pandemic subsides, we hope will bring the musical world closer together.