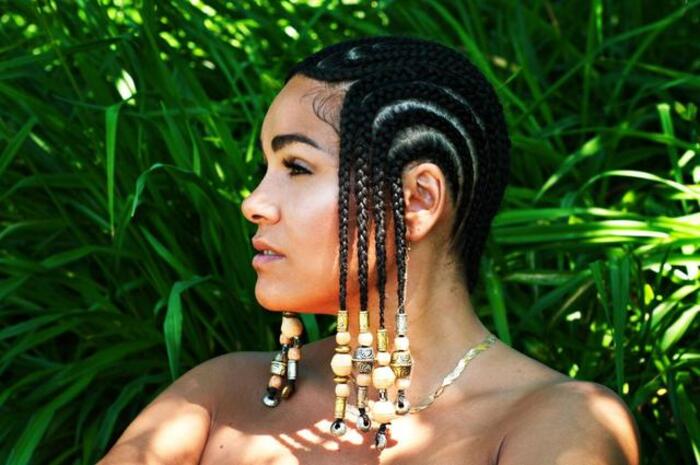 Zaki Ibrahim
Zaki Ibrahim is a globally distinguished singer/songwriter and producer who makes music that's ahead of its time. Born in Vancouver, British Columbia, she is the daughter of a South African father and a British-Scottish mother, Zaki co-founded the label District Six Music and made her commercial recording debut with Shö: Iqra in Orange (2006), a ten-track EP. Two years later she returned with the eight-track EP Eclectica (Episodes in Purple), and her song "Money" was nominated for R&B/Soul Recording of the Year at the JUNO Awards in 2009.
The release of her first full-length album, Every Opposite (2012) – with tracks like "Sunrise" produced by DJ Kent (remixed by Culoe De Song) and "Heartbeat" produced by Nick Holder – garnered her a 2013 Canadian Polaris Music Award nomination, as well as a nomination for a South African Music Award for Best R&B/Soul album of the year. Then there is the four-track Red Bull Music Cape Town-released EP and sci-fi art exhibit, ORBIT: A Postcoital Prequel EP (2016), which dropped signs that she was concocting another musical saga.
With her much anticipated, second full-length album released January 31, 2018, significantly coinciding with the cosmic event of the SuperBlueBloodMoon, Zaki's latest The Secret Life of Planets (2018) crosses genres, time, space and seamlessly combines ancient influences and mediums that bring minds and souls together in unexpected ways.
Zaki's songs have been featured in several feature films, penetrated the deep underground art world, and broken through as anthems in South Africa's house music scene. She has co-written, shared stages and collaborated with countless musical greats, from Erykah Badu to Saul Williams, the Hyperdub family to The Roots.
"Zaki Ibrahim has gathered new methods, sounds, and communities, recombining old ideas to make something all her own. This analog/digital, past/future, sensory/tactical approach to music-making is her hallmark. Try, but it's very difficult to pick a favorite patch of sound from the Planets' 13 tracks, her best album to date. Despite its title, The Secret Life Of Planets is less liturgical science fiction and more soulful and sublime, focusing on the cosmos of human experience." – Pitchfork.com
"The music itself is futuristic soul at its best, blending retro R&B vibes with electronic production that will take you out of this world." – Afropunk.com