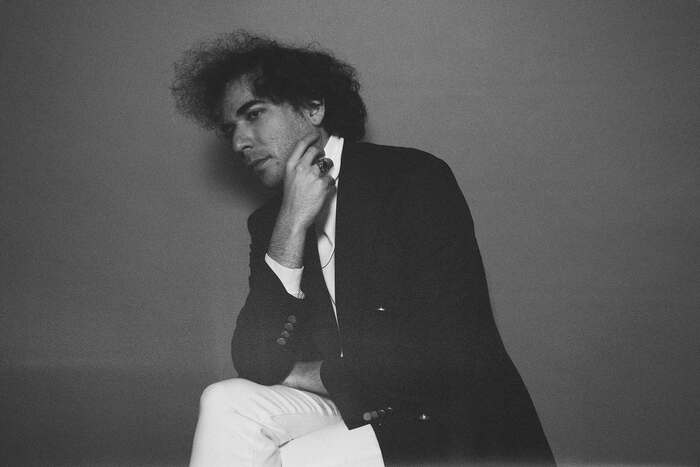 Yonatan Gat
Yonatan Gat is a genre all to his own. His new opus, Universalists, released in May 2019 on Joyful Noise in US and Glitterbeat in Europe, sees the New York experimental composer refining his skills not only as guitarist and bandleader, but also as a producer. His followup to 2015's acclaimed Director sees Gat experimenting with splicing live-to-tape recordings of his live trio in ways that draw from everything between contemporary avant-garde to electric era Miles Davis to Brazilian experimentalists Os Mutantes (with whom Yonatan recently released a split 7") — pushing the envelope in ways that only a few can.
Over the previous decade, Gat became known as one of the world's top performers as founder and guitarist of Monotonix, hailed by SPIN as "the most exciting live band in rock'n'roll," with concerts that quite literally destroyed the border between performer and audience, and were controversial enough to get them completely banned from playing their home country of Israel.
Unable to play shows in his home country and refusing to take part in its mandatory military service, Gat relocated to New York City. He began recording and performing as a bandleader, maintaining his signature raw energy while switching the focus to a more ritualistic, improvised, shamanic musical exploration.
Three years in the making, his latest LP Universalists is a conceptual and crafted snapshot of an artist evolving and experimenting, broadening his musical palette to incorporate vocals, vibraphones, horns, strings and samples, all the while remaining loyal to his live ferocity. Every recording of Gat's band in Universalists was performed (many completely improvised) live, each in a different studio, before they were meticulously edited, rearranged, reframed and reinvented by Gat, with additional production from Silver Jews' David Berman.
This show's lineup consists of a gorgeous stage setup of three drummers surrounding Yonatan and his powerhouse guitar – chief Red Medicine and Strong Bear of the Eastern Medicine Singers play pow wow drum and sing chants on one side of the stage, and Max Almario (Yonatan's long time touring drummer) and his Afrobeat/IDM drum kit stylings on the other side, in a performance showcasing what Yonatan calls "the primitive sound of the future".
https://www.facebook.com/yonatangatmusic/
https://yonatangat.bandcamp.com/