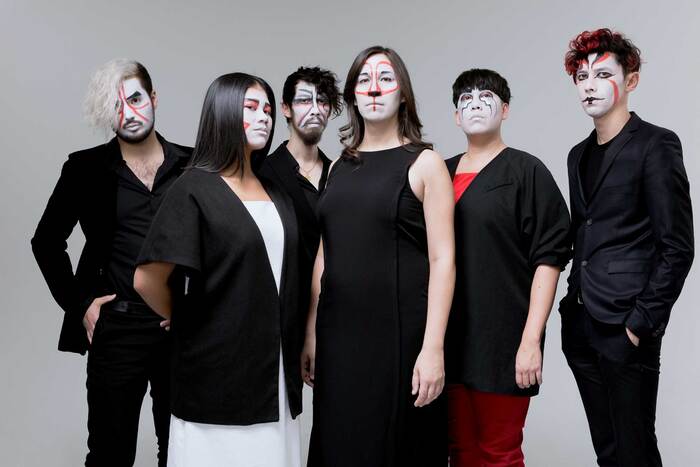 Yamantaka // Sonic Titan
There's a whole world contained within Yamantaka // Sonic Titan. They're a Noh-Wave prog collective, a black-and-white (and sometimes red) theatre company, an operatic psych cult, and the speculative prophets of humanity's impending doom. Above it all, though, they're a thunderous rock band, and on their third album, DIRT, they're the heaviest they've ever been.
Though they've been an amorphous beast since they formed in 2010, DIRT follows the group's most significant evolution in years. Now totally Toronto-based, they've added new singer Joanna Delos Reyes, guitarist Hiroki Tanaka and bassist Brandon Lim, who, along with the towering drums of leader/artist Alaska B, singer/theatre artist Ange Loft and keyboardist Brendan Swanson, turn the group into a driving engine of sound. Live, the band can be sprawling and theatrical or concise and visceral, filling the stage with noise, melody and cacophony.
DIRT is the band's first album since 2013's UZU, their second straight to be shortlisted for the Polaris Prize as one of the best Canadian albums of the year. But the gap between albums hasn't been a hiatus. Instead, the group hunkered down in the studio composing the mostly-instrumental score to the DrinkBox Studios video game Severed, along with members of the Canadian-Filipina gong group Pantayo. They emerged with new elements to heighten and distort into their already far-reaching sound, which combines and tornadoes Asian diasporic and Indigenous influences and perspectives.
The album was conceived as the soundtrack for an unreleased Haudenosaunee and Buddhist themed Anime produced in 1987. Like UZU, it takes place on the planet Pureland, now 10,000 years after the planet has flooded. The surviving people live within bubble domes floating in orbit. A team of mercenaries descends into the drowned wreckage of the world to receive the last sample of uncorrupted soil.
Never abandoning their irreverent edge, the band pushes further into madness and finds clarity in it, combining Iroquois creation myth and Buddhist principles with classic sci-fi themes to show how humanity continues to succumb to its worst impulses: madness, hubris and greed. With a sarcastic sigh that crosses political spectrums, DIRT confronts the lies that we tell ourselves and each other and asks what it means to push forward for an ideal just to die anyway.
Narratively, it's the most ambitious project they've ever done. Musically, though, they've streamlined their sound, digging into both heavy and poppy influences like Judas Priest, Killing Joke, and Jordan Knight and translating them into their own unmistakable aesthetic. The live show is still a sensory overload of makeup and costumes that falls somewhere between Boredoms and Kiss, but the focus now is on their sound – the fullest, most killer version they've put on record yet. They think big, but they're not a thought experiment. They're a force.
Similar to Sun Ra's take on Afrofuturism, the band resist being pigeonholed into any one idea, sound or cultural perspective. Instead, they burst their references apart, creating something entirely new. No matter what direction they go in, it can only come from Yamantaka // Sonic Titan.