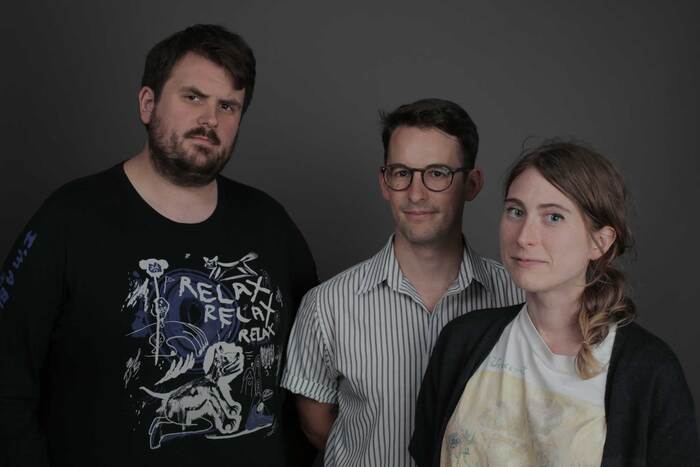 Tough Age
In the two years since Tough Age's sophomore LP, I Get The Feeling Central, the curmudgeonly comic book loving band have reinvented themselves. Founding members Jarrett Samson and Penny Clark relocated to Toronto from Vancouver, channelling their love of Flying Nun indie-pop into a new three-piece line-up with drummer Jesse Locke (Century Palm, Simply Saucer). The first glimpse at this new direction was their "Guess Not/Unclean" 7" EP, now followed by their long-awaited third album, Shame, due out on Mint Records on October 20th, 2017.
Recorded and mixed by Freelove Fenner's Peter Woodford in his Montreal studio The Bottle Garden (TOPS, Moss Lime), with cover art by comic artist Patrick Kyle and mastering by Mint's own Jay Arner, Shame is Tough Age's most collaborative effort to date. Honing their econo jams on tours across North America and over the sea to Tokyo, while sharing a stage with artists such as The Courtneys, HSY, and recent Mint signees Woolwoorm, the trio has re-emerged with a fresh set of songs that are simultaneously minimal, dynamically propulsive, and eerily experimental.
Shame's first side is charged with fuzzy pop energy, from frenetic opener "Everyday Life" to the herky-jerky punctuations of "Piquant Frieze" to the sweetly rambling "Reflected." On the b-side, Tough Age delve into their emotional honesty with the swooning "Pageantry" ("The biggest bummer of a song I've ever written, which is saying something" laughs Samson) and the powerfully contemplative title track, closing the album with extended surges of feedback.
Limiting overdubs while trying to record as much live in the studio as possible, plus paring an original set of 20 songs down to a sleek eight songs in 32 minutes, the most noticeable addition to Shame is Clark's lead vocals on a pair of standout tunes. Switching to bass for Tough Age's new line-up, "Ghost" is a heavier reworking of a song by her Vancouver punk band The Drearies, while "Me In Glue" finds Clark increasing in shouty intensity over chorus-drenched guitars.
"I don't like to complain or express frustration very much in everyday life because I want to trick people into thinking I am a very calm person," says Clark. "But there are lots of things that bother me and I think about them a lot so I try to put all those feelings into my songs and then I have an excuse to yell about things. Maybe you've also felt things like that and we can feel them together."
While the prominent placement of a Tough Age poster above Archie Andrews' bed in the TV series Riverdale was a hilarious thrill for the band, their musical tastes dig much deeper. On Shame, the influence of New Zealand acts continues to loom large with Tough Age's tribute to The Clean on the slyly titled "Unclean." Less obvious inspirations include early '80s London, ON group The Hippies, the off-kilter drumming of U.S. Maple, and the austere lyricism of The Urinals' "punk haikus."
Following the album's release, Samson says Tough Age plan to "keep playing music, keep putting out music, tour, have fun, not get on each other's nerves too much, and refuse to compromise our intentions.