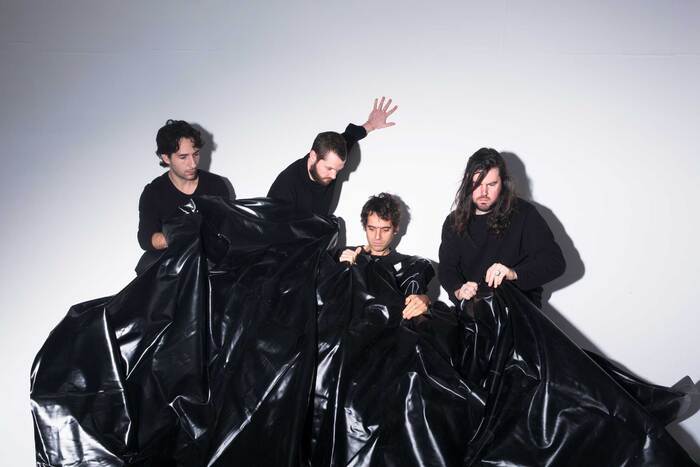 SUUNS
SUUNS is a hypnotic electro-rock band from Montreal, formed in 2007 when vocalist/guitarist Ben Shemie and guitarist/bassist Joe Yarmush got together to make some beats which quickly evolved into a few songs. The duo was soon joined by drummer Liam O'Neill and bassist/keyboardist Max Henry to complete the line-up. They signed to Secretly Canadian Records in 2010. The track "2020" off their second album Images Du Futur received widespread attention when it was featured on the soundtrack of the computer-nerd TV series, Halt and Catch Fire.
2018's Felt is SUUNS' cosmic, triumphant fourth album. Self-produced then mixed to audiophile perfection by St Vincent producer John Congleton, it maintains a pleasing economy, the informality of self-production has enabled SUUNS to explore bright new vistas – the hypnotic future-pop percolations of "X-ALT" or the organic/synthetic rush of elevatory rhythms and ecstatic, Harmonia-meets-Game Boy patterns of "Watch You, Watch Me."
Never mere fusionists, it's now pointless trying to decode their sonic signature as "dance music that rocks" or vice versa. Ben Shemie has a newfound vocal range and a penchant for buoyant melodies, showcased in such wholly unexpected delights as the yearning lilt of "Make It Real" and the sax-smoothed "Peace And Love," which sincerely comes across like a post-punk Sade. The suitably outré image for Felt – a hand reaching out to touch a giant latex black inflated ball – breaks with SUUNS' earlier darkness for a more optimistic ambience, the record's playful atmosphere echoed by its title's double meaning.