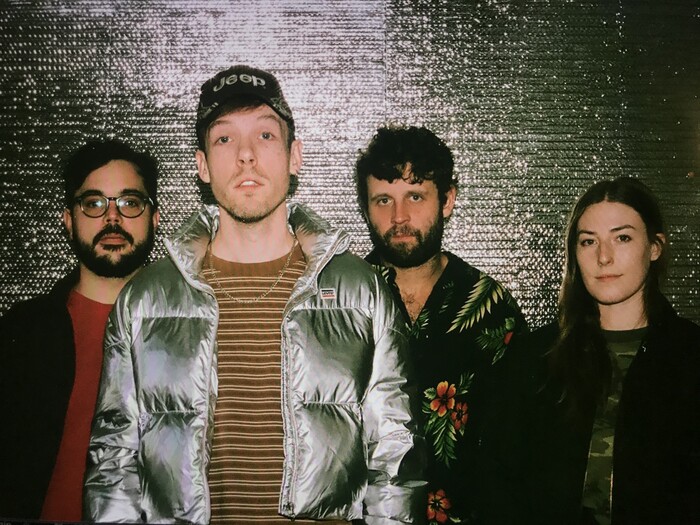 Sahara
Some creative visions arrive so clearly and so well defined, it's as if they've willed themselves into existence. That's how Sahara came to Andrew Wilson and Joe Elaschuk, the duo behind the Toronto-based group. Veterans of the thriving Toronto music scene, the two were on tour with their previous bands (Little Girls / Mausolem) when the idea for the project materialized. With the kind of closeness touring in a cramped van affords, they became fast friends and agreed to collaborate.
The name came to them before they had anything written or recorded, but the rest has since fallen into place, a tribute to their intuitive songwriting. The guitars that guide their post-punk/shoegaze arrive warped by heat haze, sounding distant yet still warm. Their melodies are bittersweet, imbued with a sense of longing that's balanced by the band's ear for hooks. Singer/guitarist Wilson and guitarist Elaschuk have since enlisted the help of Julie MacKinnon on bass, and Edan Scime Stokell on drums to bring their songs to life not just on stage but, as full collaborating members.
Their Debut record "9Pure Glass" was released June 26th 2020 on Hand Drawn Dracula Records. They are currently hard at work on a follow-up.
Sahara has performed with the likes of Lust for Youth, DIIV, Beach Fossils, Odonis Odonis, HEALTH, Chastity, Weyes Blood, The Chameleons, Night Beats, Airiel and Drab Majesty. The band recorded their debut full-length album with Dylan Frankland (of Tallies) at Toronto's Candle Recording.
"Pure Glass, is a poppy, fun time that is at once nostalgic and optimistically forward-looking. It's the perfect summertime album" – EXCLAIM!
"Will definitely appeal to fans of Minks and Beach Fossils" – VIDEO OF THE DAY // NORTHERN TRANSMISSIONS
"New Band Of The Week" – 106.8FM PHONIC UK / THE BRITPOP REVIVAL HOUR
"Irresistible pop that bursts with shimmering, duelling guitars and lovely melodies. If you like dream pop/shoegaze, you'll love Sahara" – CBC Radio One 99.1FM / ERROL NAZARETH
"Sahara merged optimistic dream pop with gritty shoegaze on debut album Pure Glass" – EXCLAIM!