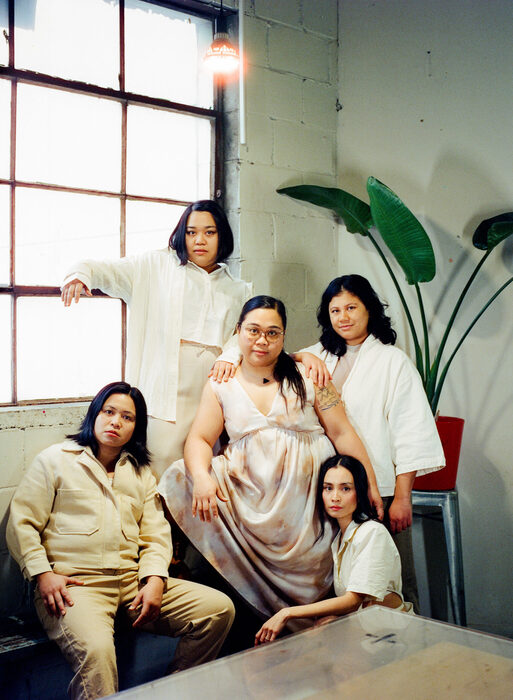 Pantayo
What tools can we call upon to access the parts of our experience that the human voice can't fully articulate? What previously unknown revelations bubble to the surface when the separation between human, machinic, and organic textures collapse? The spellbinding Toronto-based outfit Pantayo (Eirene Cloma, Michelle Cruz, Joanna Delos Reyes, Kat Estacio, and Katrina Estacio) find a satisfying resolution by reinventing their relationship to the traditional kulintang ensemble instruments, indigenous to the islands known as Mindanao, that provide the foundation for their unmistakable and unyielding sound. On their sophomore record Ang Pagdaloy, the Polaris-shortlisted group give themselves permission to dive into an appreciation for the music they discovered growing up —searing, minimal R&B; heaving drone metal; airy 90s guitar-driven rock, and gauzy, alt-country balladry. In the process, they build into their sonic landscape a constellation of somatic and aural influences, like the low-belly simmer of an unresolved crush or the metallic cacophony of the carts from early morning bottle collectors in Manila. At its core, Ang Pagdaloy is an intricately constructed collage that rejects narrow definitions, and instead, mirrors the properties of water — taking inspiration from its shape-shifting elements, devotion to organic paths of least resistance, and desire to to let go and flow.
From the onset, Pantayo was rooted in sonifying narratives; initially scaled up from a self-directed workshop to a live performance in order to contribute to an advocacy event for Indigenous migrants, and a conference on queer intimacies, then playing in a variety of multi-use community spaces around Toronto. On their critically acclaimed self-titled debut (created in partnership with and produced by alaska B), they planted fresh melodies overtop existing sheet music as an act of temporal translation — figuring out how to distill traditional soundscapes through the lens of diasporic artists from a different generation and geography. Pitchfork lauded the group for their innovative approach, "deconstructing genres and building something new with seemingly disparate parts."
On the heart of Ang Pagdaloy are a series of sweeping inquiries about their relationship to music as an ever-changing tool for self-determination following scholarship and exploratory conversations with teachers of the genre: Guro Aga Mayo Butocan and Guro Danongan Kalanduyan. Conceived along the water in Prince Edward County and recorded in PURE//LAND, ARC Recording Studio, Candle Recording Studio, Studio Z, their newest project is an exploration of the self. At times, it results in the harmonious mix of a honey-toned, meandering riff hovering below the pearlescent chimes of a sarunay, or a labyrinth of lumbering ambient, techno accented by the clang of a gandingan or water bowl. Individually, and as a collective, they reckon with complexities of coming of age alongside sounds made more accessible due to Western imperialism; of finding solace and homespaces in a limitless array of genres; and of devoting themselves to the task of deepening their ever-evolving relationship with their instruments.
In the band's own words, "Ang Pagdaloy is an assertive exploration of settling into ourselves, unabashed, with much audacity. We dared to be sensual. We dared to be vulnerable. We dared to be soft and we dared to surrender to the "pag-daloy" (the flow)."
Photo by Felice Trinidad
Past Wavelength Appearances: