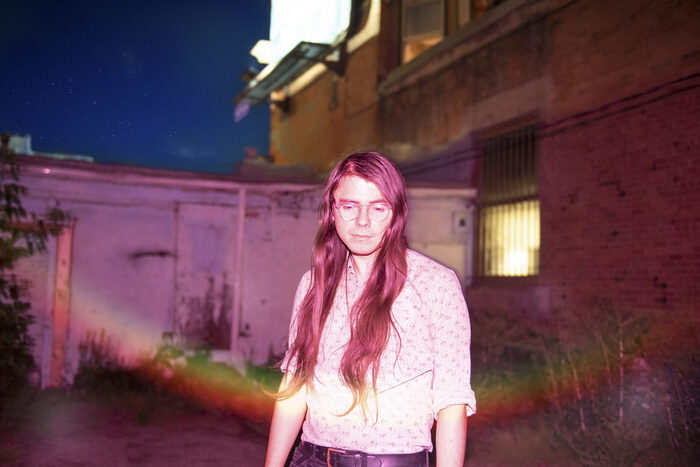 Matthew Cardinal
Matthew Cardinal's 2020 debut solo album, Asterisms, is a dazzling collection of ambient electronic music that crystallizes moments in the amiskwaciy (Edmonton)-based musician's life. Known for his work in nêhiyawak – the moccasingaze trio whose debut album nipiy was nominated for the 2020 Polaris Music Prize Shortlist and 2020 JUNO Award for Indigenous Album of the Year – Cardinal's first solo full-length is an audio journal that explores "captured moments of experimentation and expression" in eleven entries: "asterisms drawing attention to where I was musically, mentally and emotionally at very brief passages of my life," says Cardinal.
Inspired by Cardinal's ephemeral night-time flash photography, Kuse set out to create "something soft, hypnotic, and pretty to suit the music that also reflected the dreamy and nostalgic nature of his photos," she recounts. "I spent a few evenings out collecting footage near the South Saskatchewan River until I stumbled on the right material – wildflowers and grass going in and out of focus as the camera trailed behind. The footage was then processed through an old TV to enhance the vibrancy and to add subtle distortion."
"'May 24th' is the result of experimenting with generative synthesis and syncing external equipment, playing around and having multiple sound sources playing the same melody. I slowed everything down significantly and built on top of that," reveals Cardinal, a consummate sound-shaper both solo and in his role in the nêhiyawak trio. Coupled with its successor track, "May 25th" – a brief retro-futuristic motif – "May 24th" features alternatingly ascendant and cascading celestial strands, buoyed by dramatic swells of synthesizers that emit a spacious sigh at the song's gentle end.
Created with analogue synthesizers, a small modular system, samplers, electric piano, and processed voice, each sonic entry came out naturally in improvisational waves, recorded often in single days if not single takes. The minimal instrumental framework, usually set up on the floor of Cardinal's bedroom for maximum communion, created pathways through each machine to the album's vast cloud of starry narratives. "I'm very influenced by the instruments I play," says Cardinal. "I love the sound of reverb, the imperfect reflection of sounds and how it decays. The sounds of bells, chimes, electric piano, and cello. I find certain sounds very inspiring."
Calling to mind the luxurious minimalism of Brian Eno, Erik Satie, Steve Reich, and Glenn Gould, and the swirling influence of Fennesz, Jim O'Rourke, Boards of Canada, and Slowdive, Cardinal creates a glacial, airy sonic universe that is personal yet evocative, subtle yet impressive. The album opening "Dec 31st" glistens with the crystalline climate synonymous with the day, while the album closing "Jul 23rd" ranges into Postal Service territory at the height of summer with a pulsing bpm that punctuates the amorphous map of moods that makes up the record.
Described by Cardinal as "music recorded mostly for myself," the cathartic value of these instrumental compositions is found in their release. A collection of intimate contemplations becomes interpretive and intentional music, a catalyst and companion to reading, studying, working, walking, dancing, hand-holding, and sleeping. "I would like it if people listened and interpreted the music anyway they want to," says Cardinal. "I don't think these songs need a narrative, and I think certain moods come through some of the tracks, while other moods might only be heard by individual listeners."
Cardinal found the title Asterisms to be the perfect encapsulation of the record he made. In typography, a near-obsolete character used to draw attention to a passage, and in astronomy, a visually obvious pattern of stars, asterisms connects the tangible and the intangible aspects that define this music. On his solo debut, Cardinal creates a document of his inner reflections that flourishes into an offering of sonic refractions for our own contemplation during these thought-provoking times.
Photo by Heather Saitz