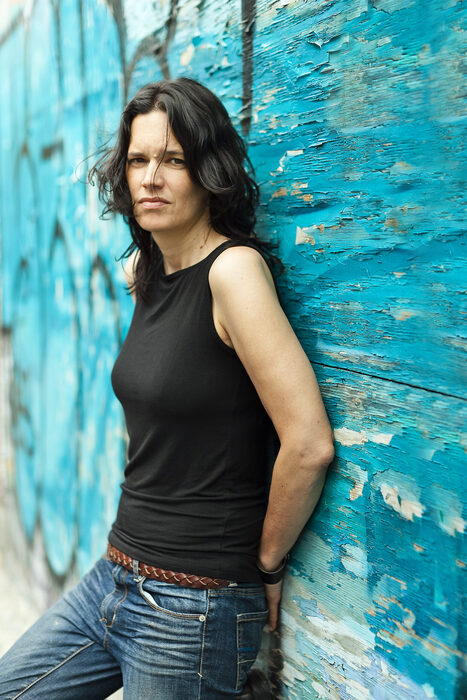 Leanne Betasamosake Simpson
Leanne Betasamosake Simpson is a renowned Michi Saagiig Nishnaabeg musician, writer and academic, who has been widely recognized as one of the most compelling Indigenous voices of her generation. Her work breaks open the boundaries between story and song—bringing audiences into a rich and layered world of sound, light, and sovereign creativity.
Leanne has performed in venues and festivals across Canada with her sister singer songwriter Ansley Simpson and guitarist Nick Ferrio. Leanne's second album, f(l)light, was released in 2016 and is a haunting collection of story-songs that effortlessly interweave Simpson's complex poetics and multi-layered stories of the land, spirit, and body with lush acoustic and electronic arrangements. Her EP Noopiming Sessions combines readings from her novel Noopiming with soundscapes composed and performed by Ansley Simpson and James Bunton with a gorgeous video by Sammy Chien and the Chimerik Collective. It was produced during the on-going social isolation of COVID-19 and was released on Gizhiiwe Music in the Fall of 2020.
Leanne is the author of seven books, including This Accident of Being Lost, which won the MacEwan University Book of the Year; was a finalist for the Rogers Writers' Trust Fiction Prize and the Trillium Book Award; was long listed for CBC Canada Reads; and was named a best book of the year by the Globe and Mail, the National Post, and Quill & Quire. Her new novel Noopiming: The Cure for White Ladies was released by the House of Anansi Press in the fall of 2020 and in the US by the University of Minnesota Press in 2021 and was named one of the Globe and Mail's best books of the year and was short listed for the Governor General's Literary Award for fiction. A Short History of the Blockade was released by the University of Alberta Press in early 2021. Her new project with Robyn Maynard, Rehearsals for Living will be released in 2022 by Knopf Canada and in the US by Haymarket Books.
Her newest record, Theory Of Ice was released by You've Changed Records in the winter of 2021, and features the artistic brilliance of Ansley Simpson, Nick Ferrio, Jim Bryson, John K. Samson, Jonas Bonnetta, Nydia Myre and Sandra Brewster. Theory of Ice is on the 2021 Polaris Prize Short List, was nominated for the Pop-Alternative-Rock Album of the Year at the Summer Solstice Indigenous Music Awards, scored an 8/10 in a review by Pitchfork, and was named #1 in Exclaim!'s 31 Best Albums of 2021 So Far. Leanne is the 2021 recipient of the Prism Prize's Willie Dunn Award.
A Note on Leanne's Family
Leanne's maternal grandmother, Audrey Williamson (nee Franklin) was born in Alderville First Nation in 1925, and moved to Peterborough at the age of three, as her Dad and Leanne's Great Grandfather, Hartley Franklin, previously a fishing guide on Rice Lake, got a job in town building canoes. Leanne's grandmother regained her Indian Status under Bill C-31 at the same time as her mom, Dianne Simpson (nee Williamson) in the early 1990s. Her sisters, Shannon and Ansley, along with Leanne and several of our cousins, regained their Indian Status under Bill C-3 after the bill became law in 2011, and Leanne's children regained their status after Bill S-3 became law in 2019. They are all off reserve band members of Alderville First Nation. Leanne was born and raised by her mom Dianne, and her dad Barry, who is of Scottish ancestry.
Photo credit: Nadya Kwandibens