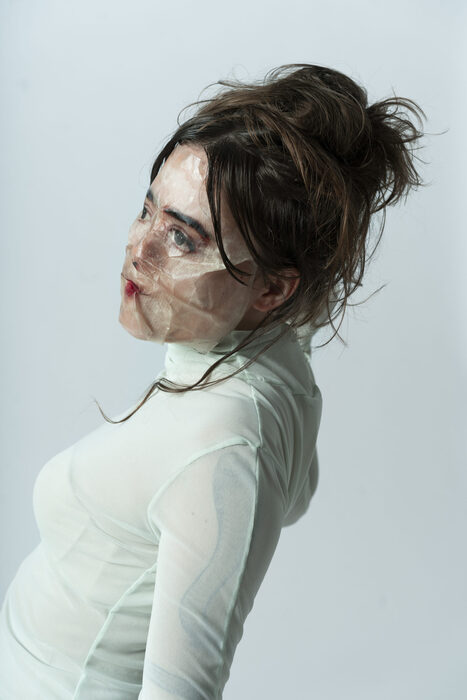 Kee Avil
Led by Montréal producer Vicky Mettler, Kee Avil combines guitar, voice, electroacoustics and electronic production to create song assemblages that teeter on the edge of collapse while oozing forward, like sticky resin picking up and shedding disparate elements along the way. Kee Avil evolved from playing guitar with broken cymbals and drumsticks to forging askew tempos and templates glued together by samples of screws dropped into crystal bowls. Her self-titled debut EP, released in 2018 on Black Bough Records, harnessed her improvised music and prepared guitar background toward a newfound structural sensibility and arresting vocal / lyrical experimentation; she has been immersed in the exploration of distinctive compositional architectures ever since, expanding her sonic palette with increasing and intensive detail, where twitchy, finely wrought postpunk electro-industrial avant-pop songs are meticulously assembled to resemble disassembly.
Honed through pre-pandemic tours in North America and Europe (sharing stages with Marc Ribot, Pere Ubu, Bill Orcutt and Fly Pan Am, among others), Kee Avil's emerging body of work signals a vital, viscous, virtuosic new voice in experimental songcraft – where touchstones include Juana Molina, Scott Walker, Fiona Apple, and Eartheater; where PJ Harvey meets Pan Daijing or Grouper melds with Autechre.
Her debut album 'Crease' was released on Constellation in March 2022.
Photo by Lawrence Fafard