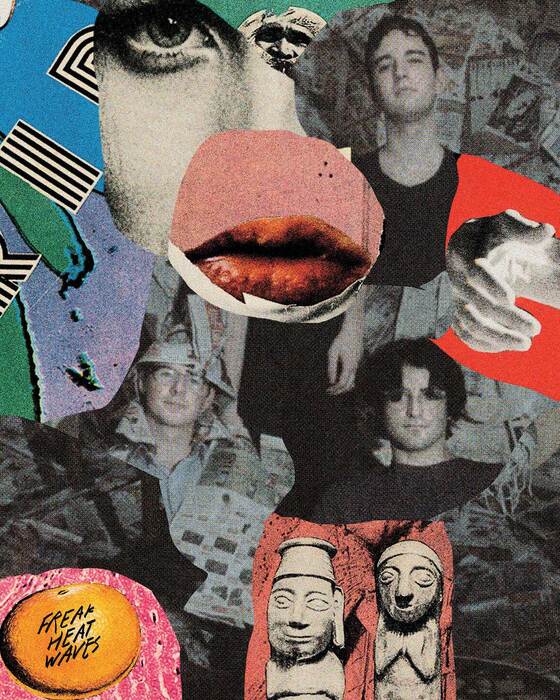 Freak Heat Waves
Freak Heat Waves
Beyond XXXL
(Telephone Explosion / Atelier Ciseaux)
In the two years since their last release, Freak Heat Waves have continued a perpetual process of transformation. Shedding familiar influences from the heavily excavated histories of post-punk and krautrock, the band has now beamed into uncharted territory with the otherworldly sound of their third album, Beyond XXXL.
On this 11-song excursion, alien strains of synth-pop and glam-rock are sandblasted with smooth guitar solos, eerie electronics, and pulsating drum machines propelled into skull-shattering breakbeats. Deeply distorted vocals narrate the narcoleptic trip like a DJ Screw mixtape splicing together John Foxx, John Maus, and The Prodigy. The result is Freak Heat Waves' most cohesive and captivating release to date, amplifying earlier melodic sensibilities while remaining singularly strange.
"In the past we were happy to use identifiable instruments, but this time we were set on creating our own sounds," says singer and multi-instrumentalist Steven Lind, offering the album's unofficial mission statement. "We processed everything, blended drum machines with real drums, and re-amped our synths and guitars to get into a mutant futuristic zone. New territory was the goal."
While Freak Heat Waves' core duo of Lind and Thomas DiNinno have primarily operated from the coastal community of Victoria, B.C., they originally formed in Medicine Hat, Alberta and have now made their most recent relocation to Montreal. Throughout extensive tours of North America, various line-ups of the group have included Cindy Lee/Women's Patrick Flegel, Fountain's Evan Jeffery, and Kyle Sherrill of Atlanta art-rockers Red Sea.
Freak Heat Waves' 2012 debut was recorded with the late Chris Reimer (Women and The Dodos), while their celebrated sophomore LP Bonnie's State of Mind saw a co-producer credit from Scott Munro (Preoccupations). On Beyond XXXL, Lind and DiNinno hunkered down to self-produce the album almost entirely independently. This process began in the studio facilities of Portland Community College, where electronic percussion expert Shawn Trail assisted with engineering the guitar, bass, and drum machines providing its foundation. Over the next nine months, the duo gave birth to their extraterrestrial baby, painstakingly shaping each sound in a pair of home studios.
Beyond XXXL matches the artifice of its alien pop with lyrics describing chameleonic performers sinking into their self-created costumes. Lind introduces this intention on opener "Self Vortex" as he intones "it ain't an escape / I want a way to transform tonight." The slowly swirling "Bad Mutation" brings a more cynical view, as he describes "an ugly subculture" with "more banter for the audience" from someone "so realistic your sanity twisted." Lind lets his guard down on the glittering romance of "Soothing Limbo", but by "I Can't Tell" it's no longer possible to recognize a loved one who has begun to "simulate the taste and the smell."
"Sell A Line" imagines early Roxy Music with Brian Eno's sputtering synths pushed to the forefront and cultural critiques that could be set in any era: "Transformation of a western nation / Fake exorcism for the sake of religion / And televise the whole ordeal." On "Subliminal Appeal", the artist has become a politician: a "belligerent ex-showman / delivering programmed slogan." Their tragic metamorphosis is completed on closer "In The Dip Of The Night," as Lind reveals his revulsion to the "prima donna of subversive sound" spreading smoke and media hoaxes until the "spotlight shines and then spits you out." Yet could it have been himself all along?
Before melting into thin air, Freak Heat Waves unleash the most striking musical moment on Beyond XXXL, which could point to their next transformation. The brain-battering blitzkrieg of "Toxic Talk Show" may sound completely drum machine driven, yet Lind explains that this self-described "grotesque freak-out rave" reached its apex with the band's original mode of instrumentation.
"We wanted the album to have more intensity and insanity with an over the top dance number," says Lind. "That one started with Thomas writing the synth line and the beat on the drum machine. We liked it but weren't sure how to bring up the energy level, and funnily enough it became one of the only songs that uses a full drum kit. For the rest of the record we were trying to dial things back, but that's the one song where we got free. We exorcised our demons right before the album ends."
– Jesse Locke