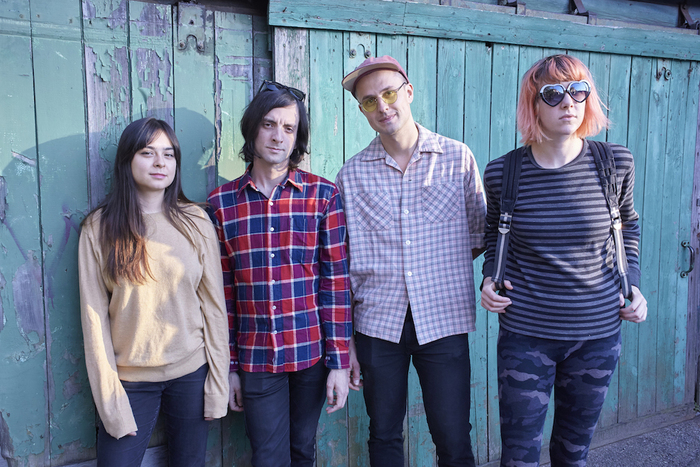 Dilly Dally
For twelve years Katie Monks and Liz Ball have been connected through music. A sister-like bond that requires no words. The two Toronto-based musicians met in high school over a common love of legendary bands like The Pixies, scrawling lyrics and poetry to mimic their heroes. Both self-taught guitarists, Ball and Monks also idolized the lackadaisical sorrow of Kurt Cobain, Christopher Owens and Pete Doherty, slowly manifesting that admiration into their own band they called Dilly Dally.
"We started a band because we believed in ourselves," says Monks, "and we believed in Music–almost like it was a religion."
That whole-hearted, delusional blind faith is what brings any musician to a point of both contention and success: you do not care, but you care so much it hurts. The reality of today's industry is long-cycle touring, frivolous press duties, tweets by the handful that paint life wealthier than it is and a mouth of Ramen, but what differs today is that those who pursue a band do it because they really, really need to. There's no promise of an easy, stress-free future. The feeling is intrinsic, an obsession that cannot be traded in for a bigger bankroll. In the last six years of "being drenched in the Toronto music scene," Dilly Dally found inspiration while doing the early 20's struggle of "working shit jobs, being in debt, partying too much and hustling in a band." When you rely on music for anything but love, it spits you out like poison and Dilly Dally are aware of this.
Dilly Dally's debut album Sore is heavy and melodic. The record has nods to Sonic Youth, Yeah Yeah Yeahs, The Distillers, and even The Pogues. Monks calls it "All that and a bag of weed." After years of rotating members (Ball and Monks have traded out three drummers and bassists), they have settled with Benjamin Reinhartz and Jimmy Tony. The combination resulted in a debut that sweeps the listener along into Monks' psyche, as she screams in a coarse holler that chameleons, sliding in cadence and scale. Monks paints pictures of snakes crawling out of her head, while Ball adds simple, sparkling guitar leads that cut through the wall of fuzz and pedals. Reinhartz's drumming is instinctual, driving forward, while Jimmy Tony carries the melody along with his simple and effective bass lines. Dilly Dally plays like one person, a unit that works to infect the audience. After a few choice singles and a 7", the band's debut is strong work, due in part to production from Josh Korody (Fucked Up, Greys) and Leon Taheny (Owen Pallett, Austra, Dusted).
"Josh literally introduced me to pedals," admits Monks. "He is obsessed with guitar sounds and helped us carve out the textures we wanted for our songs. Leon is great at looking at the big picture. Giving the songs what they need, and bringing clarity to the moments that needed it. Making that record was just six friends working our asses off together, having fun, and having serious talks about life and shit."
Sore is a dynamic album that rarely lets up. The pop sensibilities shine through the noise. This is what makes Dilly Dally feel like an updated version of the quiet-loud-quiet simplicity coined by the Pixies and mimicked by Nirvana's fleet. The opening track "Desire" details a great sexual release, while instant hits like "Purple Rage," "Next Gold," and "Snake Head" challenge menstruation, self-reinvention after heart break and band dynamics – and Canadian cigarettes. Sore is a youthful, charmingly green manifesto that grabs the listener even further with the guidance of a lyric sheet.
"Lyrics are so, so important to me," says Monks. "But singing them clearly is not close to as important to me as the feeling of the vocal performance." As a young music lover, Monks loved having to research the lyrics of the band she loved, digging through to find out what her icon was actually talking about, never fully knowing. "The lyrics are often more like me talking to one of my best friends. Passing on important messages that I think they should know about. Music has always been my best friend, so our songs are meant to be that for someone else."
With choice reviews from Pitchfork, FADER and Noisey as well as commendable performances at festivals like CMJ and NXNE and a growing fan base outside of their Canadian east coast home, Ball and Monks are ready to embark on tour and figure out the ropes along side their bandmates, who have been around the block a million times over in their previous projects.
"Music, to me, is a cultural conversation happening all the time – and I wanna be a part of it. Listen to what others are saying, and respond…it all connects to what is going on in the world. We came from the suburbs with complete naivety, and blind faith in our dreams," says Monks. "We still have that blind faith, I guess. Perhaps, we are less naive."
Past Wavelength Appearances: