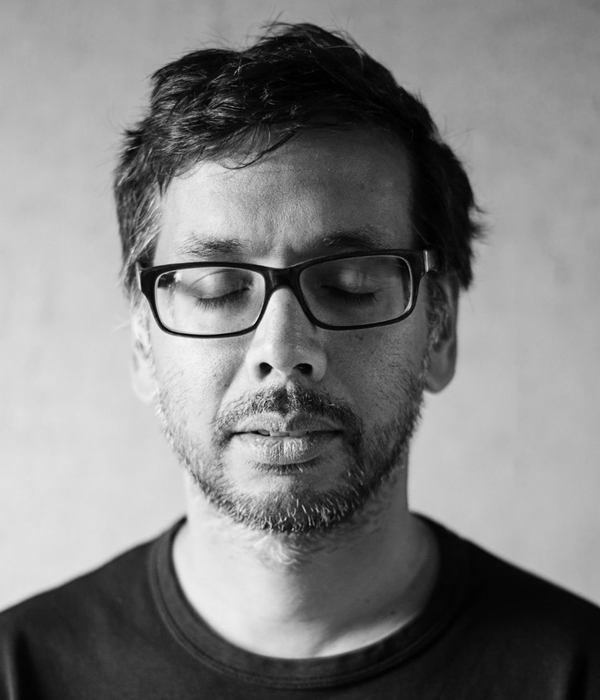 Debashis Sinha
Debashis Sinha's creative output spans a broad range of genres and media, from solo audiovisual performance projects on the concert stage to the rich sonic space between your headphones. Driven by a deep commitment to the primacy of sound in his creative practice, Sinha has developed his artistic voice by weaving together his own experience as a 2nd generation South Asian Canadian, his training with master drummers from various world music traditions, a love of electronic and electroacoustic music and technology, and a desire to transcend the traditional expectations of how these streams might intersect and interact.
He has appeared as a solo artist at the Sound Symposium, the Music Gallery, ORF Kunstradio, Deutschlandradio Kultur, the Art Gallery of Ontario, Festival del Arte Radio, Madrid Abierto, MUTEK, the Guelph Jazz Festival, Radio National España, and ISEA, to name a few, and as a member of various musical ensembles across the country and internationally, including the duo Knuckleduster with noted Berlin musician Robert Lippok, which released their critically acclaimed Nuukoono on Gustaff.
Outside of these projects, Sinha's award winning sound and music for theatre and contemporary dance has made him in demand as a collaborator and designer whose work has been heard in some of the most exciting and adventurous productions – and on some of the most venerable and established stages – in Canada. New releases are in the works for late 2017 and 2018 – The White Dog on Establishment, and Brahmaputra on Archipel.