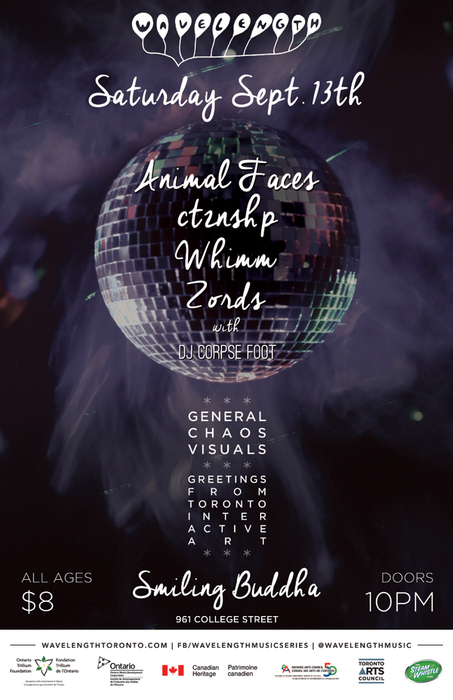 Sep 13

Smiling Buddha

10:00 PM

All Ages
Wavelength presents:
ANIMAL FACES
A thought-provoking power trio, whose combined talent should be able to invoke Captain Planet, but doesn't because the world just ain't that cool, but these guys are — and so is their shoegaze-inspired post-hardcore sound.
CTZNSHP (Montreal)
Take a bunch of kids, feed them nothing but 80's music, then thrust them into the future using some kind of fog-based time machine and there you have it. Hazy indie punch with a dash of doom.
WHIMM
Surf-rock that takes noisy lo-fi turns in unexpected ways. Like old photos of your parents on the beach that have been left out in the sun for too long. Eww, Dad in short shorts.
ZORDS
Dark synth-pop that will distract you from your awkwardness long enough that you forget, let loose, dance, and actually have a good time.
+ DJ Corpse Foot
++ General Chaos Visuals
+++ Interactive art by Greetings From Toronto
Saturday, September 13th
@ Smiling Buddha (961 College St.)
Doors 10pm
***ALL AGES***
$8
ABOUT THE ARTISTS
Zords
Bathed in warm soundwaves of synth textures and melodies, Zords craft their sound with new wave guitar riffs, disco basslines and magnetic vocals that keep listeners in their orbit.
WHIMM
Whimm is a three-piece musical project from Toronto that came to life in 2013. Through the use of repetition and droning tones, their songs march forward, suffocating harmony until dissonance breaks through.
ctznshp
ctznshp write honest, anthemic, heart-melting rock music. Their songs are filled with the sad romance of The National, the explosive pop of M83 and the steady swirling pulse of The War On Drugs. The band has become known for their captivating and powerful live performances. They have supported The National, Yuck, Small Black, Beach Fossils and A Place To Bury Strangers to name a few. ctznshp have just finished recording their sophomore record with Jace Lasek at the legendary Breakglass Studios in Montreal.
Animal Faces
With an alluring measure of melodic ambience, Toronto's Animal Faces bait listeners into their world. Just as you begin to feel at home, their teeth sink down behind the weight of some of the crunchiest and most satisfying post-everything heard north of the border in quite some time.
Wavelength #616 Programmed by: Dorice Tepley
Band descriptions by Sam Kadosh
Poster by Mike Pereira