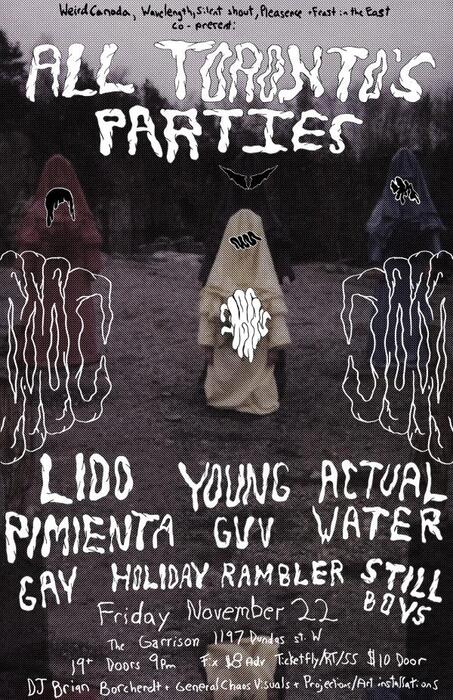 Nov 22

The Garrison

9:00 PM

19+
Weird Canada + Wavelength + Silent Shout + Pleasence Records + Feast In The East co-present:
>))) ALL TORONTO'S PARTIES (((<
featuring:
LIDO PIMIENTA
Like the sun-warmed nectar of some sweet fruit, the voice of avant-pop songbird Lido Pimienta drips, pours stickily to tantalize. Crinkled beats snap behind sexy melodies and electronic bricolage.
YOUNG GUV
Glorious garage pop from Ben Cook (Fucked Up) and cohorts spiced with FM rock guitar styles and occasionally jingle bells. Young Guv is a tattered tee, an old photo album, a shoebox of cassette tapes.
GAY
Prog-pop pranksters Gay are like a band of punked-out Muppets with David Byrne pulling the strings. Clap along, sway like a palm in the breeze or start a mosh pit if you feel like it.
KEN PARK
Toronto and sometimes Berlin synth-pop hero. Big beats. Big feels. Sinusoidal, modal elasticity curving round your corners and curves. Dangerously infectious. Submit to the waves and let your feet loose. Choose the night.
HOLIDAY RAMBLER
D. Alex Meeks (Hooded Fang) slowly walks onto the stage, sits on a wooden chair with his guitar, looks deep and darkly into the silent audience. He strums a detuned chord and in a flurried wisp, all and everything turns to dust.
STILL BOYS
Between sets, the cyclops will rise. Its tongue may lick you with its tongue or make you a sandwich. It exhales mucous-funk, smells like raisin bran and can peer into the bowels of your subconscious.
+ DJ Pammm
++ Installations by:
Tough Guy Mountain
Lido Pimienta
+++ Projections by:
General Chaos Visuals
Peter Rahul
Please note: Due to injury, Actual Water will no longer be able to perform. We apologize for any inconvenience.
Friday, November 22
@ The Garrison, 1197 Dundas St. W.
Doors 9pm 19+
$8 adv at Ticketfly / Rotate This / Soundscapes
$10 at the door
BONUS!!
The first 50 people at the show will receive an exclusive
CASSETTE MIXTAPE featuring songs from all the bands.
About ALL TORONTO'S PARTIES
"All Toronto's Parties" is a new and exciting abstraction of the common ground found between new Canadian music proponents Weird Canada, Wavelength, Silent Shout, Pleasence Records and Feast in the East. Recognizing mutual goals and values, these five autonomous organizations have come together with the intention of highlighting and showcasing the best in underground culture.
In accordance with each organization's unique vision, the first-ever "All Toronto's Parties" features a suitably diverse line-up including Colombian-Canadian avant-pop vocalist Lido Pimienta, twisted vibe-rock project Young Guv (a.k.a. Ben Cook from Fucked Up), suave jangle-pop crew Actual Water, grinning indie-pop quartet Gay, bent swamp-folk practitioner Holiday Rambler (D.Alex of Hooded Fang) and nightmare-funk experimental performance sect, Still Boys (Man Made Hill/ CN Tower Liquidation). In addition to live music, the line-up includes DJ Brian Borcherdt, installation art, video projections and psych-light from Wavelength's in-house artist General Chaos Visuals. The hydra rears its heads Friday Nov. 22 at The Garrison.