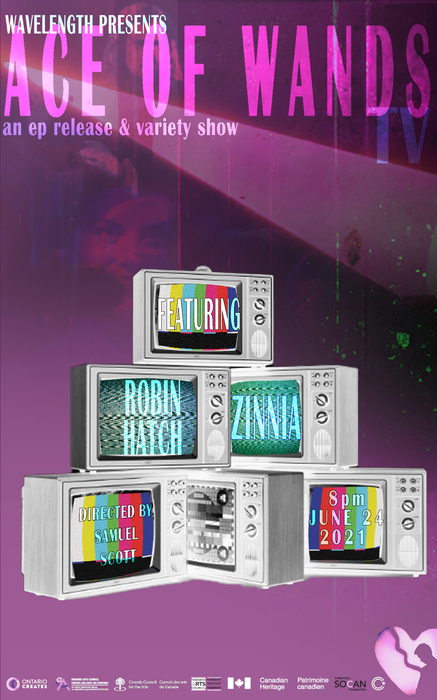 Wavelength Presents…
Ace of Wands EP Release & Variety Show
Featuring special guests:
Zinnia + Robin Hatch
Thursday, June 24, 2021
8-9PM EDT
ALL AGES // FREE // PWYC Proceeds going to Indian Residential School Survivors Society
Leading up to their EP release on July 9th, Toronto gothic psych-rockers Ace of Wands will be dropping new music and performing live for a summer variety show happening June 24th on the Wavelength YouTube channel. An hour-long show with visuals from Samuel Scott, tune-in to a VHS summer special also featuring performances and interviews from AOW friends, Zinnia and Robin Hatch. This is the perfect one-hour variety show that brings the summer gothic vibes of Buffy and Lost Boys, all in the beginning days of the summer solstice!
About the Artists:
Ace of Wands is a gothic rock band from Toronto. Songwriter Lee Rose is joined by Anna Mernieks and Jody Brumell to blend soaring vocals, violin, synth-bass, guitar and drums into songs inspired by the supernatural, elemental forces and physical sensation. Ace of Wands has toured across Canada and the US, captivating audiences with explosive live performances. Multi-instrumentalist front person Lee Rose accentuates the band's unique sound by singing and playing violin and synth-bass simultaneously. Known for stunning music videos, costuming and makeup, Ace of Wands brings a theatrical energy to every artistic outlet, marrying the surreal to the mundane and gothic horror to modern psychedelia. Motivated by the tarot card of the same name, the music is about will and determination; to create and destroy, and to bring about physical, mental and spiritual transformation.
Zinnia is the Toronto-based art pop project of Rachael Cardiello. With layered synth and driving beats, Zinnia brings an explosive range to Cardiello's writing, equal parts intimate and fierce, heavy on the salt. Once described as "Kate Bush meets Meatloaf" and first to declare a deep love for Springsteen, Zinnia is often intertwined with choreographers, dancers, and artists across the spectrum. Their debut album Sensations in Two Dot seeks to find compassion within moments of doubt. With the release of Sensations, Zinnia established themselves as an innovative and confident voice in the arts. Their sold-out Toronto album release show Through the Prism of Dance featured nine choreographers and eleven dancers interpreting the album through dance. These pieces were later re-interpreted and filmed in each choreographer's place of isolation during the 2020 pandemic in the series Sensations in Lockdown.
Robin Hatch is a neoclassical composer and performer from Toronto. She specializes in minimalist classical music for piano and synthesizer. In December 2019 her self-titled piano album received Contemporary Album of the Month in the Guardian. Upcoming releases include an album recorded on the TONTO synthesizer during a residency at Calgary's National Music Centre. Robin's music can be heard on the current season of the Blowback podcast (Stitcher premium).
—–
Poster design by Lee Rose