Sep 20

Creatures Creating Gallery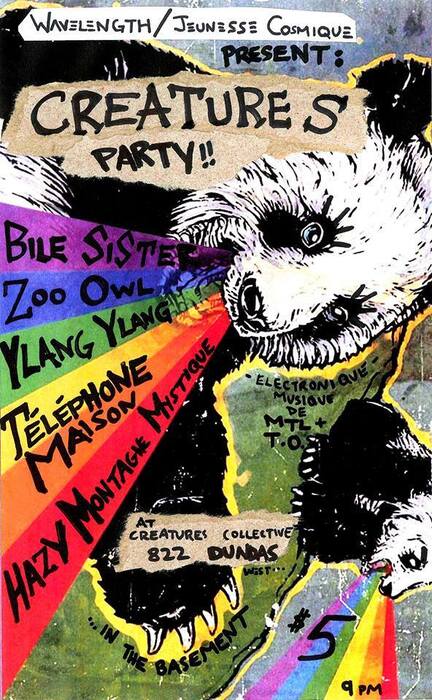 Sep 20

Creatures Creating Gallery

9:00 PM

All Ages
Wavelength & Jeunesse Cosmique Records present:
ZOO OWL (Toronto)
Strange creature discovered this past Summer by dendrologist Dr. Fletcher S McClacker in the darkest reaches of Northern Ontario's boreal wilderness. Beware its stare, for therein lies your future.
YLANGYLANG (Montreal)
Minimal blip, scurrying idea-critters flitting from the fro and to the to. Sexy morning sun haze warming up your flank and carrying electronic birdchirps. Dip deep into the stream and coat yourself in mica glitter.
TÉLÉPHONE MAISON (Montreal)
Live patch cord endoscopy. Feel the feedback span your nerve deltas and learn your flows. Coast the wave listless and in love.
HAZY (TRAFALGAR) MYSTIQUE (Montreal)
Shattered cassette tapes strewn across the tundra. From out-of-body soul soaring heights you can see they form new Nazca lines that just spell "CHILL."

BILE SISTER (Toronto)
Curdled cream demons, dancing like the Ally McBeal baby. Black-light chandeliers swing, the walls made of weird breathing flesh, disco tiles flashing spastic fantastic.
Friday September 20, 9PM
Creatures Creating (Basement), 822 Dundas W.
$FIVE BANDS FIVE BONES$
+ DJ ARP 2600
++ General Chaos Visuals
+++ SLOW-RELEASE SNAX FOR MOUTHS