Dec. 12

The Baby G
1608 Dundas St W
7:30pm
19+
$10 Advance | $15/PWYC at the door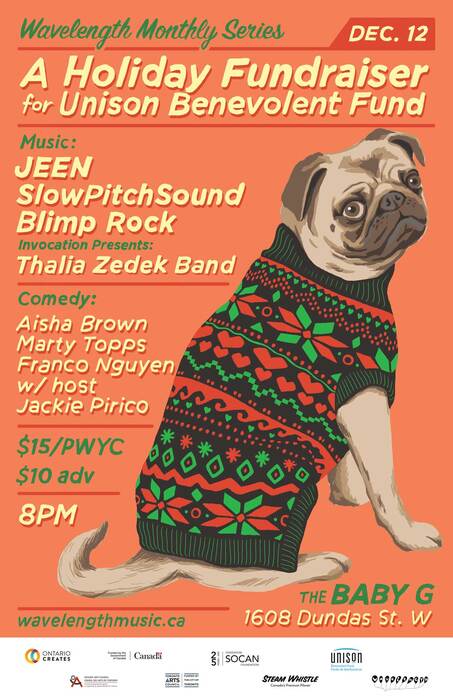 Dec. 12

The Baby G

1608 Dundas St W

7:30pm

19+

$10 Advance | $15/PWYC at the door
Wavelength Presents Live Music and Laughter in Support of Unison Benevolent Fund
Music: JEEN, SlowPitchSound, Blimp Rock, plus Invocation presents: Thalia Zedek Band

Comedy: Marty Topps, Franco Nguyen, Theresa Ramirez (co-curator – *unfortunately Aisha Brown is no longer able to perform)

Hosted by Jackie Pirico / Projections by: General Chaos Visuals.

Wednesday, December 12
Baby G, 1608 Dundas St W, Toronto
⚡️

Admission included in the

Wavelength Passport

! ($99.99 for full-year All Access Passport including admission to Camp Wavelength and Wavelength Winter Festival).

⚡️
Physically Accessible Venue.
JUST ADDED!! Now with very special guests,
Thalia Zedek Band
– American indie-rock pioneers (from Boston, ex-Come/Live Skull,
Thrill Jockey Records
) – presented by our friends at
Invocation
. (Tickets originally purchased for Monarch Tavern date honoured here.)
😂 Wavelength Presents Live Music and Laughter in Support of Unison Benevolent Fund! 😂
The December 2018 installment of Wavelength's year-round Monthly Music Series, brings together a jam-packed line-up of three local musical artists with three local stand-up comedians, in support of Unison Benevolent Fund. A non-profit, registered charity, the Unison Fund provides counseling and emergency relief services to the Canadian music community. The holidays can be a challenging time for many, and musicians are no exception. Unison Benevolent Fund is here to support professional music makers in times of hardship, illness or economic difficulties, and for our last show of the year, Wavelength is happy to donate a portion of proceeds to this worthy cause.
Celebrating the ever-vibrant local comedy scene, the stand-up lineup was curated by local comic Theresa Ramirez, and features some performers who appeared at the "Campfire Comedy" stage at Camp Wavelength at Fort York this past summer, including Aisha Brown and host Jackie Pirico, as well as Second City comic Franco Nguyen and the musical comedy of Marty Topps. The musical component features the genre diversity Wavelength is renowned for – ranging from the satirical indie-rock of Blimp Rock, to the whimsical, experimental turntalism of SlowPitchSound, to the super-charged indie-pop of JEEN, fronted by Jeen O'Brien, also of Cookie Duster with Broken Social Scene's Brendan Canning. The night will start out with a special set by American indie-rock veterans the Thalia Zedek Band at 8pm.
About the artists:
Thalia Zedek Band
Thalia Zedek is an unparalleled voice in rock music. Her music straddles the line between intimate and visceral. Zedek has received wide acclaim for her intense vocal performances and guitar playing in past projects Come, Uzi, Live Skull, and most recently her new trio E with Gavin McCarthy (Karate) and Jason Sidney Sanford (Neptune). Since the dissolution of Come, Zedek has focused her solo efforts on more vulnerable, stripped back arrangements. Her new album Fighting Season (Thrill Jockey Records) combines the grit of her past with the fragility of her solo releases, spinning tales of discord and struggle from the personal to the political and featuring performances by old friends Chris Brokaw (Come) and J. Mascis (Dinosaur Jr.). Through her exceptional songwriting and performances, Thalia Zedek's fervent passion can be felt more than ever on Fighting Season, from blustering swirls of dissonance to hushed whispers.
JEEN.
Jeen's self produced songs have been sought after for use in commercials (Google, Panasonic, Estée Lauder, Kraft, BlackBerry, KIA, Rogers, MasterCard, Molson) as well as various movies and television programs (Cook Off, Republic of Doyle, Instant Star, Ruby Gloom, Degrassi, Killjoys, Hockey Wives, Workin' Moms, MTV Catfish, MTV Are You the One). In addition to her solo work Jeen has written for many recording artists such as Great Big Sea, Serena Ryder, Res, Hawksley Workman, FUWA FUWA (j-pop) and Martin "Doc" McKinney to name a few. She is a member of Cookie Duster with Brendan Canning of Broken Social Scene and is currently working on the release of her strongest album to date "gift shop" mixed by Ian Blurton.
SlowPitchSound
Cheldon aka SlowPitchSound is a turntablist known for experimenting with music, visuals and live performance. He is the 2018 TD SoundMakers Composer in Residence and the co-winner of the 2018 CMC Toronto Emerging Composer Award. Cheldon has been developing his own style of music composition over 20 years and has released 7 studio albums. His work has been featured at Classical and New music events, popular indie music festivals, world renowned electronic festivals, theatres, museums and many adventurous spaces. Cheldon's passion for presenting fresh ideas has allowed him to perform works around the world with established artists from a number of genres. Together with longtime collaborator and legendary Toronto dancer Lybido, SlowPitchSound's shows combine improvised music, dance and projected visuals to create a truly one of a kind performance.
Blimp Rock
They've sued the Toronto Blue Jays (Google "Blimp Rock Blue Jays"), started a campaign to play in a blimp over Lake Ontario, bought Phil Elverum's (of Mount Eerie) band naming service for $200, and somehow (more quietly) put out three critically acclaimed records. Channeling the likes of Pavement, the Moldy Peaches and Lou Reed with a heavy dose of feelings, Blimp Rock spill their dorky hearts with smiles on their faces, fuzz pedals cranked to 11 and a sworn allegiance to the sensitive and mischievous.
Marty Topps
Marty Topps is a self-described synth crooner from Toronto. His catchy, high-energy music paired with his pathetic and desperate lyrics have made him one of the most must-see acts in the Toronto comedy scene. He is also a member of Laugh Sabbath, running the monthly show HA HA DUMP with fellow comedian (and singer), Tim Gilbert. Marty is a four-time Canadian Comedy Award nominee and has been showcased at the San Francisco, Montreal and Toronto Sketchfests as well as Zoofest, JFL42, Sled Island and NXNE. His award-winning videos have been featured on Funny or Die.
Franco Nguyen is a Toronto based actor, comedian, writer and filmmaker. He is a Chicago Finalist for StandUP NBC and a Tim Sims Encouragement finalist. He was one of four Bob Curry Fellows to showcase in Chicago as part of the NBC Universal Breakout festival, hosted by SNL's Chris Redd. He is currently completing his MFA in Film and Video at York University. Franco is a proud member of the comedy troupe TallBoyz II Men, winner of the 2017 Toronto Sketch Festival Producer's Pick award and Best New Comers at the 2017 Montreal Sketchfest, and Best of the Fest at the 2018 Montreal Sketchfest. The troupe recently won the BEST COMEDY award at the Toronto Fringe Festival for their full-length original sketch show, "A 6IX NNNNNN REVUE". Franco is a member of the longform improv team, Pepperoni Pizza Cats and is a cast member of the Second City Touring Company. His one-person show "GOOD MORNING VIET MOM" received critical acclaim and two sold-out runs at the Toronto Fringe Festival and the Next Stage Festival. Watch out for it on tour in 2019!
Jackie Pirico is a Canadian actress and comedian. A rising force in the Toronto stand-up scene, she was featured at last year's Just for Laughs Montreal and #JFL42 in Toronto. Jackie balances intelligence with a child-like energy that has gotten her on many "to-watch" lists. On screen, she recently wrapped Pavan Moondi's independent film Sundowners which was released in 2017. She was the mainstage host and also a Campfire Comedy performer at Camp Wavelength 2018.
Theresa Ramirez regularly performs stand-up, and wrote and produced 2018: A Sex Odyssey as part of this year's Fringe Festival. She has reached the semi-finals of the Toronto Comedy Brawl, featured as a performer for The Making Box (Guelph) and has appeared in Chatelaine magazine, Exclaim!, and the National Post. She has written for NOW magazine and the Canadian literary magazine, The Puritan.
About Unison Benevolent Fund
Unison Benevolent Fund is a non-profit, registered charity that provides counseling and emergency relief services to the Canadian music community. The fund helps professional music makers in times of hardship, illness or economic difficulties.For many, a career in music is a dream come true; however, the reality is that many members of the Canadian music community do not have access to the services that can make all the difference in a time of need: sick leave, medical benefits, pension plans, and unemployment insurance. Music makers can easily find themselves unprepared to deal with the financial and emotional burdens of an unforeseen emergency or illness. The Unison Benevolent Fund provides a lifeline in these times of crisis, and is there to ensure in the health of our friends, colleagues and collaborators.
---
---
UPCOMING SHOWS

COMING UP
The Danforth Music Hall

Saturday, March 25

7:00PM

$27 GA & Balcony

$37 Mezzanine