Wavelength Pop-Up Gallery Opening Party
---
Thursday, January 22, 2015

Huntclub Studios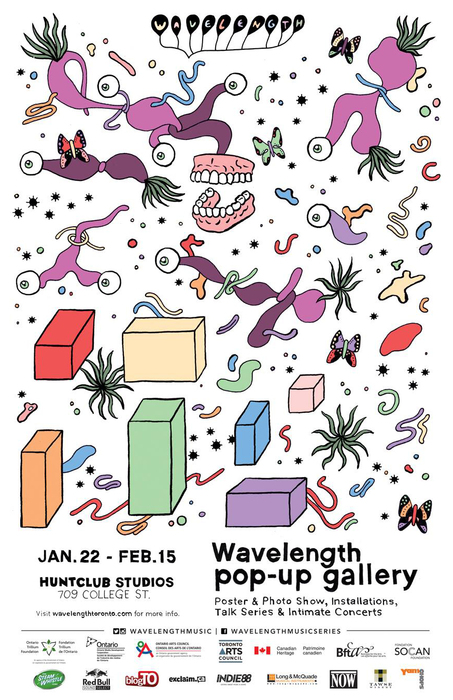 Wavelength Pop-Up Gallery Opening Party
featuring: PETRA GLYNT + ZOO OWL
Thursday, January 22
@ Wavelength Pop Up Gallery (709 College St.)
8 p.m.
FREE!
About The Artists
Petra Glynt
Alexandra Mackenzie is a multidisciplinary artist and musician based out of Toronto. She graduated from the Ontario College of Art and Design University in May 2011, with a major in printmaking. She had her first solo exhibition, New Phenomena, the following summer at 129 Ossington featuring medium to large-scale drawings. Last year, she had her second, Promised Land, hosted at Ed Video, Guelph, featuring animations, painting, laser-etching, drawing, and installation. She has shown work around Toronto most notably at Magic Pony and Narwhal participating in group shows, The Moon Room and A Clear Blazing Fire, and The Drake Hotel's Dream Chasers exhibition. In March 2012, her work travelled to NYC for the Grimes and friends 'Visuals' exhibition at Audio Visual Arts Gallery.
Petra Glynt is the solo music project of Alexandra Mackenzie. The music gathers together aspects of her background as a drummer and trained vocalist, employing heavy percussion, vocal looping, and sample-based sound collage: composed with a range of instruments from synths to kazoos, and from bells to gongs. Mackenzie's visual work merges with her music practice and speaks to themes of environmental defence and community empowerment. She finds freedom and comfort in the infinite world of composition as synesthetic representations of colour, form, and rhythm with lyrics that speak to an increasingly conflicted society and the cost of our dependence on a consumer and capital-driven system on our planet and it's people.
Zoo Owl
Zoo Owl blends performance art with techno pop. The immersive live experience aims to draw the audience into a trancelike state through hyperactive dance. Deep techno rhythms and steady beats help anchor the spastic moods, which jump between shrill highs and dark lows. Zoo Owl's sci-fi light goggles beam out to the audience to merge their collective field of vision with his own glowing frequency. Whether those luminous eyes have any lasting physiological effects remains entirely up to the spectator.
no images were found
[/types]']
---
---
UPCOMING SHOWS