May 19

Arraymusic
155 Walnut Ave, Toronto
7:00 pm
All Ages & licensed
$15 advance | $20 at the door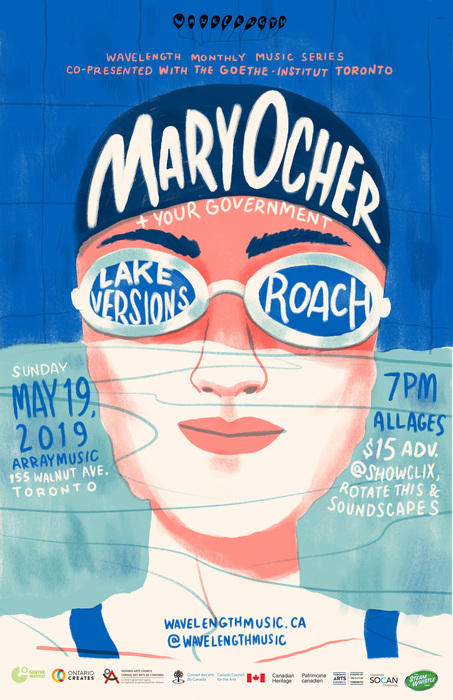 May 19

Arraymusic

155 Walnut Ave, Toronto

7:00 pm

All Ages & licensed

$15 advance | $20 at the door
Wavelength Monthly Music Series – May 2019
Co-presented with the Goethe-Institut Toronto
Mary Ocher + Your Government (Berlin, Germany / experimental multi-media art-pop)
Lake Versions (Toronto / ambient voyages from members of Fresh Snow, Beliefs & Praises)
Roach (Toronto / spunky next-gen indie pop-rock)
+ General Chaos Visuals
Sunday, May 19, 2019
Arraymusic – 155 Walnut Ave.
Mary Ocher returns with two drummers! Fresh off the recording of a new album and touring over 20 countries with the much celebrated The West Against The People and its companion release Faust Studio Sessions and Other Recordings, Mary Ocher + Your Government will be hitting the East Coast, Midwest, parts of Canada and the South with a spectacular blend of audio-visual components, synthesizers, and heaps of percussion.
Over the past decade Mary has been persistently creating passionate, uncompromising work, raw, thought-provoking, socially and creatively pushing against the current, dealing with subjects of authority, identity and conflict. Her work is as enchanting as it is polarizing, ranging from traditional folk to raw '60s garage, ambient with ethereal vocals and abstract synths, to experimental pop with African and South American rhythms.
The West Against The People was released on Hans Joachim Irmler's label Klangbad (of Krautrock pioneers Faust). It features collaborations with elusive legends Die Tödliche Doris and Felix Kubin and an essay elaborating on the themes of the album and analyzing the current sociopolitical climate*. The additional 10″ vinyl Faust Studio Sessions and Other Recordings is a co-release of Klangbad with Swedish label Sing A Song Fighter. A special tape edition was released on the US label Related Records. Her previous solo release was produced by Canadian psych rock'n'roll guru King Khan.
*The essay can be read here: www.maryocher.com/essay.html
"One of the best albums of the year"
– FACT Magazine
* Physically Accessible Venue
🎫 Tickets $15 Advance at ShowClix + Rotate This + Soundscapes 🎫
At the Door: $20
⚡️ Admission included in the Wavelength Passport! ($99.99 for full-year All Access Passport including admission to Wavelength Summer Festival and Wavelength Winter Festival). ⚡️
Wavelength respects the rights of each member of our diverse audience, and is committed to providing an environment in which everyone can feel safe. Any behaviour which could reasonably be perceived as physically, emotionally, or mentally harmful to individuals at Wavelength events will not be tolerated. This includes: racism, sexism, homophobia, transphobia, body shaming, ableism, ageism, and all forms of violence. Please be respectful of others and help Wavelength create a fun and safer space for everyone.
For information on Wavelength's Code of Conduct and Anti-Harassment and Violence policies, please visit https://www.wavelengthmusic.ca/about/wavelength-policies/