Jan 10

The Silver Dollar Roon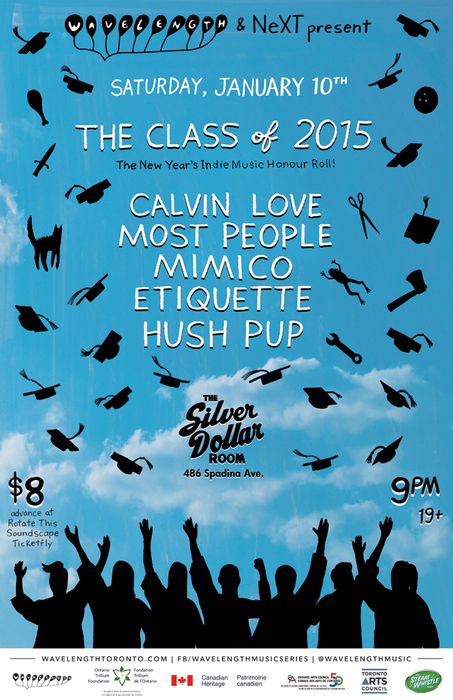 Jan 10

The Silver Dollar Roon

8:30 PM

19+
Wavelength & NeXT Present:
The Class of 2015 — The New Year's Indie Music Honour Roll!
featuring:
Calvin Love
http://calvinlove.bandcamp.com/
You're older but looking better than ever. You just moved to a bigger city and discovered bourbon. Your music sounds like sex. Suave soul-pop from this former Edmontonian and long-time Mac DeMarco pal.
Most People
http://mostpeopleband.bandcamp.com/
Perfect indie-pop for your perfect life ahead. Your graduation party mixtape in handsome bearded man form. Raise a glass of Young & Wild. (Joey + Caitlin forever!!)
Mimico
http://mimico.bandcamp.com/
Instrumental post-prog space-pop from this mysterious Toronto trio. Music for reading philosophy and drinking absinthe in your first apartment.
Etiquette
https://www.facebook.com/musicetiquette
Julie Fader + Holy Fuck's Graham Walsh make music and live life together. Synth-pop ballads that will make you feel like you've been invited to your cool older friends' dinner party for the first time. New album out Feb. 24 on Hand Drawn Dracula!
Hush Pup
http://hushpup.bandcamp.com/
Suburban-swimming-pool dream-pop from members of Triple Gangers. Sip on that cheap wine cooler like you're still in Grade 10.
+ DJ Debt Load
++ General Chaos Visuals
Saturday January 10
@ The Silver Dollar Room
486 Spadina Ave.
Doors 8:30pm – 19+
Tickets $8 adv at Rotate This + Soundscapes + Ticketfly
Poster by Mike Pereira.