Poor Pilgrim is the creation of Matt Cully, a member of the Toronto band Bruce Peninsula, but on last Sunday (July 13), you could say that it is also a genuine product of the Toronto music community. PP started as a weekly live music series at the tiny Press Club on Dundas in 2006, and after a year-long run, Cully wrapped up the series with a fabulous free outdoor show on Toronto Island, on 2007's summer solstice.
During its Press Club run, Poor Pilgrim connected the dots between the free improv, noise, drone and "psych-folk" (for lack of a better term) mini-scenes, Island Show v.1 featured the likes of acoustic balladeer Jennifer Castle, tribal/mythic drone crew Awesome and beloved composed-jazz duo Feuermusik. But the music, fine as it was, was often secondary to the locations themselves. That's right — locations plural; it was a traveling show, where the entire audience moved en masse to watch four acts in four different public spaces, in the open air, all free of charge (either electrical or monetary).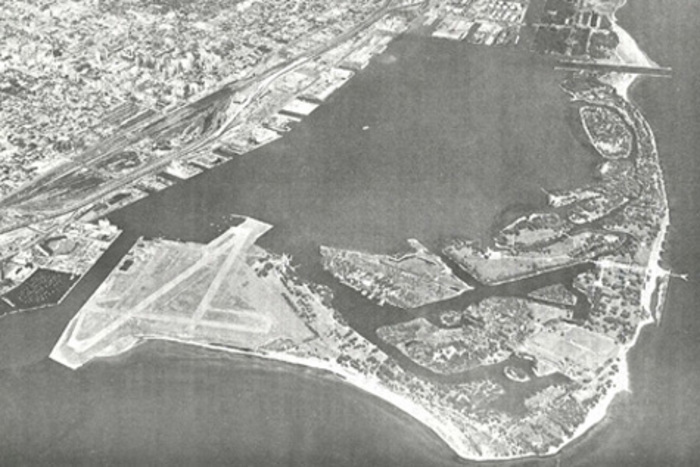 For those Internet visitors who have yet to visit Toronto "IRL", the Island is our in-town sanctuary from the congestion of the city. Happily inaccessible from the mainland except by watercraft, and blessedly free of automobile traffic, the Island is a two mile long, boomerang-shaped swath of natural beauty just a 15 minute ferry ride from downtown. It's not entirely a public park, as there is a community of residents on the eastern end, known as Ward's Island, who have engaged in a decades-long battle with various authorities for their right to inhabit the land, as well as fighting two nearby noise-makers: the Toronto City Centre Airport and the Docks nightclub (now known as Sound Academy). For the fight in their system, the Islanders are probably the most relaxed and helpful neighbours in the whole city. No one seems to lock their doors — or their bikes. Given the blissful, calming nature of the surroundings, it's easy to understand the Island vibe — and why they would want to defend it
Kudos, then, to Mr. Cully for reminding many Toronto dwellers about a natural resource that many forget is right on their doorstep. At last year's summer solstice event, I was amazed to hear how many people hadn't come here since they were a kid, or didn't know there was anything here besides the amusement park at Centre Island, or the occasional big-ticket concert with Björk or Death Cab for Cutie. As the original event was conceived of a "musical scavenger hunt," complete with maps, Cully successfully exposed the island's hidden treasures to a new legion of normally nightclub-dwelling music fans.
It was such a success that, of course, as the summer of 2008 suddenly dawned, after a long, die-hard winter, the fans were demanding a sequel. When I ran into Matt on the street at the beginning of June, he was unsure if he wanted to take on another show. The solstice date came and went, but then a surprise post went up on the Stille Post message board, announcing "Summer Solace" on July 13th, and unveiling an even more ambitious line-up.
The second annual Poor Pilgrim Island Show featured 15 performances at 15 locations, including the ferry rides to and from the Island. When I got up on Sunday morning (okay, afternoon), I wasn't even sure if I was going to go. It was a beautiful day out, but I had lots of other stuff to catch up on. I thought maybe I'd go and just check out the first half. But then I went and stayed for the whole thing.
Somehow I made it on time for the 3:15 ferry to Ward's, hot and sweaty at the dock since I didn't leave myself enough time for the leisurely ride along the waterfront trail I was planning on. Parking my bike on the bottom deck, I went up top to be greeted by a cool breeze off Lake Ontario, some familiar friendly faces, and an amorphous, pulsating drone emanating from a battery-powered Traynor amplifier sitting unassumingly on a passenger bench. Heavy Water (a.k.a. Wolfgang Nessel) created his ferry set using samples from Glissandro 70 (the amazing collaboration between Sandro Perri and Craig Dunsmuir), run through a looping pedal to create a tonal, cyclical piece reminiscent of Terry Riley's Poppy Nogood and the Phantom Band. The ferry was packed, but the array of tourists and weekending civilians didn't react as if anything was out of the ordinary.
Finding the 4pm set on Algonquin Island proved to be one of the only challenges of the day, since even organizer Cully didn't know where it was. The location was picked by double bassist Aaron Lumley, with the assistance of unofficial Island ambassador Ron Gaskin, the trailblazing Toronto jazz presenter. The setting was a field of wild grasses not far from the Ward's Island cottages, but seemingly remote from all civilization. Lumley joked that he was gigging in the "wild west," as he and his bass stood before a goalpost of ancient wood planks that could have been a hangman's scaffold (an Islander told me they were once the stage for an outdoor theatre group). His short set of solo improvisations concentrated mostly on the higher register, and showed the young player's increasing mastery of the challenging instrument, even more impressive considering he shifted his focus from the electric guitar only a few years ago.
The first boatload consisted of only about 20 of us Pilgrims, but by the end of the third set of the day, the audience had easily tripled in size. Taking place just across the footbridge in the fire pit on Snake Island, the 4:45 performers were "Colours… Brothers," a supergroup of mostly improv jazz-affiliated players. This was a long-form piece by cellist Nick Storring, who was also playing the erhu (Chinese violin). The group included Storring's I Have Eaten the City bandmates Colin Fisher (doing an admirable job on the guzheng [Chinese zither] instead of his usual sax or guitar) and Brandon Valdivia (percussion), as well as Joe Sorbara (percussion), Blood Ceremony's Alia O'Brien (flute), Evergreen Gamelan's Andrew Timar (suling), James Anderson (harmonium) and Muskox's Mike Smith (banjo). This was a beautiful set of lush, hazy, slow-moving summertime music, whose Eastern melodies and gentle percussive drive put me in the mindframe of Pharaoh Sanders' Jewels of Thought. Let's hope they play together again, and maybe (guys?) consider a new name…
Ron Gaskin opened the doors to St. Andrew by the Lake, a gorgeous little Anglican church whose pews seat about 100 people, making it an off-shore little brother congregation to St. George the Martyr (home of the Music Gallery). Picking up the wild west theme of Aaron Lumley's set, I heard later from Gaskin that Matt Cully ran in the front doors, banging them open like saloon doors, out of breath from being chased by bandits. "Ron… they're coming…. There's going to be 90 people in the church." Sure enough, the pews filled up for Ryan Driver's solo performance at the grand piano. The former member of The Silt is surely embarking upon a remarkable solo journey as a romantic jazz balladeer, if this 5:30 set was any indication. Ryan's unmistakable alto reached into the rafters and the audience was rapt.
At this point, I am going to take a moment to point out one of the only negatives of the day. Ron Gaskin not only took time out of his day to open the church for us Pilgrims, he made us coffee and brought us cake. True Island hospitality. These refreshments were greedily devoured, and either no one saw, or chose to see, the donations basket on the counter. Ron ended up with a total of $6.40 in return for his troubles. Six dollars and forty cents — a dime short of ferry fare. Dudes, just because we're Poor doesn't mean we can't spare a toonie out of respect. That is all.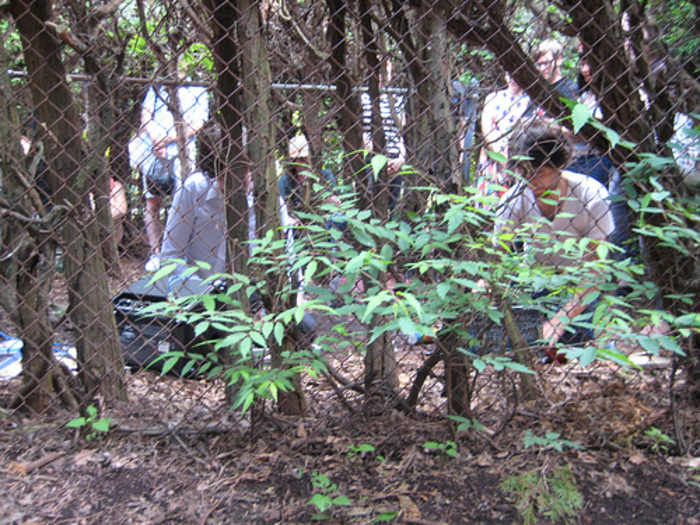 The music continued at 6:45 in the Island Maze, which is indeed a life-size hedge maze, and a source of fond childhood memories for yours truly which were slightly sullied a few years back when I revisited and discovered there is in fact no way out of the maze. You just go in and get lost for a while and then go out the way you came. The Maze is also located on the more tourist-and-city-folk-crowded Centre Island, which necessitated my first bike-locking of the day; a sad reminder of the reality of living in Toronto. Noise artist Andrew Zukerman played a piece with a tape deck and effects, accompanied by the ever-capable Brandon Valdivia on hand percussion, including a sonorous fire bell. Andrew and Brandon sat down in a fenced-off corner of the maze, with the audience seated around the perimeter; the effect was literally that of a musical cage-match.
I had to miss the next two performances, dancer Allison Peacock and singer-songwriter/Toronto institution Eric Chenaux, both in Franklin's Garden, due to girlfriend recon and a dinner break. I met up with Kerry at the Centre ferry dock, and we proceeded to Centreville, the olde-tyme village-themed amusement park that most Islanders avoid at all costs. I still have very fond childhood memories of riding the fire engines and choo-choo train, which are surprisingly unsullied by morosely working there as a game monkey one teenaged summer. After chowing down on Shopsy's dogs, we rode the gondolas and visited the Haunted Barrel Works, which seemingly hasn't changed since it terrified me as a child. 30 years of decrepitude in fact only adds to its creepiness.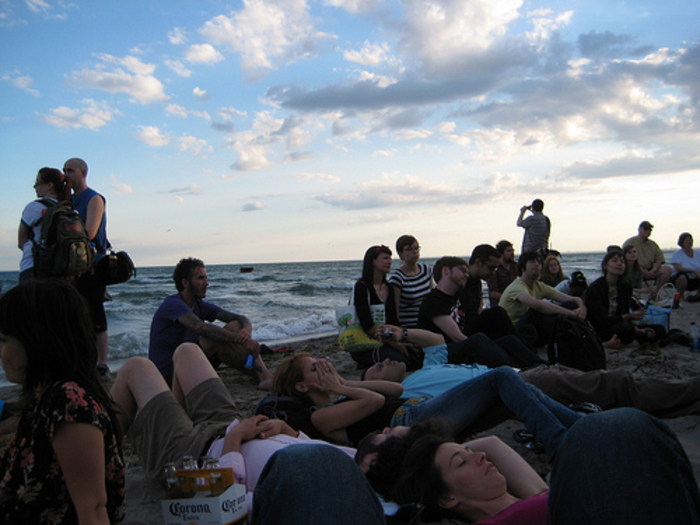 We rode our bikes down the path to reconnect with the Pilgrimage at 8pm on Gibraltar Point beach, one of my favourite spots in Toronto. The Gibraltar Point Centre for the Arts, which offers a great artist's residency program, is located in a former school building, and its old portables now house the Gas Station recording studio. Behind the Centre is a glorious and secluded beach. Nadja, the ambient doom-metal duo of Aidan Baker and Leah Buckareff were set up on a picnic table, and 100 people surrounded them in an arc, some lying down to fully soak up the multiple waves of sound. The effect was truly magnificent. The sun was just starting to go down. Kerry and I met up with our friend Demian and took our shoes off to wade in the surf. We couldn't help but make a few raver jokes — at our own expense.
I have to admit I wasn't too crazy about Laura McCoy's installation by the Gibraltar Point lighthouse, which consisted of her lying face-down on the path with a large black ball on her back. With 200 years of history and innumerable ghost stories, I don't know why she didn't do something more site-specific, though maybe I'm missing something. We also missed Yuula Benivolski's destruction of her doppelganger piñata, though she did pour us out some candy from a broken appendage.
After connecting with our friend Samir, we headed down to the Gibraltar Fire Pit, a large space with six wide benches, for a fine set by Alex Lukashevsky, another singer-songwriter/Toronto institution who is also the leader of the group Deep Dark United. Alex played some of his "hits," including "Crush Love Crush" and "Girlfriend," and very much pleased the crowd, especially one dreadlocked hippie dude sitting next to him.
We had lost all sense of time by the time we got to the Hanlan's Point Beach for All Under Heaven. Confusion reigned a bit, as another of the acts didn't show up, and no one was sure exactly where the beach entrance was. Darkness had fallen, and with it the temperature. By day, Hanlan's is a Toronto's notorious "clothing optional" beach. At night, it offers a beautiful view of the west end of the city as well as the stars. The moon was obscured by clouds, which added to the eeriness once we found the crowd, who were dead quiet. All Under Heaven contains members of the bands Ghostlight and Mean Red Spiders, and their beach set was supremely minimal, consisting of just one repeated keyboard melody alongside occasional clanks and squeaks. We sat next to the fire for warmth. The whole crowd seemed to be lost deep within some kind of group meditation. Kerry said it was almost like we were a "tribe." No one needed to talk to one another, everyone was just happy to be together.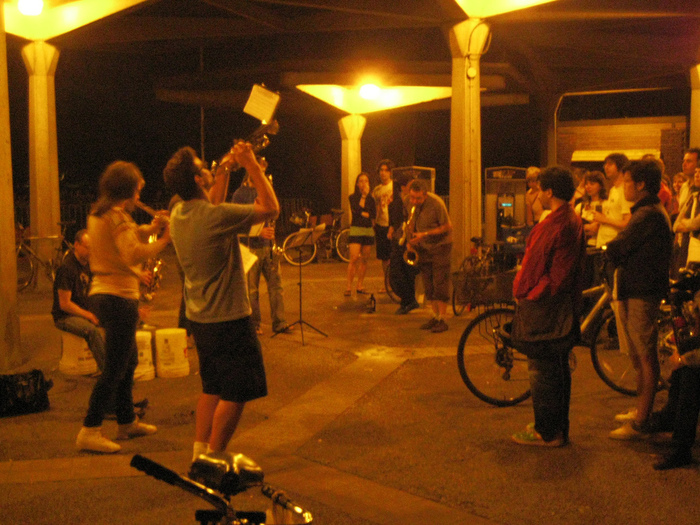 The grand finale of this epic day, however, woke everyone out of dreamtime and into embodied, blood-pumping reality. Feuermusik played at the Hanlan's Ferry Docks at 10:45, before the last ferry of the night. This was the third time I'd seen Feuermusik, the duo of tenor sax-dude/composer Jeremy Strachan and percussion/bucket-master Gus Weinkauf, in the last month, and each time was equally different and awesome. For this show, they played as seven-piece with the help of Gabe Levine (clarinet), Alia O'Brien (flute), Nick Buligan (trumpet), Jay Hay (bass clarinet) and Evan Shaw (alto sax). I will admit that after several hours of listening intently to so much quiet music, that I wanted something LOUD. Like horns blasting in my face. FM played a devastatingly swinging version of their Ethiopiques-inspired number "Nearness/Distance," which culminated in two sustained minutes of cheering and applause over the extended finale chords. The crowd, though it had dwindled in size a bit, was ecstatic, and pockets of spontaneous dancing and clapping erupted throughout it.
Our boat came in, but the show wasn't over. Heavy Water reprised their opening drone piece by performing it at the bottom of the stairs, in front of the gangplank, with Wolfgang and two comrades dressed in white jumpsuits, with their back to the crowd as coloured visuals were projected on to their bodies, pulsating like the drone. It was an appropriately surreal way to end a day of both sensory overload and community can-do spirit.
I thought a lot about how something like this could be done with "proper funding," but also how that would ruin it. Part of the beauty of the Poor Pilgrim Island Show is the scale of it; you'd lose the sense of intimacy with more than 100 people. But also, as Kerry pointed out, it's a true product of the community; no money changed hands. Much as I want to see musicians and artists (and organizers) get the payday they all deserve, sometimes it's just plain good to see everyone pitch in and do something just because they want to see it happen.
— Jonny Dovercourt