Camp Wavelength is more than music! With Day Camp in the City, we've got a new multi-venue format, including a magical new waterfront venue, Sherbourne Common park, for our daytime programming. We'll have a boatload of visual arts installations, performances and interactive activities for you to enjoy at all of our venues. So jump on your bike or grab a free ride to and from the park, on the BOLD BUS powered by Gibson's Finest BOLD 8yr Canadian Whisky. Here's what you can expect:
Activism Lending Library
Melissa Vincent
Sherbourne Common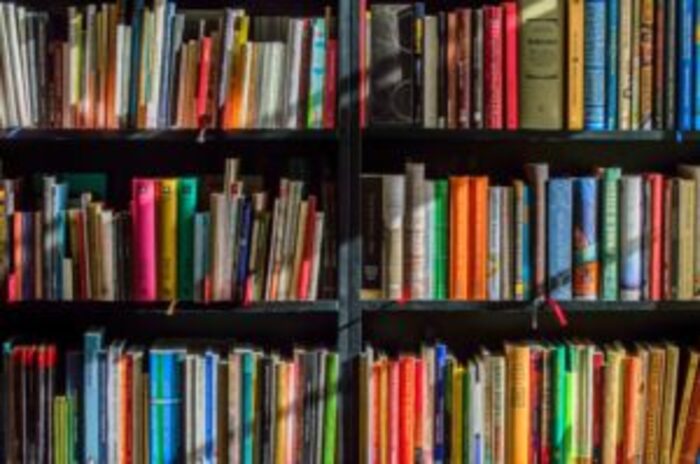 Knowledge is power and rarely has that statement been more true than when it comes to activism or allyship. Borrow a book on a subject you're familiar with, an area you would like a different angle on or a topic that you're just learning about. In any event, you're guaranteed to leave with a new perspective.
Campfire Comedy
Presented by Gibson's Finest BOLD 8yr Canadian Whisky
Camille Cote, Jackie Pirico, Harpreet Sehmbi, Carol Zoccoli
Sherbourne Common
Saturday & Sunday, 4:45 & 5:45pm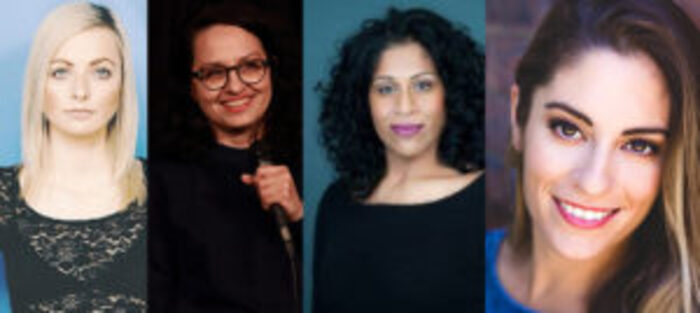 Pull up a Muskoka chair and join us around our daytime artist-made campfire for intimate stand-up comedy sets, along with whisky tastings by our friends at Gibson's Finest BOLD 8yr Canadian Whisky. Up-and-coming Toronto comics Camille Cote, Jackie Pirico (Laugh Sabbath), Harpreet Sehmbi (The Mana Del Rays), and Carol Zoccoli are collectively vets of Second City, The Comedy Network, Toronto Sketch Festival, Seattle Highlarious Festival, and Halifax Comedy Festival.
Literary Fortune Telling
Diaspora Dialogues in the Park
Sherbourne Common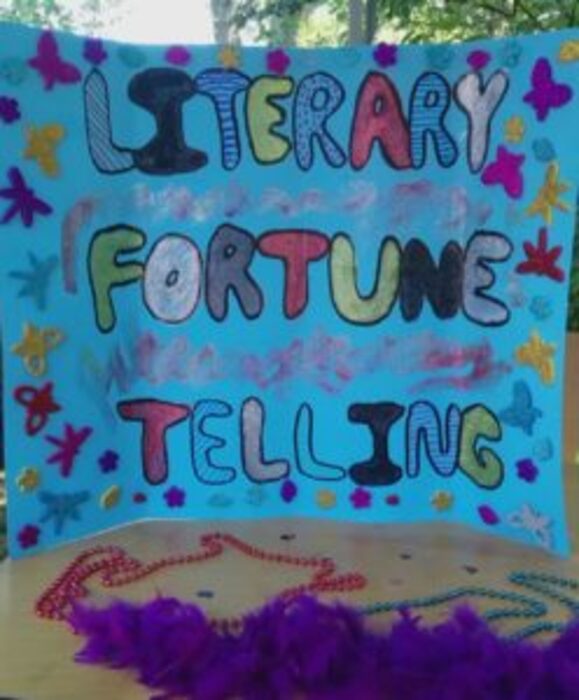 Diaspora Dialogues is back at Camp Wavelength, once again staging a Literary Fortune Telling event featuring some of the city's best emerging writers! Turning to the stars (of great texts) to answer your burning questions, Camp Wavelength attendees can get their palms read and fortunes told as our writers borrow histories from some of the most revered literary tales around!
The Dream Census
Collective Unconscious
Sherbourne Common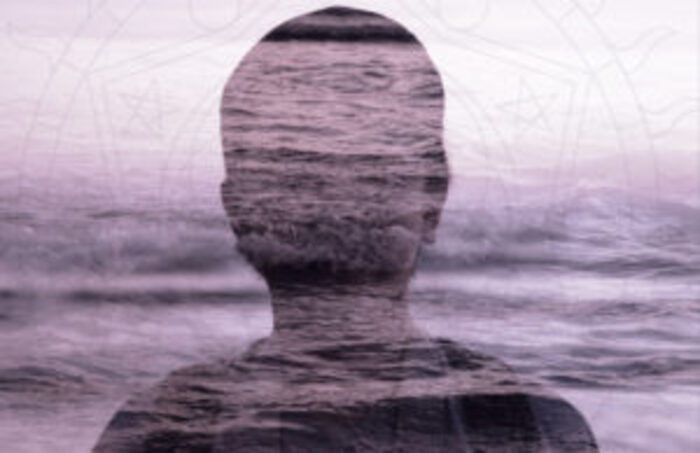 In what ways are our dreams different? In what ways are they the same? The Dream Census explores our collective relationship with dreams, turning first-hand experiences into art and insights for a more communal, informed dream life. There are no right or wrong answers, and everyone can participate.
General Chaos Visuals
Stage Lighting Design
The Garrison & Longboat Hall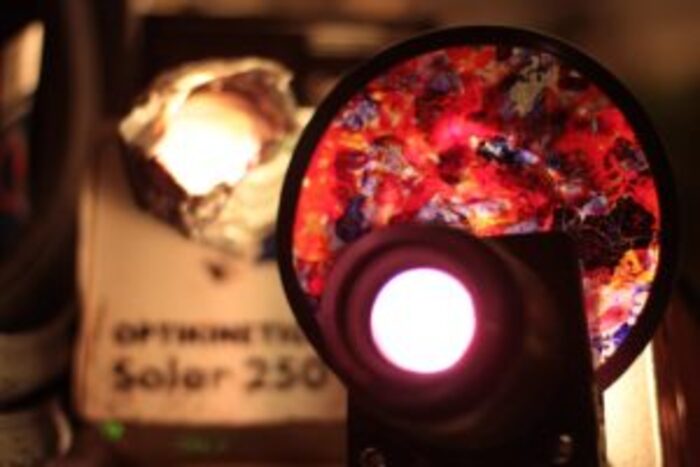 Inspired by the psychedelic, immersive visuals of Hawkwind, Steve Lindsey founded General Chaos Visuals in 2000. Steve has created and delivered analog projections for the majority of Wavelength's shows over our 17 year history. The images used on his hand-painted gels are entirely abstract, using techniques he has developed to give his imagery its unmistakable look.
Roxanne Ignatius
Stage & Room Decor
The Garrison, Sherbourne Common & Longboat Hall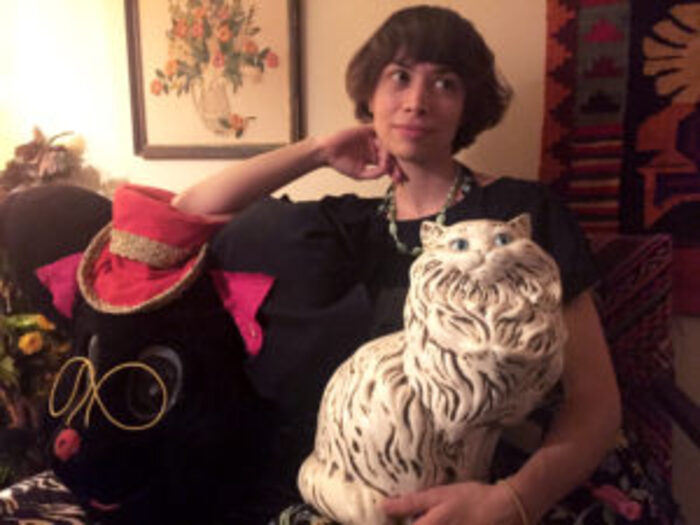 Roxanne Ignatius is a Toronto-based illustrator, costume designer and textile installation artist. In 2015, she joined the Wavelength team as installation artist and set designer, crafting interactive pieces including a tent with a hand-dyed, accurate map of the night sky, and a large hanging sculpture that became a balloon drop at midnight.
Manimal Sanctuary
Sherbourne Common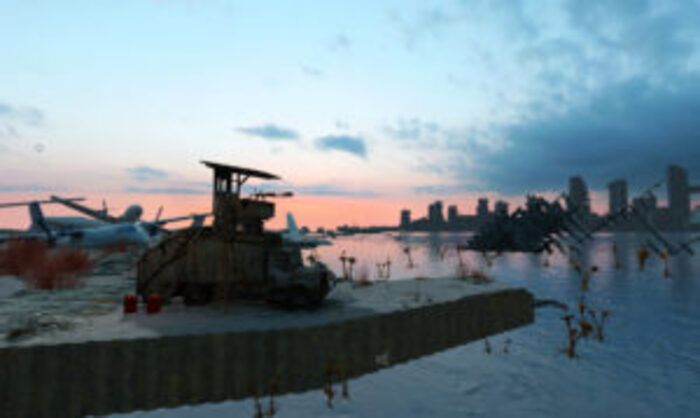 Missing the Island this summer? Try Manimal Sanctuary, a "slow VR" game prototype set on Toronto Island. Play a Cthulhu-like elder god who subsists on emotions. Art by Mathew Borrett, music by Laura Barrett, development by Jason RT Bond, and writing and design by Jim Munroe.
http://postopian.games
Mariana Trench: A Fortune Telling Creature From The Deep
Rebecca Felgate
Sherbourne Common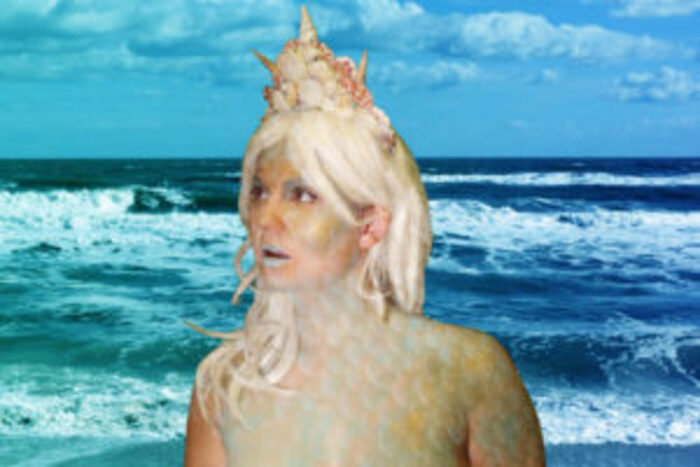 A fortune telling mermaid from the bottom of the ocean, Mariana emerges from her trench to greet you, to enlighten you, and to warn you. A curious creature attuned with the ocean, her connection with the water gives her a refined understanding of your destiny. Humans are, after all, 60% water. Come and meet her for some true pearls of wisdom.
Mattendo 17
Matt Beckett
Sherbourne Common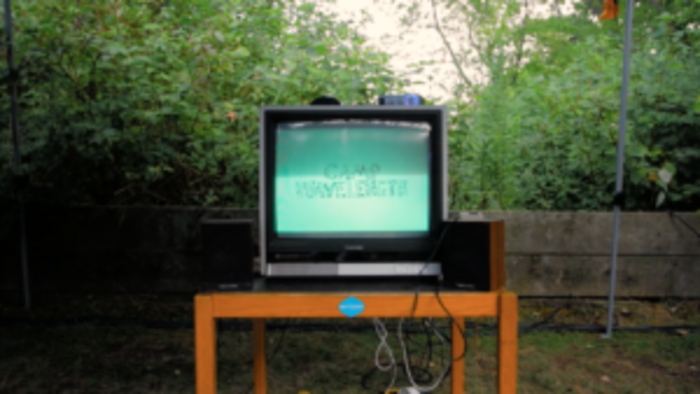 Mattendo 17 returns to Camp Wavelength with more new old-school video games. Make virtual Bunz trades in "In Search Of," catch your belongings thrown out of windows by angry exes in "Dumped," or play with friends with the minimalism-meets-Mario "Step Brothers."
Presence Unseen (Appearing)
No. Is a complete sentence.
Sherbourne Common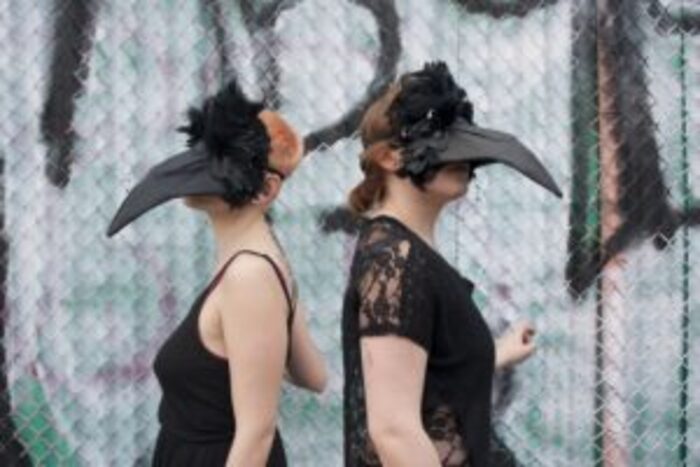 No. Is a complete sentence. (Sandra Mannila, Sheri Nault, and Taylor Norris) is an art collective working from an intersectional, feminist, decolonizational framework. Their piece, Presence Unseen (Appearing), is an interactive, untimed performance working within traditions of mask-play and feminist performance art. Be wary of wolves, they hunt in packs.
Schwister
HopkinsDuffield
Longboat Hall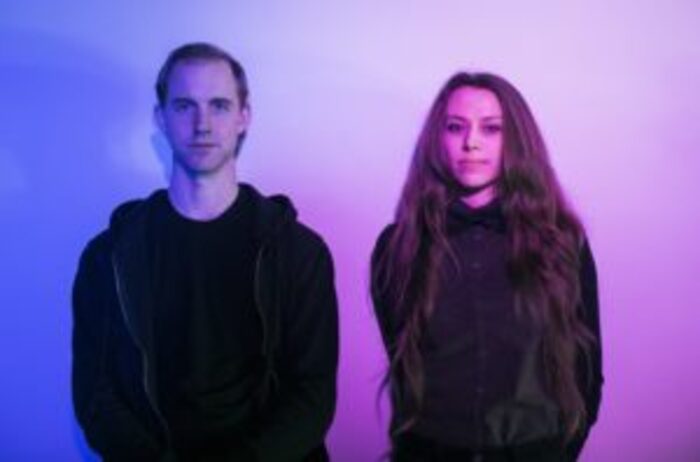 SCHWISTER is a team-based multiplayer competitive light-up tabletop arcade game that combines the spirit of Twister with the frenzy of Whack-A-Mole. Photo by The Super Maniak.
Special Purpose
Longboat Hall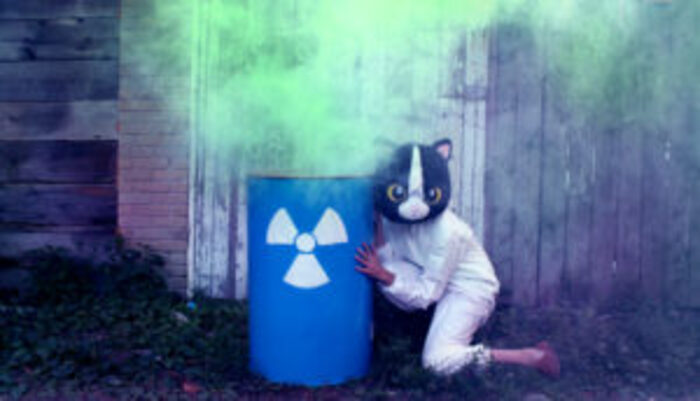 Special Purpose is a superb avant-garde multi-media entity. Special Purpose invites us to remember that we live next to one of the world's oldest nuclear power plants. Special Purpose wants us to spend our evening witnessing the beauty and ambiance of green toxic sludge. Special Purpose is conflicted about modern life.
Temper Tantrum
Sherbourne Common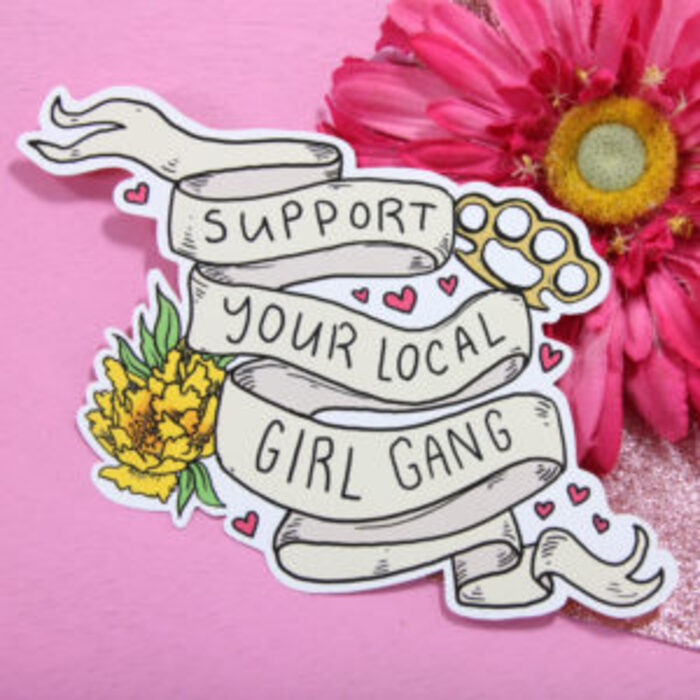 Temper Tantrum is a curated multi-vendor online marketplace that supports self-identifying women artists who are creatively outspoken. We aim to create a community that pushes each other. We sell art that is sometimes wearable, sometimes stick-able, and sometimes readable, all at an accessible price point. tmprtantrum.bigcartel.com
Versa
Projections
Longboat Hall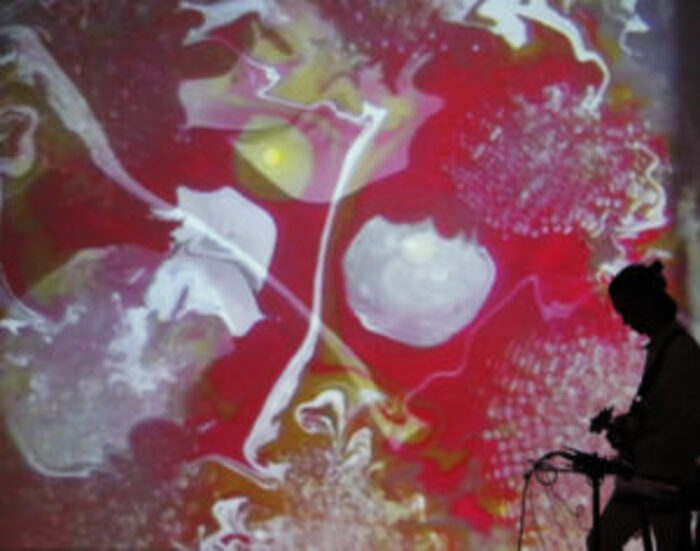 VERSA creates abstract visual projections in response to music. Using analog camera equipment, digital video mixing, and found materials, they create video collage as a backdrop to live music shows. In the past two years, they have animated the stage for artists such as Future Peers, Shotgun Jimmie, Hooded Fang, Whoop-Szo, and Minotaurs, amongst others.
Weavelength
Milk Lab Collective
Sherbourne Common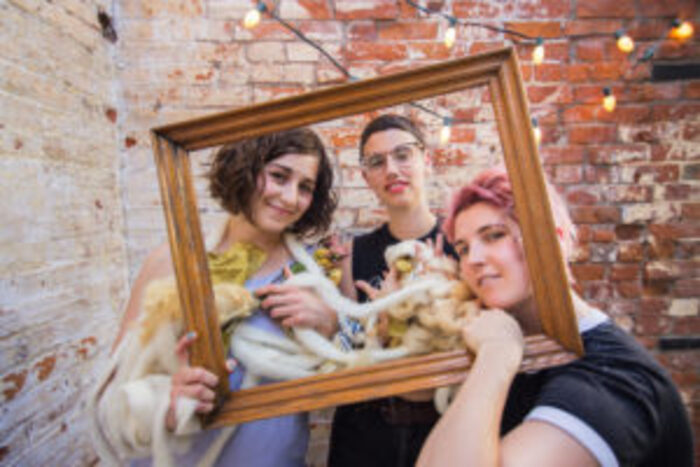 Milk Lab is an interdisciplinary art collective that focuses on integrating art into community and transforming community into art. Weavelength is a group-weaving project in which participants come together to create a community tapestry. We encourage participants to bring their own materials such as fabric, yarn, old clothes, small tokens, and photographs, increasingly adding variety to the piece.
The Weight of Love and Loss
Anthea Foyer
Longboat Hall
Sunday, 7:45pm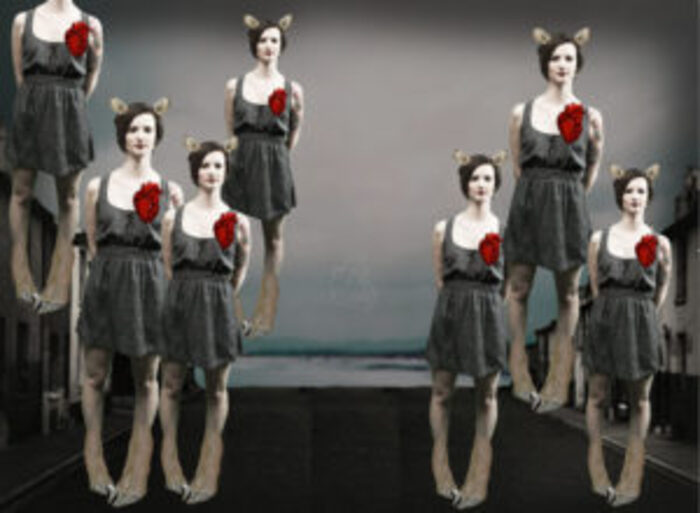 The Weight of Love and Loss is a dark fairytale for adults. It is the story of Lottie as she explores love, death, grief, heartbreak. This story will be told using an overhead projector and two turntables. Anthea Foyer is a multidisciplinary artist. She likes telling strange stories in unusual ways.