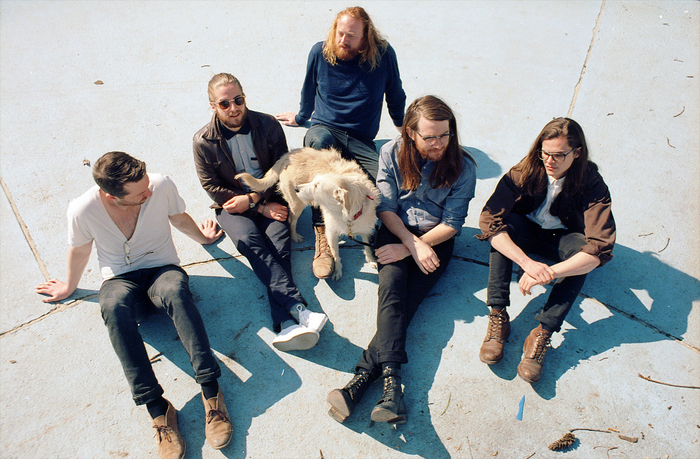 The Wooden Sky
The title of The Wooden Sky's fifth full-length album is an abridged quote from Frank Herbert's 1965 sci-fi novel, Dune: "Survival is the ability to swim in strange water." It's a phrase that seems especially apt in 2017, as many of us are still reeling from the previous year. For Gavin Gardiner, the frontman of the Toronto-based indie rock band, the way to understand and reconcile these unknowns — from oil pipelines and refugee crises to his own family's personal history— is through songwriting. "It's how I filter a lot of things that come in," says Gardiner, as he walks through the residential streets of Toronto's Roncesvalles neighbourhood. "For better or for worse, it's how I deal with things and how I communicate my feelings." Swimming in Strange Waters is Gardiner trying to make sense of the world.
The band (made up of Gardiner, multi-instrumentalists Simon Walker and Andrew Wyatt, violinist Edwin Huizinga and drummer Andrew Kekewich) started writing and recording demos in a small farmhouse in rural Quebec in January 2015, but then put them aside as they embarked on a year-long tour in support of their previous album, Let's Be Ready. When they resumed work on the album in March 2016, Gardiner says the band caught a severe case of "demoitis", a condition wherein "you fall in love with the scrappiness of the demos." So rather than completely re-working them, they decided to record the album in the same way as the demos: in Gardiner's home studio, using old tape machines and live off the floor.
The resulting album is a sonic maelstrom that sees the band exploring unchartered waters, where textural psychedelia inspired by the Paisley Underground movement melds into quiet, acoustic cyclical guitar melodies, before once again transforming into a bombastic, Johnny Cash-esque rally against the XL Keystone pipeline in Canada. While Let's Be Ready found the Wooden Sky writing a pure "rock and roll" album, Swimming in Strange Waters sees the band experimenting once again. "I feel like we're back on track," says Gardiner.