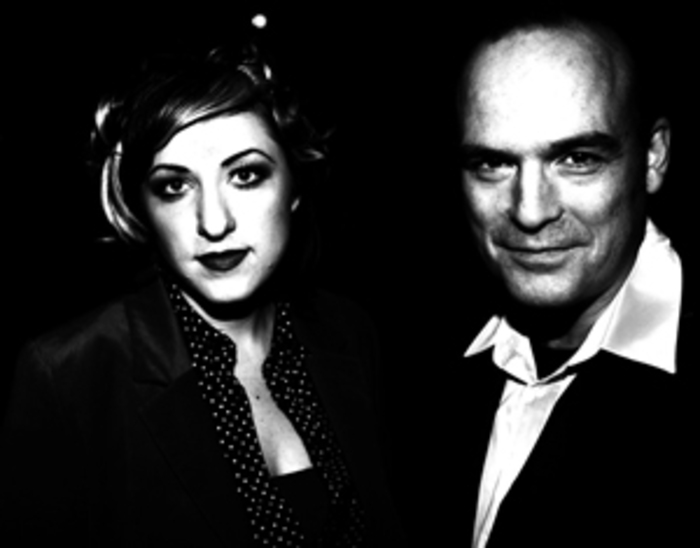 Since tomorrow is Valentine's Day, we thought you might like to hear a true love story from Jessie Davis:
"The first Sunday in November 2004, the Wavelength show (#238, I believe) at Sneaky Dee's was King Cobb Steelie – a band I had always quite liked but had never seen live. My friends Tanje and Phil and I arrived early and sat downstairs in the front area drinking beer. With my back to the window facing my two friends, I had a clear view of the whole bar – including a table two down from us. They had kind of the same setup going on, and the guy facing me was glowing. I don't know if anyone else experiences this (though I figure they MUST), but this is how I suss out my friends and lovers. If they ain't glowin', they ain't worth knowin'! Anyway…
The thing was, I felt like I was glowing to him, too. This was odd, since I don't think I've ever glowed to anyone else before – at least not right away. We made eyes at each other, smiling, glowing, for the better part of an hour, and then their table just got up and left! I was terribly disappointed, and cursed him for abandoning such an intense mutual glow session.
Upstairs, our little threesome secured a great spot along the windowsill – an awesome seat with ample dancing space – and before long the band were taking their positions. I wasn't really paying attention until they started, and when I looked up, I was shocked to find that the band was none other than the table from downstairs. The man I had so intensely connected with was actually Kevin, the bass player!
He walked off stage when they were done, and I approached nervously as he stood at the bar. After introducing ourselves, we just stood there, grinning at each other like idiots.
Tanje and Phil were leaving and asked if I was coming, but I declined. Kevin asked what I was doing then, and suggested we walk together down Queen Street – west toward his apartment, and when we saw a streetcar coming east, I'd get on it to head home. We left the bar and began our trek to Parkdale.
I never caught a streetcar home that night, but rather walked hand in hand with this stranger I'd already known for a thousand years, smiling and laughing like fools, all the way to his apartment. We stayed up until the sun rose, sitting tangled up in each other on his living room floor, conversing in hushed tones until our eyes couldn't keep up with us. We slept for two hours, and then I got up, rushed home to change my clothes, and hurried to work.
I smiled all day, and my coworker/adopted mother Janice took one look at me and laughed hysterically.
"You're in love," she teased.
I did not confirm nor deny, but I guess she was right. Kevin and I just celebrated our five-year anniversary…all thanks to Wavelength."
And to make it an even better Wavelength story, Jessie and Kevin now make music together in a band called Meniscus Curve. Awesome!