X Avant Festival: Drums and Drones feat. Brian Chase (Yeah Yeah Yeahs) + Phrase Velocity
---
Friday, October 17, 2014

The Music Gallery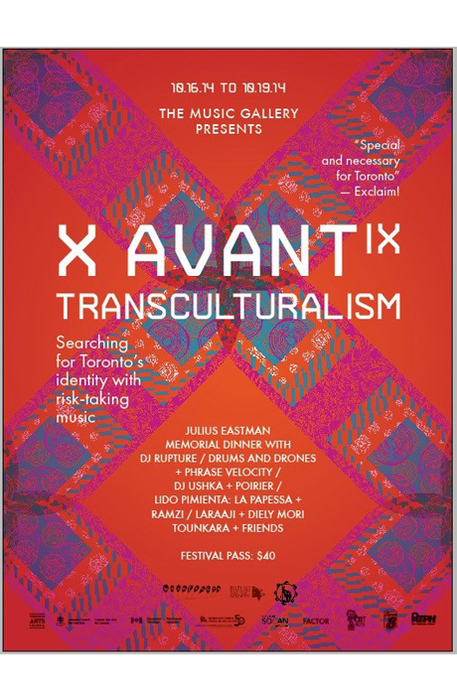 Friday, October 17, 2014
The Music Gallery and Wavelength present:
DRUMS AND DRONES
featuing Brian Chase (Yeah Yeah Yeahs) + Ursula Scherrer
with special guests, Phrase Velocity (Jonathan Adjemian + Ed Hanley)
Part of the X Avant Festival
The Music Gallery, 197 John St.
Doors 7pm, concert 8pm
Tickets: $15 Advance at Soundscapes or BUY NOW
Whether generated by buzzing bees, meditative chanting, malfunctioning amps or instruments like the tambura, drones have the power to hypnotize and uplift people the world over. This Wavelength/Music Gallery co-presentation at the X Avant Festival brings us two variations on percussion and sonority.
Drums and Drones is the name of a sonic/optic project of Yeah Yeah Yeahs' drummer Brian Chase (sound), and Ursula Scherrer (light). Born initially as Brian's solo venture, it has since expanded to include the video projection of Ursula as a key component of the experience.
The inspiration for Drums & Drones originates from the Dream House, the ongoing sound and light installation by La Monte Young and Marian Zazeela in TriBeCa, NYC, and with that the notion to investigate the detailed acoustic properties of drums and percussion. Expansive soundscapes are constructed, like aural snapshots of tone, uncovering the richness of sonic depth hidden within the resonance of these instruments. The music is built according to the principles of Just Intonation, a method commonly known as "nature's tuning system."
Scherrer's visual elements explore and reconstruct elements of found forms, whether in filmed objects or light itself; an architectural abstraction continues to emerge and re-evolve, and layers stack to reveal shifting fields of depth and perception. In this way, the projections function as 'moving paintings' designed to entrance and entice, and bring on what's been referred to as a 'drone state of mind.'
Chase's previous collaborators have included guitarist Alan Licht, pianist/composer Anthony Coleman, and John Colpitts's Man Forever.
Phrase Velocity is virtuoso tabla soloist Ed Hanley joining forces with Toronto electronic musician/drone artist Jonathan Adjemian for a long-form cyclic confabulation on rhythmic patterns and sine waves. Solo tabla is a sophisticated drumming tradition from North India with a vast vocabulary and myriad forms, featuring rich and slowly evolving rhythmic poetry presented in a layered kaleidosonic blur. Adjemian will be manipulating Hanley's high-speed patterns using analog and computer-generated synths over a bed of pure sawtooth and sine waves. This performance will include a new long-form video work from Tala-Wallah Cathode Ray Science.
no images were found
[/types]']
---
---
UPCOMING SHOWS