Sept 1-5

Fort York National Historic Site
250 Fort York Blvd, Toronto, ON M5V 3K9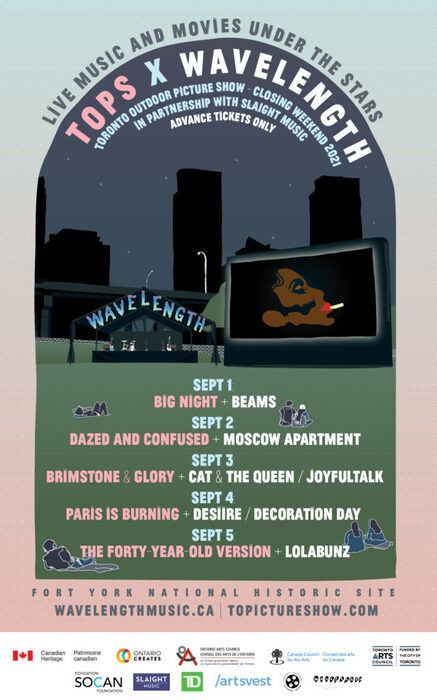 Sept 1-5

Fort York National Historic Site

250 Fort York Blvd, Toronto, ON M5V 3K9

6:00PM

FREE
Featuring Performances by:
Beams / Moscow Apartment
Cat and The Queen / Joyfultalk / Decoration Day
Desiire / LolaBunz
The rumours are true…. Live music is coming back! After 18 months without live concerts, we are thrilled to announce our return to in-person events, coming this Labour Day weekend. Wavelength has teamed up with our friends at Toronto Outdoor Picture Show (TOPS) to curate five nights of live music paired with movies under the stars!
From September 1-5 2021 at Fort York, pack up your blanket and gather your bubble for 5 nights of free live music and movies.
Free public tickets to TOPS & Friends programming is open Thursday July 15th at 12pm EDT.
See you at the Fort!
Wednesday September 1, 2021
Big Night – 9PM
Beams – 7:30PM
Doors at 6PM
Thursday September 2, 2021
Dazed and Confused – 9PM
Moscow Apartment
Doors at 6PM
Friday September 3, 2021
Brimstone & Glory – 9:30PM
Cat and the Queen – 8:30PM
Joyfultalk – 7:30PM
Doors at 6PM
Saturday September 4, 2021
Paris is Burning – 9:30PM
Desiire – 8:30PM
Decoration Day – 7:30PM
Sunday September 5, 2021
The Forty-Year-Old Version – 8:30PM
LolaBunz – 7:30PM