Mar 11

805 Dovercourt
805 Dovercourt Rd.
7PM
All Ages
$22 / Night | $44 Weekend Pass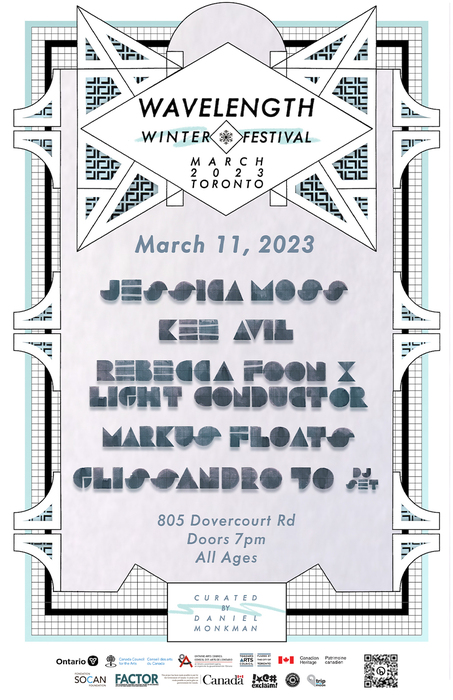 Mar 11

805 Dovercourt

805 Dovercourt Rd.

7PM

All Ages

$22 / Night | $44 Weekend Pass
The Wavelength Winter Festival 2023 lineup is here! Curated by Daniel Monkman, our first in-person Winter Fest takes place a month later than usual — at three different venues throughout the month of March.
Wavelength Winter Festival 2023 Night 3:
Saturday March 11 – Constellation Records Celebration, Part I
JESSICA MOSS (Montreal – post-classical violin minimalism, A Silver Mt. Zion + Black Ox Orkestar co-founder)
KEE AVIL (Montreal – fractured post-punk folk + cracked electronics)
LIGHT CONDUCTOR (Montreal – deep space analog synth & drone from members of Esmerine, The Besnard Lakes & Young Galaxy)
MARKUS FLOATS (Montreal – digital soundscapes with samples from the Black literary canon)
GLISSANDRO 70 – DJ set (Toronto – deep dance floor cuts from Sandro Perri + Craig Dunsmuir)
@ 805 Dovercourt Rd. – All Ages – Doors 7pm – Tickets $22 advance / weekend pass $44
Plus: Exhibition of films by Constellation Records artists (all three nights)
*Unfortunately, due to circumstances beyond her control, Rebecca Foon can no longer perform with Light Conductor this Saturday at Wavelength Winter Festival. Light Conductor will still be performing as a duo. We apologize for any inconvenience and thank everyone for their understanding.
TICKET LINKS:
Weekend Pass – bit.ly/WL-WF23pass
Night 1 – bit.ly/WF23-Night1
Night 2 – bit.ly/WF23-Night2
Night 3 – bit.ly/WF23-Night3
Plus Winter Festival Special Events:
March 25: Do Make Say Think + Jason Sharp (Constellation Records Celebration Part II) @ The Danforth Music Hall – Tickets: bit.ly/WL-DMST
March 31: Deerhoof + Bad Waitress + Indian Giver @ TD Music Hall – Tickets: bit.ly/WL-Deerhoof
Wavelength ushers in 2023 with the first in-person edition of the Wavelength Winter Festival in three years. Curated by Daniel Monkman (Zoon, Ombiigizi), the festival champions the resilience of grassroots artists, puts the spotlight on Indigenous creativity, animates both new and iconic spaces for live music in Toronto, and celebrates the ongoing influence of Canadian independent record label Constellation Records. Taking place over the second weekend of March at a new pop-up venue at 805 Dovercourt Road along with two larger special events later in the month, the Wavelength Winter Festival is sure to warm the ears of sonic adventurers in the waning weeks of the chilly season.
COVID Protocols:
PLEASE WEAR A MASK. Though we have returned to in-person events, we acknowledge the pandemic is still ongoing. In the spirit of community care, mask-wearing is requested at Wavelength except when eating or drinking. A supply of free KN95 masks will be available at the door. Rapid tests will also be available, if audience members wish to test prior to entry. If you are experiencing symptoms of COVID-19, please stay home. Thank you for your understanding and compassion!
Accessibility:
805 Dovercourt is not currently wheelchair accessible due to stairs (one flight to enter the performance space). For all other accessibility requests, please contact us at info@wavelengthmusic.ca.
Audience Policy:
Wavelength respects the rights of each member of our diverse audience and is committed to providing an environment in which everyone can feel safe. Any behaviour which could reasonably be perceived as physically, emotionally, or mentally harmful to individuals at Wavelength events will not be tolerated. This includes: racism, sexism, homophobia, transphobia, body shaming, ableism, ageism, and all forms of violence.
Please be respectful of others and help Wavelength create a fun and safer space for everyone. If you need help, or see others in need of help, please talk to a Wavelength staff member or volunteer.

Poster design by Ryan Cassidy