February 15, 2019 to February 17, 2019
Wavelength Winter Festival 19: Mélissa Laveaux + Lex Leosis + Myst Milano + Anemone + Twist + Future Peers + Isla Den + Elisapie + Beams + Luna Li + Precious Jewel + NÊHIYAWAK + Kingdom of Birds
---
Friday, February 15, 2019

The Garrison & Monarch Tavern
1197 Dundas St. W. & 12 Clinton St.
8:00pm
19+ evening shows, all-ages matinee
15$ in advance | $20 at the door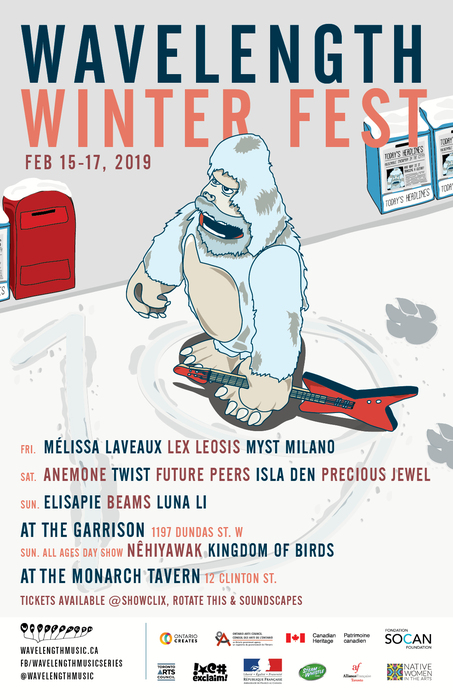 February 15, 2019 to February 17, 2019
Friday, February 15
Presented in partnership with the Cultural Office of the French Embassy in Canada, Alliance Française de Toronto and Small World Music Society.
11pm – Mélissa Laveaux (Paris FR – Franco-funk/soul-pop from this Haitian-Canadian boundary-breaker)
10pm – Lex Leosis (Toronto – Hip-hop emcee, spoken word artist & member of The Sorority)
9pm – Myst Milano (Toronto – Queer/punk-rooted hip-hop emcee/producer)
with host, Ievy Stamatov (Punch Up Comedy).
Saturday, February 16
12am – Anemone (Montreal – Communally cathartic drone-pop / Album release for "Beat My Distance"!)
11pm – Twist (Toronto – new wave dreamy pop / Buzz Records)
10pm – Future Peers (Toronto – Indie88-approved synth-pop dance-rock)
9pm – Isla Den (Toronto – New Age analog dream-pop)
+ Late night set – 1am – Precious Jewel (Toronto – queer electro-pop video release dance party!)
with host, Pearle Harbour.
Sunday, February 17
ALL AGES DAY SHOW!
Presented in partnership with Exclaim!
5pm – nêhiyawak (from amiskwaciy [Edmonton] on Treaty 6 territory – Indigenous space-rock trio / Arts & Crafts)
4pm – Kingdom of Birds (Toronto – Youthful pure indie-rock trio)
with host, Rebecca Felgate.
Tickets: $10.00 advance / $15.00 at the door
👩‍👩‍👧‍👦 + Kids 12 & Under FREE!
Buy Tickets: https://www.showclix.com/event/wlwinterfestday3
Monarch Tavern (12 Clinton St.)
Sunday, February 17
Presented in partnership with Native Women in the Arts
11pm – Elisapie (Montreal – Inuk indie-folk singer/songwriter, digging deep into the Indigenous songbook)
10pm – Beams (Toronto – Shimmering psych-folk collective)
9pm – Luna Li (Toronto – Dreamy rock & angel pop)
with your host, Doc Pickles.
Guest Curator: Emma Bortolon-Vettor.
Visual Art Installations & Projections all weekend at the Garrison by: Roxanne Ignatius + General Chaos Visuals + Isla Den's analog.world video mixing station.
Night show single tickets: $15.00 advance / $20.00 at the door
Buy tickets: https://www.showclix.com/events/27081
Festival Passes
ALL-ACCESS FESTIVAL PASS: $35.00
Ticket link: https://www.showclix.com/event/wlwinterfestwkndpass
WAVELENGTH PASSPORT: $99.99 (includes access to Wavelength Winter Festival, Camp Wavelength 2019 & Wavelength Monthly Series through 2019)
Purchase link: https://www.showclix.com/event/wavelength-passport
🍺 Drink Special: $6 tall cans of
Steam Whistle Pilsner

all weekend at the Garrison!
Wavelength Music warms up winter with the 19th annual Wavelength Winter Festival, running from February 15-17, 2019 in downtown Toronto, Canada. Adventurous music fans are invited to come get cozy at The Garrison for the Family Day weekend and discover their favourite new bands and artists of 2019 – and help us celebrate our 19th birthday!
This year's Winter Festival comes on the heels of Wavelength's Community Consultation event in November 2018, at which Wavelength's staff and Board listened to feedback from community members on how our organization can grow and improve. Following some of the recommendations we heard that evening, for 2019's Winter Festival, we have engaged a Guest Curator, Emma Bortolon-Vettor, to bring a fresh new voice to our programming mix. Emma is a musician, organizer/counsellor, and an academic researching empathy training paradigms involving music.
With the aim of increasing financial compensation for musicians, this year's line-up features a smaller number of live acts per night; creating a less crowded, more relaxed experience all around. But as always, Wavelength's winter fest is future-forward, a "live curated mixtape" line-up of the newest, freshest and most exciting sounds in the Canadian independent music scene!
AUDIENCE POLICY:
Wavelength respects the rights of each member of our diverse audience, and is committed to providing an environment in which everyone can feel safe. Any behaviour which could reasonably be perceived as physically, emotionally, or mentally harmful to individuals at Wavelength events will not be tolerated. This includes: racism, sexism, homophobia, transphobia, body shaming, ableism, ageism, and all forms of violence.
Please be respectful of others and help Wavelength create a fun and safer space for everyone.
If you need help, or see others in need of help, please talk to a Wavelength staff member or volunteer.
For information on Wavelength's Code of Conduct and Anti-Harassment and Violence policies, please visit https://www.wavelengthmusic.ca/about/wavelength-policies/
no images were found
[/types]']
---
---
UPCOMING SHOWS