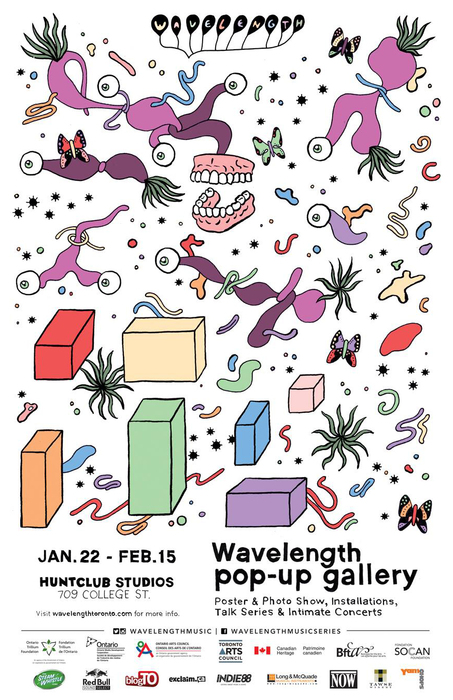 Feb 1

Huntclub Studios

3:00 PM
Wavelength Talk Series:
Workshop w/ General Chaos Visuals
For the first time ever, General Chaos aka Steve Lindsey will reveal some of the ideas, techniques and equipment behind the 15 years of projections that he has done with Wavelength.
Using entirely analog projectors, projecting hand painted gels and experimenting with optical tricks General Chaos Visuals has been a long running presence on the Toronto scene with over a thousand shows performed.
Showing equipment and demonstrating their use and setup, Steve and Eric Siegerman, his partner in General Chaos Visuals, will try and pass on some of their general experience in the field of doing visuals for bands, as well trying to explain the sorcery and techniques behind their own creations.
Using images and video from past shows, along with a willing mime, and throwing in some backstage tales from years gone by, we will break down some of the angles and effects that have combined to make up the visuals for some fantastic Wavelength shows over the years.
Sunday, February 1
@ Wavelength Pop Up Gallery (709 College St.)
3pm
FREE!
ABOUT GENERAL CHAOS VISUALS
Inspired by the psychedelic, immersive visuals at the shows of his favorite band, Hawkwind, Steve Lindsey founded General Chaos Visuals in 2000. With fellow Hawkwind fan Eric Siegerman, GCV started working with local bands and experimenting… and getting more gear… and experimenting. Inspired by their heroes, Steve and Eric believe in carrying on the grand musical tradition of experimentation in all things, and supporting deserving artists.
The intersection of General Chaos with Wavelength was destiny. Steve moved to creating and delivering projections for the majority of Wavelength's shows — an enormously enjoyable 15 years uncovering the talent and artistry hiding in the rehearsal spaces of Toronto's back alleys. Steve's roster of over 600 Wavelengths includes Julie Doiron, Broken Social Scene, Do Make Say Think, Tokyo Police Club, the Constantines and so, so many more. The images used on his hand painted gels are entirely abstract, using techniques he personally developed to give his imagery its unmistakable "look." General Chaos's visual artistry serves to draw attention to the artist in a busy environment, enhancing what the artist is trying to put across.
General Chaos considers it his privilege to see and present the music of so many amazing talented musicians. Although some may be concerned his still growing collection of projectors points to deeper issues, Steve considers his 40-year-young collection of projectors a must to keep pace to present visuals that do justice to the bands and halls that lucky Toronto audiences get to enjoy year round.
See www.generalchaosvisuals.ca for some pretty pictures !