Wavelength Talk Series: The Toronto Music Moment 2015
---
Sunday, January 25, 2015

Huntclub Studios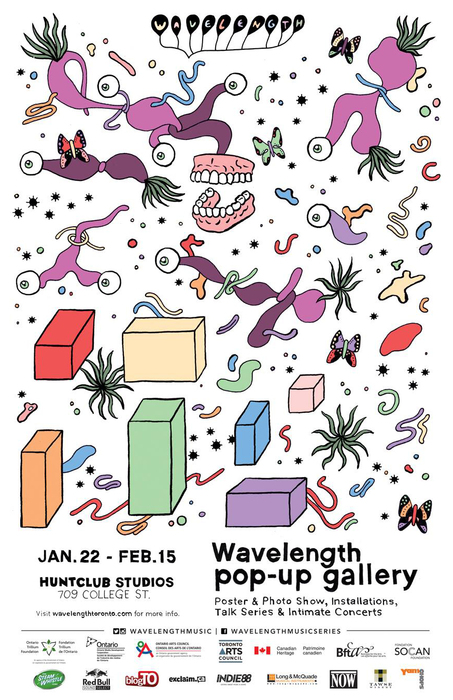 Wavelength Talk Series:
Panel: The Toronto Music Moment, 2015
"Given its new commitment to supporting the music industry, how can the City of Toronto and its new Music Office better serve the independent music community (and vice versa)?" Following up on last February's dynamic first Toronto Music Moment talk!
Sunday, January 25
@ Wavelength Pop Up Gallery (709 College St.)
3pm
FREE!
Meet your panelists:
Sergio Elmir (Harbourfront Centre, Dos Mundos Arts and Media, CIUT 89.5FM, independent musician & DJ)
Dalton Higgins (Independent promoter, NICE series & Rap'N Roll, author & educator)
Aubrey Jax (Music Editor, BlogTO, independent musician)
Cheryl Maciver (Music Programmer, NXNE)
Mike Tanner (Music Sector Development Officer, City of Toronto)
With moderator, Jonathan Bunce (Artistic Director, Wavelength Music)
Listen to last year's talk here (thank you, Michael Rancic, for the recording!):
Panelist Biographies:
Sergio Elmir: Best known as the voice behind Dos Mundos Radio on CIUT 89.5FM, Sergio Elmir has spent over 10 years interacting with Toronto's vast music scene as a journalist (Exclaim, Peace, and Word magazines), as a broadcaster (CIUT, CBC) as a DJ (Dos Mundos Deejays, Huelepega Sound System) and as an arts programmer (Bridges, Harbourfront Centre). Although the majority of his work was with Toronto's Spanish-speaking community, Sergio is proud to say he has worked with a variety of diverse artistic communities as Executive Director of the non-profit organization Dos Mundos Arts and Media, as well as an Artistic Associate at Toronto's Harbourfront Centre.
Dalton Higgins is an educator and lecturer, National Magazine Award-winning journalist, author of six books — including his latest Rap N' Roll: Pop Culture, Darkly Stated  — named after his indie Rap N' Roll music concert series (copies available at the panel), and long time commercial music presenter who specializes in producing live concert experiences involving musical sounds from the African diaspora, including reggae, rap, electronic, and multi-genre African musics.
Aubrey Jax has been Music Editor at blogTO.com since 2013, where she is partly responsible for the further proliferation of lists on the Internet. For one year she ran a DIY venue in Winnipeg. The building has since burnt down. As an experimental musician, she has toured over 25 countries, and now performs solo as pop concretè/noise project Brigitte Bardon't. Twitter: @AubreyJax.
Cheryl Maciver is a Music Programmer for the North By Northeast Music Festival in Toronto.  After getting her start in music over 10 years ago with a crash course consisting of living in a DIY venue and working at a campus radio station, it wasn't until first coming on board with NXNE in 2008, as an artist registration volunteer, that Cheryl found her home in the industry. Bringing experience in event management, content programming, business development and logistics, Cheryl is integral in cultivating NXNE's relationships with artists, venues, record labels, promoters, the City of Toronto and other stakeholders.
Mike Tanner brings a wealth of industry experience and relationships to the newly created Music Sector Development Officer position with the City of Toronto's Economic Development and Culture Division.
Mike worked with North by Northeast (NXNE) from 2007 until the fall of 2014, helping the festival grow to become one of North America's premier annual arts events. At NXNE, Mike's background as a musician, writer, and communications consultant served him well in overseeing festival logistics and operations as well as managing relationships with all levels of government and other industry organizations. He acquired an understanding of city processes and personnel, and spoke on behalf of music before elected representatives and committees in Ottawa and at Queen's Park. And with frequent trips to Texas, Mike developed strong relationships in Austin, helping to cement Toronto's ties with its musical sister city.
Now, as part of the City's Film & Entertainment Industries team, Mike has defined a list of objectives to help support and strengthen Toronto's music industry.
In an earlier lifetime, Mike was a touring and recording musician with several independently released albums, and, later, an author, with three internationally published books. He lives in Riverdale with his family.
no images were found
[/types]']
---
---
UPCOMING SHOWS