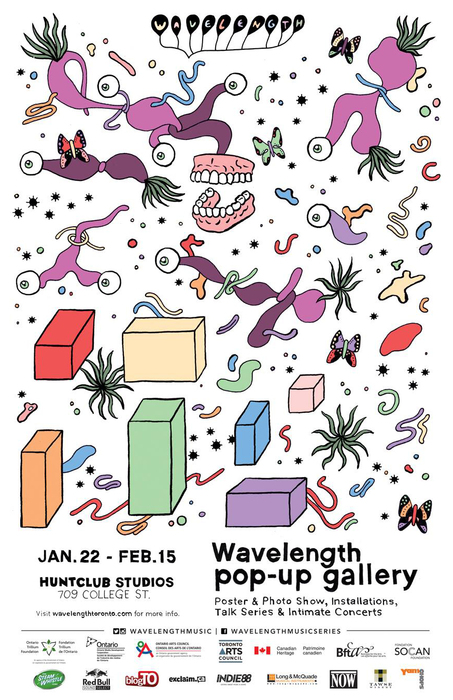 Feb 8

Huntclub Studios

3:00 PM
Wavelength Talk Series:
Panel: Grants for the Grassroots?
"Is Ontario music funding going to the right people?" A chance to meet some of the people behind the funding policies and ask those burning questions.
Sunday, February 8
@Wavelength Pop Up Gallery (709 College St.)
3pm
FREE!
Meet your panelists:
Marina Adam (Manager, Ontario Music Office, OMDC)
Kwende Kefense (Cultural Development and Initiatives, Ottawa)
Duncan McKie (President, FACTOR)
Michael Adam Murray (Popular & World Music Officer, Ontario Arts Council)
Alanna Stuart (Musician, Bonjay)
with moderator: Tim Jones (Board member, Wavelength Music)
Marina Adam
Marina joined the Ontario Media Development Corporation in October 2013 to lead the Ontario Music Office team in delivering the Ontario Music Fund. She has previously held government positions in both British Columbia and Ontario in international trade and investment attraction, finance, and most notably was the Supervisor of Entertainment and Creative Cluster policy at the Ministry of Tourism, Culture and Sport. Prior to being a public servant, Marina was a post-production sound professional (a.k.a. Foley artist) for film and television, earning an Emmy award for her work on a TV miniseries. In the early 2000's, Marina could also be found creating soundscapes and singing harmonies in an under-the-radar band touring across Canada. She is a member of the Ontario Live Music Working Group, and holds a Bachelor of Arts and a Diploma in Film Production, both from the University of British Columbia.
Kwende Kefense
Born and raised in the Greater Toronto Area, Kwende is currently living and working in Ottawa, Canada's capital. Fascinated by cities, his various professional ventures reflect different explorations and investigations into how they function, with a particular focus on culture, space and music.
He was formerly a journalist for the Ottawa Xpress, and a guest author on Richard Florida's Creative Class Exchange, writing regularly about how cultural scenes develop and function in cities. His independent research about the active role of spatial configuration and urban design in structuring the emergence of hip-hop culture has contributed to the NFB's Highrise project, and has made him a sought-after speaker.
Kwende helps to steward the council-approved Renewed Action Plan for Arts, Heritage and Culture (2013 – 2018) as a member of a small but mighty award winning Cultural Development and Initiatives (CDI) team. He is currently leading a music industry development initiative in partnership with local music business leaders that has so far resulted in the inaugural MEGAPHONO festival and a soon-to-be-released report about the Ottawa music industry.
Duncan McKie has been the President of FACTOR, the Foundation Assisting Canadian Talent on Recordings since December of 2010. Prior to this assignment, he enjoyed a broad and distinguished career in culture, media and market research and regulatory affairs. Duncan was the President of the Canadian Independent Music Association (formerly CIRPA) from 2007 to 2010. In the past, he has served as the Chair of the Advisory Committee on Communications, Marketing and Programming for the National Capital Commission in Ottawa, and as the Co-Chair of the Industry Advisory Committee on Music at the Ontario Media Development Corporation. Duncan graduated from York University, Toronto, with a BA and MA in Sociology.
Michael Adam Murray is the Ontario Arts Council's Popular & World Music and Arts Service Organizations Officer. He leads OAC's outreach and support work, and has overseen a four-fold increase in the number of applications from popular and world music artists and arts organizations. Prior to working at the OAC, Michael served as the Executive Director of UrbanArts where he created the Youth Challenge Fund-supported beats.mind.movement and featured the program as an accompanying delegate on then governor general Michaëlle Jean's state visit to Brazil in 2007.
He is a member of the Ontario Live Music Working Group, and an instructor at Centennial College's Music Industry Arts and Performance program. Michael is a Certified Management Account, and also holds a B.Mus in music technology from McGill University and both an MBA and diploma in arts and media management from the Schulich School of Business at York University. Finally, Michael has played trumpet and live electronics and is currently composing an original musical for use in social enterprise spaces.
Alanna Stuart is a Toronto-based singer, songwriter, and producer. As one-half of Bonjay, Alanna co-writes and co-produces hybrid music that blends dancehall reggae, indie sentiments, and classic soul songwriting. Additionally, her solo work explores the voice as a malleable instrument, backing it with rhythm-centric instrumentation.
Bonjay's recorded and live output has received acclaim from the New York Times, The Guardian, and Exclaim!, and has supported artists as diverse as Little Dragon, Slim Twig, and Diplo. Bonjay has also performed at Wavelength Anniversary Festivals #9 and #12. Their upcoming album features Wavelength regulars Sandro Perri, Jeremy Greenspan, and Kieran Adams as collaborators.
Alanna is nominated for the K.M. Hunter Foundation Artist Award in music, and is a regular guest host on CBC Radio 3.
Tim Jones' first Wavelength was #213. He is now a director on Wavelength's Board. At various points, he has dealt with arts funding as an academic, a recipient, and a funder.
Tim holds an M.A. in cultural policy from the University of Chicago and a B.A. from Mount Allison University; at both schools, he researched and published on the intersection between cultural policy and grassroots/DIY music.
Tim has also worked extensively in concert promotion and campus-community radio. He put on over 100 concerts in 19 venues in the two-stoplight town of of Sackville NB, before moving north to spend three years in the Yukon as Executive Director of the Dawson City Music Festival.
Returning to his native Toronto, Tim spent two years as a Senior Project Coordinator at FACTOR, where he oversaw programs relating to national conferences, award shows, and showcasing festivals. He now works with CultureCap, a consultancy providing fundraising, strategic planning and government services to artists, as well as pursuing a J.D. at the University of Toronto's Faculty of Law.