Cadence Weapon, Backxwash, Absolutely Free + more
Aug 26 & 27 at the

Lithuanian House
1573 Bloor St. W., Toronto
$15 / night (access both floors) | $25 Weekend Pass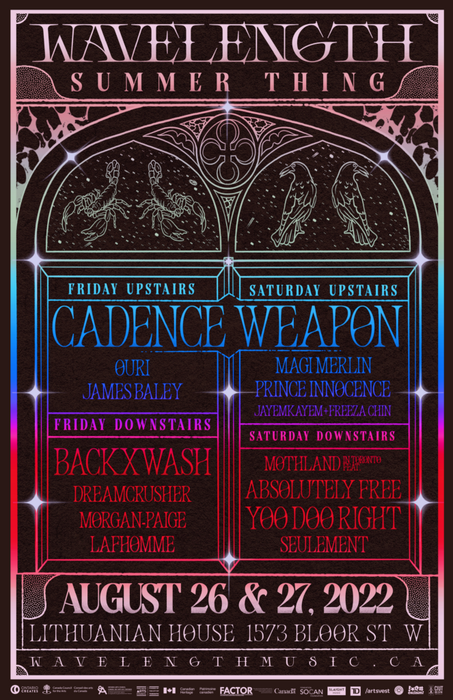 7:00PM
All Ages
More than a show, but not really a festival… it's just a Summer Thing. Introducing The Wavelength Summer Thing, happening August 26-27 at the Lithuanian House in Toronto.
Headlined and co-curated by the last TWO years of Polaris Music Prize winners – Cadence Weapon and Backxwash – the Wavelength Summer Thing takes over two floors of gorgeous alternative space the Lithuanian House in Toronto's west end, over two nights to mark a glorious end to summer. Beat the heat (and stay dry) in this fully air-conditioned and weatherproof ALL AGES venue that will be full of curated installations, projections and pop-up performances.
Spotlighting the contributions of Black and LGBTQ+ artists to the Canadian music scene, much of the Summer Thing lineup was originally scheduled for the Wavelength Winter Festival this past February, but was postponed due to Omicron. The Summer Thing's two floors have been specially curated to maintain distinct vibes in each space, with a narrative flow guiding both evenings — and set times staggered to ensure no direct competition between performances.
The atmospheres across the two stages will range from experimental queer horrorcore to celebratory, hip-hop dance party to psychedelic rock freak scene. Each night will close out with an after-party DJ set with guest selectors invited by the headliners. The announcement coincides with the publishing of headliner, co-curator and underground hip-hop icon Cadence Weapon's new book, Bedroom Rapper. The opening-night convergence of Cadence Weapon and Montreal industrial horrorcore rapper Backxwash is not to be missed.
Other featured performers include avant-rock local heroes Absolutely Free and Montreal post-rock shoegaze volume-crankers Yoo Doo Right as part of a showcase for the Mothland label & agency; buzzy Montreal underground soul/rap artist Magi Merlin; acclaimed experimental electronic producer Ouri alongside rising R&B/ballroom star James Baley; and a special appearance by New York noise musician and Backxwash collaborator, Dreamcrusher.
Taking place during the traditional August timing of Wavelength's past summer festivities including Camp Wavelength and ALL CAPS!, the Wavelength Summer Thing will take you back to school while ensuring that summer feeling lasts all the way until next winter.
Upper Hall: Curated by Cadence Weapon
Cadence Weapon (Toronto — Underground hip-hop icon, 2021 Polaris Prize winner & Bedroom Rapper author)
Ouri (Montreal — Acclaimed experimental electronic producer / Ghostly International)
James Baley (Toronto — Rising R&B/ballroom performer)
Lower Hall: Curated by Backxwash
Backxwash (Montreal — Industrial horrorcore rapper, 2020 Polaris Prize winner)
Dreamcrusher (Brooklyn, NY — "Nihilist queer revolt musik")
Morgan-Paige (Toronto — Classical/contemporary piano song)
+ LaFHomme (After-party DJ, Montreal)
Night 2: Saturday, August 27th
Upper Hall: Curated by Cadence Weapon
Cadence Weapon (Toronto — Underground hip-hop icon, 2021 Polaris Prize winner & Bedroom Rapper author)
Magi Merlin (Montreal — Buzzy underground soul/rap artist)
Prince Innocence (Toronto — Indie/electronic anthems from the local power duo)
+ Jayemkayem + Freeza Chin (After-party DJs, ISO Radio, Toronto)
Lower Hall — Mothland in Toronto, featuring:
Absolutely Free (Toronto — Hypnotic avant-rock local heroes, Boiled Records)
Yoo Doo Right (Montreal — Post-rock/shoegaze volume-crankers)
Seulement (Montreal — Francophone electro-pop immersion)