June 3

The Garrison
1197 Dundas W. Toronto, Ontario
8:00PM
19+
$10 in advance | $15 at the door / NOTAFLOF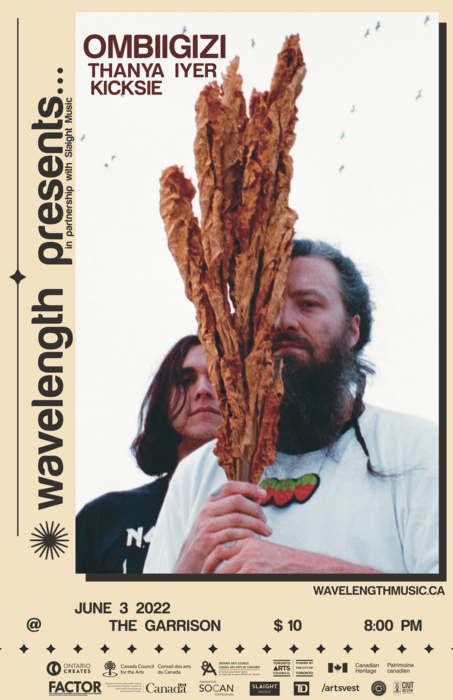 June 3

The Garrison

1197 Dundas W. Toronto, Ontario

8:00PM

19+

$10 in advance | $15 at the door / NOTAFLOF
Wavelength Presents…
in partnership with Slaight Music:
Ombiigizi (Indigenous futurist indie-rock, Arts & Crafts)
Sewn Back Together album release
With special guests:
Kicksie (Caledon, ON – hyper-pop renaissance-bringers)
Thanya Iyer (Montreal – meditative art-pop)
+ visuals by Aljumaine Gayle
+ decor by Roxanne Ignatius
When: Friday, June 3, 2022
Where: The Garrison (1197 Dundas St. West, Toronto ON)
$10 in advance at ShowClix.com
$15 at the door / NOTAFLOF
19+
Doors at 8pm
OMBIIGIZI – pronounced om-BEE-ga-ZAY, meaning this is noisy – is a collaboration between Zoon (Daniel Monkman) and Status/Non Status (Adam Sturgeon), Anishnaabe artists who explore their cultural histories through sound. Their music together is a rumination on family, a celebration and holistic cleansing, with a strong sense of unity and loving support. An amalgam of their Indigenous heritages and personal musical architectures, Daniel and Adam imbue their lyrics with their families' storytelling, revealing truths and finding common ground amidst their differences.
The debut album, entitled Sewn Back Together (Arts & Crafts) is a fusion of individuality – a reflection on Adam and Daniel's commitment to each other as collaborators and distinct members of community. Putting aside the tonal nuances of their previous work as Zoon and Status / Non Status (formerly known as WHOOP-Szo), OMBIIGIZI strips back the waves of distortion to reveal themselves, their voices, writing and improvising for the sake of the song. The family on Sewn Back Together includes Kevin Drew of Broken Social Scene on production and The Bathouse Studio's Nyles Spencer engineering. Recorded there in fast and intentional sessions during the summer of 2021, Drew and Spencer helped steer this collision of divergent artists into some glorious sonic territory steeped in shoegaze, dream pop, anthemic rock, Chicago post-rock, and 2nd wave emo. While not always getting to play and perform alongside other members of their community, OMBIIGIZI is a coming together – Sewn Back Together is a resounding statement shaped by healing and the guidance of culture.
—
COVID Protocols:
Your safety is our primary concern. Live event protocols are likely to change month to month. At this time, audience members aged two and older are strongly encouraged to wear face coverings while on the venue property, except when actively eating and drinking. If you are feeling ill, please be considerate and stay home to rest up.
Accessibility:
The Garrison is wheelchair accessible and can be accessed by public transit. For all other accessibility requests, please contact us at info@wavelengthmusic.ca
Audience Policy:
Wavelength respects the rights of each member of our diverse audience and is committed to providing an environment in which everyone can feel safe. Any behaviour which could reasonably be perceived as physically, emotionally, or mentally harmful to individuals at Wavelength events will not be tolerated. This includes: racism, sexism, homophobia, transphobia, body shaming, ableism, ageism, and all forms of violence.
Please be respectful of others and help Wavelength create a fun and safer space for everyone. If you need help, or see others in need of help, please talk to a Wavelength staff member or volunteer.
For information on Wavelength's Code of Conduct and Anti-Harassment and Violence policies, please go here.