June 21

918 Bathurst
918 Bathurst St, Toronto
7:00 pm
All Ages + Licensed
$10 advance | $15 at the door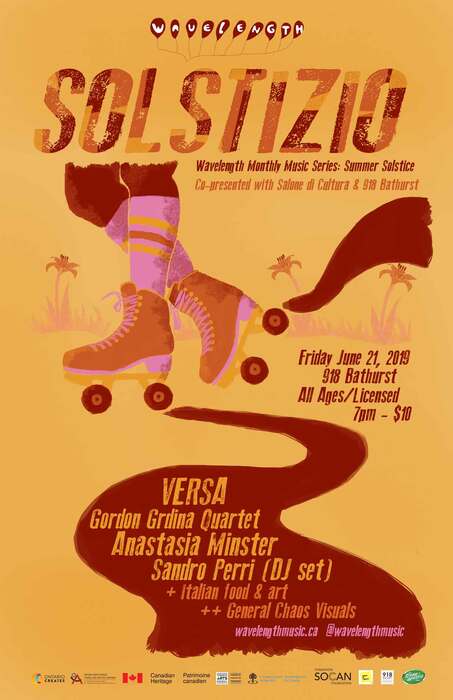 June 21

918 Bathurst

918 Bathurst St, Toronto

7:00 pm

All Ages + Licensed

$10 advance | $15 at the door
Wavelength Monthly Music Series – June 2019 Summer Solstice Show
Co-presented with Salone di Cultura & 918 Bathurst
Featuring:
Gordon Grdina Quartet (Vancouver/New York – jazz improv & cross-cultural fusion – 2019 Juno Award winner for Best Instrumental Album!)
VERSA (Guelph – powerful post-rock meets synesthetic, responsive projections)
Anastasia Minster (Toronto – piano-driven chamber pop)
+ Sandro Perri (DJ set)
++ General Chaos Visuals
+++ Contemporary Italian-Canadian Art & Food!
Friday, June 21, 2019
918 Bathurst Centre – 918 Bathurst St., Toronto
Doors 7pm – $10 advance / $15 door – All Ages & Licensed.
(Early show, over by 11:00 pm)
* Advance tickets available at ShowClix, Rotate This & Soundscapes
Celebrate Italian-Canadian music, art & food on the summer solstice!
Wavelength Music collaborates with Salone di Cultura and 918 Bathurst to present a multi-sensory experience as part of our Monthly Music Series on June 21, 2019! Taking over one of Toronto's most beautiful music venues, 918 Bathurst Centre – located in a converted Buddhist temple – co-presenting partners Salone di Cultura will present contemporary Italian-Canadian visual art and food vendors, alongside an engaging, multi-genre music program.
Gordon Grdina Quartet
2019 Juno award winning oud/guitar player Gordon Grdina (Vancouver) showcases his latest ensemble featuring world-renowned New York collaborators Russ Lossing (piano), Oscar Noriega (alto sax/clarinet), and Satoshi Takeishi (drums). As heard on the album Inroads, this wild, eclectic project combines intricate counterpoint with dynamic yet focused improvisation. Inspired by the complexity of Bartok, the freedom of Ornette Coleman, the intensity of Soundgarden and the delicacy of Webern. This carefully formed quartet combines the traditions of jazz improvisation, complex yet memorable compositions and a dynamic freedom to the music that ebbs and flows with each tune. "Grdina continues to passionately explore the depths of jazz improvisation, cross-cultural fusions and the fun that comes with cutting loose. Lately, he's been tearing it up in a new combo from New York City." – Stuart Derdeyn, Vancouver Sun
VERSA: Momentous and mesmerizing, Guelph-based multi-arts collective VERSA captures eyes and ears with powerful instrumental music and synesthetic, responsive projections. Live performances explore the physicality of sound, rendering low frequencies visible using reactive cymatics and trippy ink marbling. Drawing on elements of instrumental post-rock and ambient electronic music, VERSA is distinguished by complex live-looping and expansive, bass guitar-led arrangements. Post performance, seismograph-esque marbled prints are pulled as a unique "record" of the music and its vibrational patterns.
Anastasia Minster: Sometimes it's only when you look back that you're truly able to see. Such is the case with Moscow-born artist Anastasia Minster. Having captivated audiences for several years, Anastasia left her homeland for Toronto in 2014 and it's now apparent just how deeply Russia has seeped into her soul. It can be seen in her dark and existential lyrics (think Dostoevsky) and heard in the Rachmaninoff-like intensity that pours out of her own music – piano-driven chamber pop which fuses elements of classical, folk and jazz.
Sandro Perri (performing a DJ set) is a musician and producer based in Toronto. He has released a dozen records under several aliases and worked on over a hundred others in various creative and technical roles. His records have been long listed for the Polaris Prize twice and he was nominated for the Canadian SOCAN songwriting award in 2008. His latest solo release, In Another Life (Constellation Records) is an experiment in 'infinite' songwriting. The title track – a pop mantra for sequenced synth, piano, guitar and voice – suspends itself for nearly 25 minutes, progressing sideways rather than forward.
🎫 Tickets $10 Advance at ShowClix + Rotate This + Soundscapes 🎫
At the Door: $15
Please note: unfortunately this venue is not wheelchair accessible
⚡️ Admission included in the Wavelength Passport! ($99.99 for full-year All Access Passport including admission to Wavelength Summer Festival and Wavelength Winter Festival). ⚡️
Wavelength respects the rights of each member of our diverse audience, and is committed to providing an environment in which everyone can feel safe. Any behaviour which could reasonably be perceived as physically, emotionally, or mentally harmful to individuals at Wavelength events will not be tolerated. This includes: racism, sexism, homophobia, transphobia, body shaming, ableism, ageism, and all forms of violence. Please be respectful of others and help Wavelength create a fun and safer space for everyone.
For information on Wavelength's Code of Conduct and Anti-Harassment and Violence policies, please visit https://www.wavelengthmusic.ca/about/wavelength-policies/