Starts in
---
October 28, 2022
Oct 28th

ESG Zero
805 Dovercourt Rd.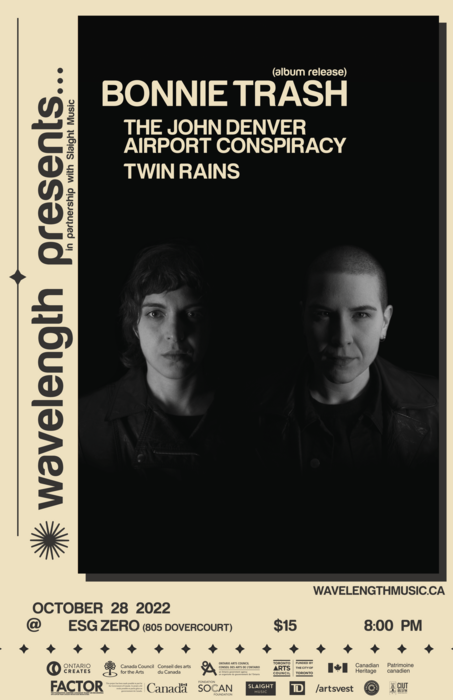 Oct 28th

ESG Zero

805 Dovercourt Rd.

8:00PM

All Ages

$15
Starts in
---
October 28, 2022
Wavelength Presents…
In partnership with Slaight Music
Halloween Friday with:
BONNIE TRASH
(Album release for Malocchio – Guelph / ghost-story drone-rock / Hand Drawn Dracula Records)
The John Denver Airport Conspiracy
(Toronto / LSD-drenched psychedelia)
Twin Rains
(Toronto / atmospheric dream-pop duo)
Friday October 28, 2022
@ ESG Zero, 805 Dovercourt Rd.
Doors 8pm
$15 advance at ShowClix.com
Ticket Link: https://bit.ly/WLbonnietrash
All Ages + Licensed
Masking and costumes strongly encouraged!

Halloween heavyosity is on the menu on October 28 at Wavelength, with the long-awaited album launch party for Bonnie Trash. With Malocchio, their debut LP for acclaimed Hand Drawn Dracula Records, the Guelph, Ontario twin-sister duo have created a contender for album of the year. Malocchio unspools a real-life horror story based on the stories told to them by their Italian grandmother. Over heavy, hypnotic riffs, pounding drums and spooky soundscapes, the lyrics pull the listener into the meaning of the "evil eye," a hex of malice onto another.
This show will kick off Halloween weekend by taking over a new yet familiar venue, ESG Zero – the historic building formerly known as Dovercourt House, the long-running community arts and culture hub. Wavelength will transform the grand main floor room into a parallel world of eeriness with their trademark decor and projections.
Sinister support will come from Toronto psychedelic supergroup, The John Denver Airport Conspiracy, who released their debut album, Something's Gotta Give, this past May to local buzz, and dream-pop duo Twin Rains, whose full-length The Unreal City, was a sleeper hit of the pandemic.
COVID Protocols:
Your safety is our primary concern. Live event protocols are likely to change month to month. Masking is strongly encouraged while not eating or drinking, and free KN-95 masks will be available at the door.
Accessibility:
ESG Zero is not currently wheelchair accessible due to stairs (two half-flights to enter the performance space). For all other accessibility requests, please contact us at info@wavelengthmusic.ca.
Audience Policy:
Wavelength respects the rights of each member of our diverse audience and is committed to providing an environment in which everyone can feel safe. Any behaviour which could reasonably be perceived as physically, emotionally, or mentally harmful to individuals at Wavelength events will not be tolerated. This includes: racism, sexism, homophobia, transphobia, body shaming, ableism, ageism, and all forms of violence.
Please be respectful of others and help Wavelength create a fun and safer space for everyone. If you need help, or see others in need of help, please talk to a Wavelength staff member or volunteer.