Wavelength & Dalton Higgins present: NICE feat. Complaints Dept (EP release) + Most People (Tape Release) + pHoenix Pagliacci + Ought (Constellation Recs)
---
Thursday, April 24, 2014

Tattoo Queen West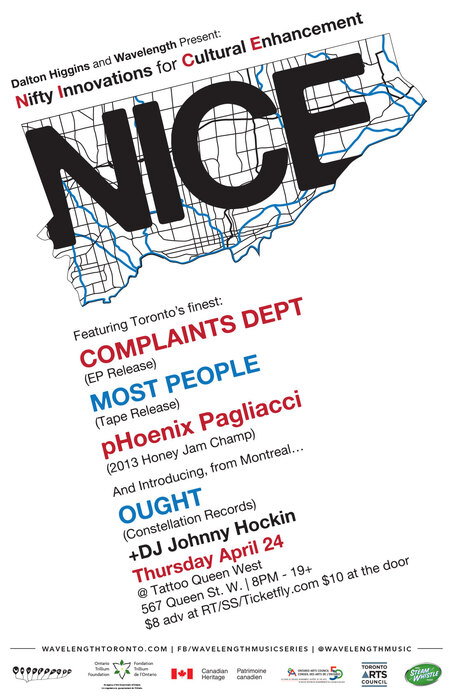 Dalton Higgins and Wavelength Present:
NICE
(Nifty Innovations for Cultural Enhancement)
Featuring Toronto's finest:
COMPLAINTS DEPARTMENT (Record Release)
Reggae punk all-star band.
MOST PEOPLE (Tape Release)
Anthemic electro indie-pop.
PHOENIX PAGLIACCI (2013 Honey Jam Champ)
Hardcore hip-hop triple-threat femcee.
And Introducing, from Montreal…
OUGHT (Constellation Records)
Righteous post-punk quartet.
+ DJ Johnny Hockin
Thursday April 24
@ Tattoo Queen West
567 Queen St. W.
8PM – 19+
$8 adv at Rotate This, Soundscapes and online at Ticketfly — BUY NOW!
$10 at the door
Programmed by Dalton Higgins and Jonny Dovercourt. Poster design by Derek Ma.
What is NICE?
NICE is the collective vision of independent promoter and writer Dalton Higgins and Wavelength's Artistic Director Jonny Dovercourt, who have come together to create a new live arts platform that is cross-genre and multi-disciplinary in scope.
Seeking to present a live musical experience that better reflects the demographic and musical realities of Toronto today — supposedly the most multi-cultural city in the world — NICE will bring you the best of the hip-hop, rock, reggae, post-punk, pop and electronic scenes — whatever it takes to satiate music-hungry citizens craving for something new… and NICE!
About the artists
Ought
The Quebec student strike of 2012 not only triggered a new wave of youth activism in Canada, it also inspired the formation of one of the country's best new bands. Montreal quartet Ought claim the Printemps d'Erable as a catalyst for their sound and vision as much as righteous post-punk influences like Cap'n Jazz, The Feelies, Lungfish, Gang Of Four and early Talking Heads. Newly signed to groundbreaking Montreal label Constellation Records (home of Godspeed You! Black Emperor, Do Make Say Think Colin Stetson), their debut release More Than Any Other Day, out April 29, is easily an Album of the Year contender for 2014.
pHoenix Pagliacci
Those "in the know" or who have seen pHoenix Pagliacci perform live acknowledge that she is hands down one of the sickest triple threat (producer/emcee/vocalist) performers in the game, and in Toronto. The recent grand prize winner of Honey Jam 2013, this Phoenix is certainly rising and has performed, recorded and co-written with numerous artists across Toronto (Yuri Koller, Junia-T of the Smash Brovaz, Eternia, Freedom Writers' Tona) and the United States (Jean Grae, Rapsody and Laws, Souls of Mischief's Tajai). As a female artist, especially one who raps, pHoenix looks up to successful artists such as Roxanne Shanté and Lauryn Hill, female artists who have broken the mold in the Hip-Hop culture and continue to inspire young females everywhere. Her extensive discography includes her albums Books, Bucks & Beats Vol. 1 and Vol. 2, EPs such asPretty Wings, which showcases her singing abilities and 88 Fly, a production collaboration between herself and producer Lord Quest (School Boy Q, Wolf J. McFarlane, Ab Soul, Tiron & Ayomari).
Most People
Toronto duo of Brandon de Groote and Paul McEachern make electronically infused pop that enthusiastically absorbs R&B and calypso influences alongside anthemic synth-rock from '80s movie soundtracks. Imagine if your laptop could make you a daiquiri while teachin you to metal-tap on guitar — but swoonier. The Wavelength Artist Incubator participants are fêting the release of their new 3 song cassingle, Stay Forever Here in the Night, the first of a series of EP releases the band is planning throughout 2014. Their set will be accompanied by a magical, nostalgic collage of projections put together collaboratively with their good pal, Mike Pereira of Zords and Beetzwax.
Complaints Dept. are a blog-buzz-worthy, soulful, lyrical, hardcore, punk and reggae-influenced all-star band conceived by Dennis P (owner of Northern Soul Horns), comprised of members of Bedouin Soundclash, hardcore band No Warning, and La'Nai Gabriel, leader of nine piece ensemble La'Nai & The Free People, among others. Complaints seamlessly blend a deft combo of catchy electric guitar riffs, hardcore drums and bass, horn section parts and lyrics that sounds like nothing in the Canadian music scene — or only something that could be conjured up in the melting pot that is Tdot. They launch their much anticipated debut EP The Hard Sell at the inaugural NICE festivities. No hype, superior music. Think Bad Brains-meets-English Beat on a patio in Parkdale.
(NICE curators Dalton and Jonny pictured above. Photo by Sam Kadosh.)
no images were found
[/types]']
---
---
UPCOMING SHOWS